Is This The Future? How To Use Unattended Convenience Stores
One way of dealing with the issues of an aging population and decreasing labor force in Japan is introducing unmanned services. The NewDays convenience store in Tokyo's JR Musashi Sakai Station is a shop that operates unattended by human staff. It might give us a glimpse of the future.
A Japanese Society without Workers?
Tokyo's influence extends around the world. When you visit Tokyo, you can see many people in the train stations, on the streets, and in commercial establishments. The bright lights of the buildings and the sound of people's voices continue day and night.
Tokyo (and Japan) is now grappling with a major problem that is affecting other countries as well. The aging population, combined with fewer young people, poses a serious challenge especially for the country's labor force, which shrinks every year.
Nowadays, you can often see foreign employees at many businesses in Tokyo. Increasing the number of international workers is one effective way to deal with Japan's shrinking workforce.
There is one more way, though, to compensate for this decreasing labor force: use technology for unmanned retail services.
Unmanned Convenience Stores
As the name suggests, a convenience store is a highly convenient shop that stays open every day of the year, where consumers can purchase food products and daily miscellaneous goods.
But this convenience relies on a human workforce, which is currently in shortage.
In order to find a solution to this problem, one convenience store has introduced new technology that eliminates the need for staff.
Let us introduce you to NewDays Musashi-Sakai Nonowa, a convenience store that opened at JR Musashi-Sakai Station on July 30, 2019.
NewDays Musashi-Sakai Station Nonowa Store
NewDays is a chain of convenience stores that is managed by JR-EAST (East Japan Railway Company). As a result, many of the NewDays stores are located in stations along the JR train lines.
This particular location is right outside the ticket barrier of JR Musashi-Sakai Station.
The convenience store will be on the right-hand side just after you exit the ticket gates (Nonowa exit).
This very compact store is unmanned by staff and all payments are electronic.
Enter through the door on the right and you'll see various food products including light meals (onigiri rice balls and sandwiches), bread, snacks, sweets, and drinks. There are also daily necessities you'd find at any other convenience store in Japan, such as masks, cell phone chargers, and umbrellas.
However, cigarettes and alcoholic beverages, which require age verification, are not available.
Located near the exit is a counter with two self-checkout machines.
How to Use the Self-Checkout Service
1. Bring Your Purchase to the Self-Checkout Counter
When you've decided what to purchase, bring the items to the self-checkout counter.
Service is available in English, Chinese, and Korean. Select your preferred language.
2. Scan the Barcode on Your Purchased Items
Next, scan the barcode on each of the items you want to purchase.
When the product's name and price appears on the screen, scan the barcode of the next item (as of December, 2019, the name of the product only appears in Japanese).
3. Check That All Your Purchases Have Been Listed
After you've scanned all your items, make sure that they all appear on the screen.
Then press the orange-colored Pay button located on the screen's bottom right corner.
If an item was not properly scanned or you would like to exchange one of the items, press the Cancel button (bottom left corner of screen) and try scanning again.
4. Choose Your Method of Payment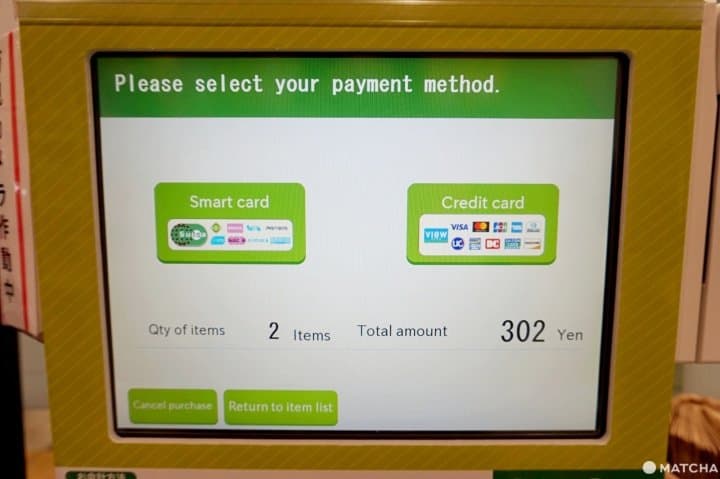 One of the shop's features is that it doesn't accept payment in cash. So you'll need to use either an IC Card (smart card) such as Suica or Pasmo, or a credit card.
Please select your payment method.
5. Make Your Payment
When using your IC card, touch it on the sensor located on the right side of the checkout machine (see photo above).
If you pay by credit card, insert your card into the slot located at the bottom of the self-checkout machine.
6. Bag Your Purchase
After paying for your purchase, put all the items into a bag (under the checkout counter) and exit (right side of store).
Though we did say that this store is unmanned, it just means that there is no staff currently on the premises.
However, if you have a problem or require assistance, you can call for a staff member by pressing a button on the right side of the self-checkout counter. Employees working at other stores within the station also restock this unmanned outlet and will respond to your request.
Are Unmanned Convenience Stores the Future of Japan?
This NewDays convenience store is actually a test location for introducing unmanned services. We were told that at other NewDays outlets and at other companies, they are also experimenting with unmanned services, but all in slightly different ways.
Many NewDays locations have introduced self-checkout counters for customers who want to avoid lining up.
Based on what they have learned from self-checkout counters and experimental test locations, a new generation of convenience stores - in tune with the needs of Japanese society - will continue to expand throughout the country.
Be sure to try this new style of convenience store and get a glimpse into Japan's future.
In cooperation with JR East Retail Net Co., Ltd.

The information presented in this article is based on the time it was written. Note that there may be changes in the merchandise, services, and prices that have occurred after this article was published. Please contact the facility or facilities in this article directly before visiting.