3 Cozy LGBTQ-Friendly Cafes In Shinjuku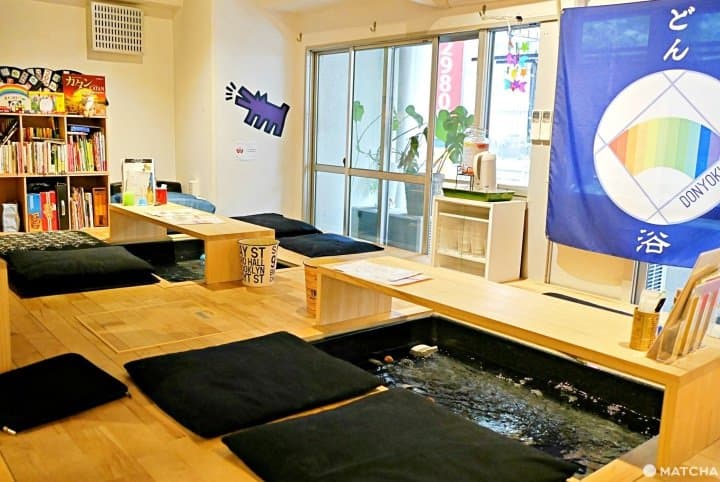 Shinjuku Ni-chome is a globally famous gay district in Tokyo filled with bars and taverns. This article covers three LGBTQ-friendly cafes ideal for daytime visitors that are open in the afternoon. Read on to learn about these establishments that welcome people of all orientations and identities.
Shinjuku Ni-Chome Cafes Welcoming to All Visitors
Shinjuku Ni-chome is a globally prominent gay district where sexual minority groups gather in Tokyo. Although you'll find plenty of LGBTQ-friendly bars in the area, most of them are only open in the evening. It may be difficult for daytime visitors to find a place to take a break.
This article introduces three LGBTQ-friendly cafes in Shinjuku that operate during the day. These eateries are open to all visitors, regardless of their sexuality, identity, or nationality.
Contents
1. CoCoLo Cafe: A Long-Established LGBTQ-Friendly Eatery
Opened in 2001, CoCoLo Cafe is said to be the first LGBTQ-friendly cafe in Japan. It also appeared in the Japanese television drama "Kinou Nani Tabeta?" (What Did You Eat Yesterday?) which tells the story of a gay couple.
The founder and owner, who identifies as a sexual minority, wanted to start a cafe where anyone could feel comfortable regardless of their sexuality. This inclusive idea has attracted staff members from diverse backgrounds to work there.
The yellow interior adds to the vibrant atmosphere, while the subdued lighting creates a relaxing ambiance in the cafe. Whenever there's an event in Shinjuku, people tend to gather here before and after the occasion.
Near the entrance, you'll find fliers and pamphlets of LGBTQ-related events alongside business cards of nearby shops. There are books available to read, too, so please take a look if you're interested.
Voluminous Dishes and Desserts
Tropical Parfait for two, priced at 1,360 yen including tax. Picture courtesy of CoCoLo Cafe.
The gigantic parfait served after lunchtime hours is highly recommended. Give this decadent dessert a try if you're feeling hungry for something sweet. This parfait is also perfect for posting on your social media account to share with friends.
The featured ingredients change each month. In August, the cafe serves the Tropical Passion Parfait containing passion fruit. The Caramel Parfait with apples will be available in September. The menu and all its items are hand-made by the staff.
Picture courtesy of CoCoLo Cafe
The CoCoLo Plate (1,000 yen including tax) is a popular weekly lunchtime option. On weekdays, office workers in the area rush to order this one-plate meal. Multinational cuisine, including Asian dishes, pizza, and pasta, is served at dinnertime.
About 30 to 40 percent of the customers are from abroad, so the menu is also written in English, and employees understand basic English.

2. Footbath Cafe & Bar Donyoku: A Judgement-Free Queer Space
Footbath Cafe & Bar Donyoku opened in 2018 with the motto of placing importance on personality rather than sexual orientation. This eatery welcomes everyone without discrimination based on their nationality, age, or physical impediment.
The manager, Nagamura-san, also operates Dorobune (Japanese), a tavern for people whose gender identity is female, on the same floor of the building. Over her years as a manager, she recognizes the importance of recognizing differences, but has come to acknowledge the personality of each customer as opposed to trying to fit them into a mold. The cafe reflects her care with its comfortable, open atmosphere.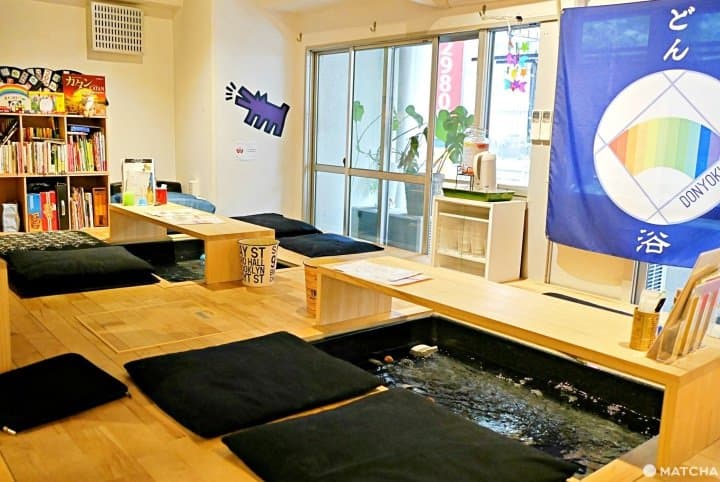 The foot bath is equipped with both filtering and sterilization functions. Customers can also rent vinyl socks if they don't want to soak with their bare feet.
For example, visitors can have a unique experience with an ashiyu foot bath, which is rare in a cafe. Nagamura-san decided to build it so customers would be able to have a conversation with each other.
According to her, "Talking to strangers can be difficult, but I thought dipping one's toes into an ashiyu may help break the ice."
Customers are allowed to sit wherever they choose. There is even a hammock, which showcases the attentiveness and hospitality of the staff.
Foot Bath Fee
Available on Wednesdays, Thursdays, and Fridays
11:30 - 14:00/Free of charge
14:00 - 23:00/790 yen per person, excluding tax
A Menu Packed with Delicious Dishes
Bahn mi with chicken, pickled vegetables, coriander, and fried egg priced at 890 yen excluding tax. The prices differ according to the ingredients.
Bahn mi (Vietnamese-style sandwich) is a must-have dish. It comes in all varieties here, including chicken, roast beef, chili con carne, and a vegan bahn mi.
The appetizing sandwich above is served on a crisp baguette and has the refreshing aroma of cilantro, chicken, and spicy pickled vegetables called namasu (*1). You can ask the staff to refrain from adding cilantro if you're not fond of this fresh herb.
*1 Namasu: thinly sliced carrots and daikon radish pickled in a sweet vinegar sauce.
Reicha, a Taiwanese tea with a faint, sweet taste, is made by grinding more than 20 types of beans and miscellaneous grains.
Nagamura-san told MATCHA that due to a large number of under-age customers, Donyoku serves a variety of non-alcoholic drinks. The most recommended beverages are the nutritious reicha (690 yen excluding tax) and an original amazake latte (640 yen excluding tax). There are about 40 drinks available off the menu.
The must-have dishes selected by Nagamura-san have met her high standard for food. Some selections are quite rare, so give them a try on your next visit.

3. Shinjuku Dialogue: A Sustainable Vegan-Friendly Cafe for Everyone
Shinjuku Dialogue is a cafe that is not only LGBTQ and vegan/vegetarian-friendly, but eco-friendly as well. If you have the chance to visit, order their delectable food and drinks made from local produce.
Nomura-san, the manager, carefully selects the ingredients so customers can enjoy nutritional, wholesome dishes.
Vegans should try the popular Amazake Tea Latte (650 yen including tax) made with soy milk. This beverage, which literally means "sweet sake," can be enjoyed either hot or cold. The iced version is served with a reusable stainless steel straw to reduce excess waste.
Supporting Sustainable Development Goals (SDGs)
Inside the cafe, you'll see a Ferris wheel-like object on the wall with 17 small boxes.
The labels on each box represent the Sustainable Development Goals (SDGs) heralded by the United Nations (UN). After ordering a drink, customers can donate 50 yen to organizations supporting various SDGs.
By setting up the boxes, Nomura-san wanted customers to think and talk about the SDGs. So, order a beverage and place your bottle cap in the category you wish to support.
Starting at 18:00, the cafe turns into a bar with Syun-san—a transgender woman and LGBTQ activist—as the bartender. The same system of contributing to a goal also applies at the bar. Definitely head to the lively lounge if you cannot make it during the daytime.

Cafes and Spaces Where You Can Be Yourself
CoCoLo Cafe
While evening get-togethers are fun, some may prefer chatting with their partners or friends in the daytime. The featured cafes are perfect for those who prefer a peaceful, intimate ambiance as opposed to a rowdy night out on the town.
Also, the cafes are conveniently located in the Shinjuku Ni-chome neighborhood, making it easy to visit all three locations.
In cooperation with CoCoLo Cafe, Donyoku, and Shinjuku Dialogue.
The information presented in this article is based on the time it was written. Note that there may be changes in the merchandise, services, and prices that have occurred after this article was published. Please contact the facility or facilities in this article directly before visiting.