Decadent Vegan Parfaits In Tokyo - Indulge In Sweets At Wired Bonbon
Located in Shinjuku, Tokyo, wired bonbon is a cafe with an extensive vegetarian and vegan-friendly array of desserts. Indulge in adorable, photo-worthy vegan parfaits, crepes, cakes, and all types of sweets in this charming city oasis.
Picture-Perfect, Plant-Based Sweets and Meals
Shinjuku is a fun, energetic Tokyo area filled with shopping, food, and entertainment. Trendy cafes and stylish eateries are also common in Shinjuku. Ideal for relaxing after a day of shopping and sightseeing in the area, wired bonbon is a cafe located inside Shinjuku LUMINE, a major shopping complex carrying the latest fashions.
The menu at wired bonbon serves up delicious, aesthetically-pleasing items enjoyable for all diners, from meals to snacks and desserts. What sets this cafe apart, though, is its many vegetarian and vegan-friendly options, including an extensive selection of desserts.
Continue reading to learn what you can order and how you can indulge in some of the prettiest, tastiest treats in all of Tokyo.
wired bonbon - Enjoy a Meal, Teatime, and Vegan Dessert
wired bonbon is a restaurant and cafe located inside Shinjuku LUMINE, a complex with shopping, entertainment, and food and drink options. Nearby major public transportation, wired bonbon is very convenient to get to and an ideal place to take a break from shopping or sightseeing in the Shinjuku area.
The menu at wired bonbon features a variety of savory options, like curry, salad, and soup, as well as desserts. There are non-vegetarian choices as well as vegetarian and vegan options that allow all diners to be satisfied. Allergens contained in each dish are well-marked with easy-to-understand symbols, and the menu is in both English and Japanese to make ordering easy.
A Dessert Menu to Indulge Your Sweet Tooth
wired bonbon has a completely vegan dessert menu, filled with parfaits, cakes, crepes, and other delicious options. The decadent, creative desserts were created by a prominent vegan pastry chef in Japan. All items are plated gorgeously, taste wonderful, and are great for sharing with friends, in-person and via social media.
With so many options, it may be difficult to decide which sweet to order, but the convenient location of wired bonbon makes it easy to go for repeat visits.
Matcha Azuki Parfait - Savor Classic Japanese Flavors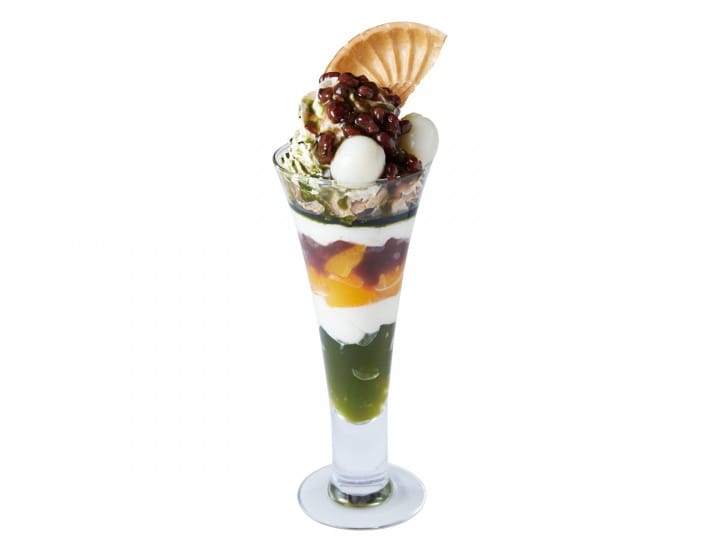 The matcha azuki flavored parfait (1,180 yen without tax) is a traditional fusion of Japanese flavors. The parfait contains rich whipped soy cream, ice cream layered with matcha, azuki, and mochi. There are also crispy layers of brown rice flakes, commonly found in Japanese parfaits, as well as a layer of fruit, in the middle.
A light, sweet cookie at the top adds a finishing touch to this adorable parfait. This is a completely plant-based, vegan dessert that customers with allergies and different dietary needs can indulge in.
Houjicha Warabi Parfait - A Fragrant Choice Great for Tea Lovers
For those who like tea, the houjicha warabi (1,180 yen without tax) is highly recommended. The hojicha (roasted tea) soy ice cream adds a depth of flavor to the parfait, and the warabi mochi (soft rice cakes covered in sweet soybean powder) on the top provides a layer of richness.
Like the matcha parfait introduced above, this parfait also comes with azuki, adding the right amount of sweetness to this decadent dessert.
Strawberry de Bonbon - A Playful Cotton Candy Treat
For a visual impact, try the Strawberry de Bonbon (1,280 without tax), a creative and flavorful parfait with almond milk ice cream surrounded by cane sugar cotton candy. Sweet and slightly tart strawberries pair deliciously with the creamy, rich soft serve ice cream. Be sure to snap a picture of this one-of-a-kind dessert before you indulge!
Apple Daigaku Potato Crepe - Try Japanese Sweet Potato, Creme Brulee-Style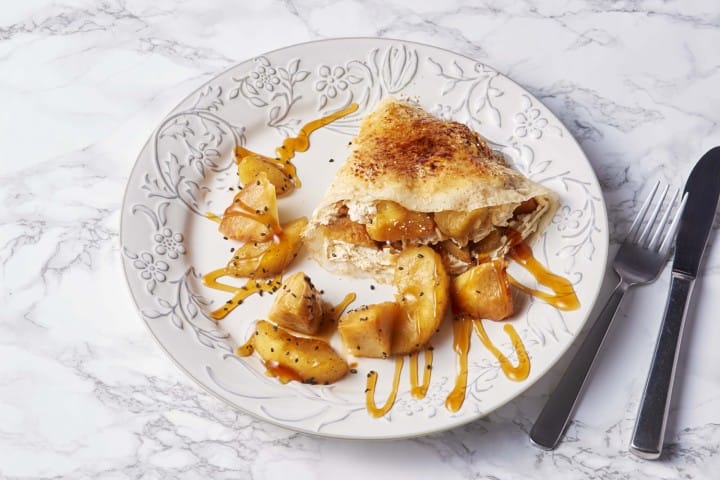 For guests looking for something besides ice cream, wired bonbon also has crepes made from rice flour, finished with a crispy, creme brulee-like caramel glaze. The Apple Daigaku Potato (980 yen without tax) is a unique choice filled with candied Japanese sweet potatoes and baked apples. Fluffy soy cream fills the rest of the crepe, which is covered with a mitarashi dango* sauce.
*Mitarashi dango: mochi covered in a sweet and salty sauce made from soy sauce and sugar. It is a traditional Japanese treat.
Mon Blanc Tart - Dig into Rich Chestnut Flavors
Another recommended option is the Mon Blanc Tart (730 yen without tax), a dessert found frequently in Japan. This vegan and gluten-free version is filled with sweet Japanese chestnuts and cream. This is an ideal choice for diners looking for something simple but satisfying. It pairs great with coffee or tea.
Spend Teatime and Meals in a Charming Space
The stylish interior of wired bonbon will take you out of the bustling Shinjuku area and make you feel like you've stepped inside an elegant cafe in France. From the light turquoise walls to the antique-style hanging lamps, the cozy atmosphere adds fun and relaxation to the dining experience.
The cafe is spacious, making it suitable for large groups. There are also a number of small tables where solo diners will feel comfortable sitting at.
How to Get to Wired Bonbon
wired bonbon is on the 6th floor of Shinjuku LUMINE (building 1). The complex is right next to the JR, Keio, Odakyu, and Tokyo Metro and Toei Subway Shinjuku stations. This makes it very easy to access.
However, be aware of which exit you take when leaving the station, as the area is large. Which exit you should use depends on which station or transportation method you ride. 
From JR, Odakyu, and Keio Shinjuku station, take the south exit. Keio Shinjuku Station is connected directly underground to LUMINE. For Tokyo Metro lines, it is recommended to follow signs for JR Shinjuku Station and take the south exit. For the Toei Subway, take exit A8 from Shinjuku Nishiguchi Station.
Go up to the 6th floor of Shinjuku LUMINE in building 1 to find wired bonbon. The adorable pastel-colored exterior stands out on the floor.
Share Dessert in Shinjuku with Your Friends
wired bonbon is a relaxing cafe that will take you out of the bustle of one of Tokyo's busiest neighborhoods with its exquisite food and desserts. Enjoy all of what Shinjuku has to offer while catching a breath of fresh air at this cozy cafe serving healthy and delectable food and dessert.
In cooperation with wired bonbon
All pictures courtesy of wired bonbon

The information presented in this article is based on the time it was written. Note that there may be changes in the merchandise, services, and prices that have occurred after this article was published. Please contact the facility or facilities in this article directly before visiting.