Experience The Classic Japanese Vibes Of Guesthouse Ninjin, Niigata
Guesthouse Ninjin is in a renovated 90-year old traditional Japanese home. Guests can get a sense of the everyday lives of Japanese people from a century ago.
Located at the heart of Niigata City for generations, Furumachi once prospered as the city's geisha quarter. Even now, you can visit old establishments to be entertained by geisha, as well as longstanding restaurants.
Built out of a renovated traditional Japanese-style home, Guest House Ninjin opened in the Furumachi area in May 2016. Originally a dumpling shop, the owner personally directed the structural alterations, and guests can fully enjoy a classic atmosphere straight from Japanese antiquity.
Check out our Niigata access guide for more information about how to get to Niigata City.
"Guest House Ninjin" is written on the signboard in cute letters. The sliding door at the entrance-way is a kurado, a style of door used in warehouses. Apparently the owner went all the way to an antique shop in Nagaoka City - an hour away from Niigata City by car - to procure it.
Open the sliding door and a staircase leading up to the second floor will appear.
Go through the entrance-way and there will be signboards with information about renting bicycles and access to wi-fi. Check them out when you stay at Ninjin. You can rent a bicycle for 400 yen for three hours, or 600 yen for a whole day.
Lounge And Shared Space
Continue down the right hand side and there will be a lounge with a large wooden plank table. Check in here. In addition to being the reception area, this is also used as a place for guests and locals to interact. The opportunity to sit around a table with people from all over the world, eating, drinking and laughing together, is one of the appealing things about Ninjin.
In the wintertime, this table becomes a kotatsu (*1), and you can enjoy the quintessential Japanese winter experience. Locals will often give travelers great recommendations for places to go that are only known by Niigata residents.
*1: A unique Japanese heating device, a kotatsu is a small table draped with a futon which traps heat under the covers.
You can order sake, beer, cocktails and other beverages in the lounge. Niigata is famous for its sake production, and there are many sake breweries located within the prefecture. Guesthouse Ninjin also has many of Niigata's local sake varieties available, so how about ordering a cup?
Three Types Of Guest Rooms
When you've finished checking in at the lounge, you will be shown to your room. There are co-ed dormitory rooms, women-only dormitory rooms, and private rooms.
As you can see in the pictures, the co-ed dormitory rooms use wood and shoji paper screens in their construction for that classic Japanese vibe.
This is the bedding in one of the dormitory rooms. Even though they are called dormitory rooms, each bed space is partitioned off with shoji screens, creating a small private area. Even if it's your first time at a guesthouse, you should be able to relax and have a comfortable stay. The bed space is also outfitted with an electrical outlet, little pillow and a reading lamp.
This is one of the women-only dormitory rooms. The layouts of the co-ed and women-only dormitory rooms are essentially the same. One night's stay in either type of dormitory room will cost 3000 yen.
This is a private room. It has an unusual setup for a private room, as it is split into an upper and lower half. Up to two people can stay in one room. One night's stay in a private room is 4500 yen for a single guest, or 7200 yen for two guests. You'll surely get a little thrill from staying in a room that's very different from the norm.
*From July to September, and from November to April, both the dormitory rooms and private rooms will cost an additional 300 yen for cooling/heating costs.
A Communal Kitchen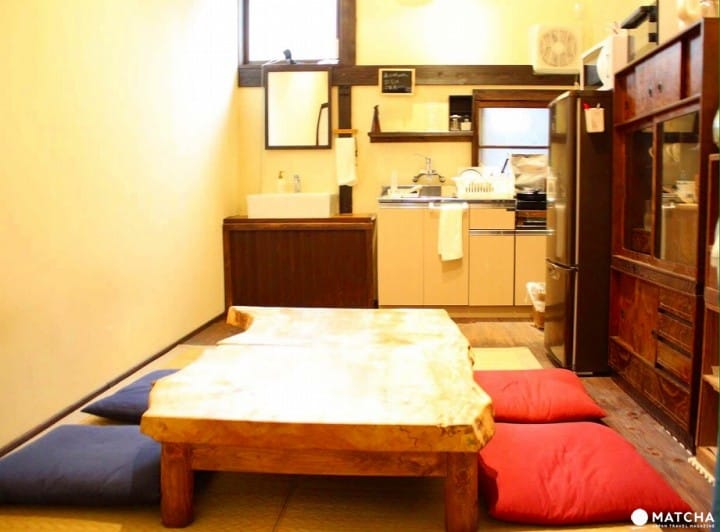 The communal kitchen is equipped with a fridge and all the cooking implements you'll need to prepare a meal, so head to the nearby marketplace or supermarket to pick up some fresh seafood and vegetables. Niigata City faces out onto the Sea of Japan, so all of its seafood offerings are delicious! When you come to Niigata, eat with gusto!
Explore Everyday Niigata
In the guesthouse, you can find a Niigata guide map for first-time visitors to Niigata. Apparently, this was made from a desire for tourists to explore the regular streets of Niigata City, which does not have many major tourist attractions. The area map items and recommendations are listed in English and Japanese. Even if you don't research ahead of time, as long as you have this guide, you can fully enjoy your trip.
The couple who own Ninjin, Mr. and Mrs. Takai, said that they wanted guests to be able to actually experience life in a traditional Japanese home. The interior of the guesthouse is strewn with various relics from the past. If there's something that piques your curiosity, ask one of the owners and they might have an interesting tale to tell about it.
An Introduction To Surrounding Spots
Guesthouse Ninjin is located on the Kamifurumachi shopping street. There are many quintessentially Japanese spots located on this longstanding avenue, still vibrant with activity.
Hakusan Shrine
Hakusan Shrine is the shrine at Niigata's city center. As the home of many of Niigata's local Shinto deities, it has been beloved by Niigata residents for over a thousand years. When the New Year rolls around, Japanese people visit shrines and temples to give thanks for the previous year's blessings and to wish for peace and prosperity in the coming year. On January 1st, many pilgrims will descend on Niigata City to visit Hakusan Shrine. Hakusan is also famous in Japan as a place for men and women to receive a blessing from the god of marriage bonds.
Address:Niigata, Niigata, Chuo, Ichibanboridori-cho 1-1
Homepage: Niigata's Hakusan Shrine
Oden Restaurant Jun-chan
Oden could be called the classic Japanese winter meal - the dish is made of daikon radishes, carrots, hanpen and other ingredients stewed in a soy sauce broth. It pairs perfectly with Niigata's famous sake. The oden restaurant Jun-chan has several locations in Niigata, and is a local favorite. One item is 100 yen. You can have a very reasonably priced meal of five oden items for 500 yen. Drop by while you're staying at Ninjin.
Oden Restaurant Jun-chan, Nishibori Branch
Address: Niigata, Niigata, Chuo, Nishiborimaedori 3-bancho 724-2
In Closing
There may not be any major tourist destinations in Niigata City, but the city still retains its former architecture and culture. During your walk through the everyday streets, you're bound to find something you like. At that time, how about really experiencing some wonderfully antique Japanese vibes at Guesthouse Ninjin?
The information presented in this article is based on the time it was written. Note that there may be changes in the merchandise, services, and prices that have occurred after this article was published. Please contact the facility or facilities in this article directly before visiting.