The Gorgeous Menuma Shoden-zan Temple - Saitama's Nikko Toshogu Shrine!?
Menuma Shoden-zan in Kumagaya city, along with Matsuchiyama Shoden in Tokyo and Ikoma Shoden In Nara, is one of Japan's three great Shoden temples. Visit Saitama's very own Nikko Toshogu.
Located in Kumagaya City in Saitama, Menuma Shoden-zan is one of Japan's three great Shoden temples, standing alongside Matsuchiyama Shoden (Tokyo) and Ikoma Shoden (Nara).
Also known by the name Kangiten, Shoden is a guardian deity in Buddhism. People sometimes use the term "Shoden" to refer to temples which venerate Kangiten.
The highlight of Menuma Shoden-zan is definitely the main hall, Kangi-in Seitendo, which was designated a Japanese national treasure. With dazzling architecture that reminds one of the internationally famous Nikko Toshogu Shrine, this temple is called "Saitama Nikko." The temple is also famous for bestowing blessings on marriage bonds. In this article, we'll introduce you to the key highlights at Menuma Shoden-zan.
Access From Tokyo
Menuma Shoden-zan is located near Kumagaya Station in Kumagaya City, which is easily accessible from Tokyo Station. Hop on the JR Ueno Tokyo Line to head there directly. (70 minutes, 1140 yen). You can also take the Joriku Shinkansen (40 minutes, 3200 yen).
From Kumagaya Station, you can take any Asahi bus bound for Ota Station, Menuma Shoden-mae, or Nishi-Koizumi Station. You can reach the closest bus stop, Menuma Shoden-mae, in about 25 minutes. Get off the bus and the road to the shrine main hall will be right in front of you.
The Three Gates Before the Main Hall
As you enter the grounds, the first thing you will see is the massive Kiso Gate. Its scale stands out even further because of the surrounding ring of residential homes.
When viewed from afar, the gate seems rustic and gives off a gallant impression, but venture up close and you will realize that elaborate images of lions and dragons have been carved into it. This structure, delicate yet magnificent, is quintessential Japanese shrine architecture.
Pass under the Kiso Gate and you will see an old warrior statue on your right. This is Saito Betto Sanemori, a 12th-century hero and the builder of Menuma Shoden-zan. It is thought that construction on Kangi-in Seitendo was started in 1179 thanks to Saito Betto Sanemori's Shoden worship.
Next, you will see the Shikyaku Gate. The grounds of Menuma Shoden-zan have been damaged by fires several times in its history, and many of the structures have been rebuilt. The Shikyaku Gate is the oldest of these reborn buildings, and still looks the same as it did four centuries ago.
Pass under the Shikyaku Gate and proceed forward. You will see the Peace Tower on your righthand side. This beautiful spot is a great place to see sakura in spring and the foliage in autumn.
This is the Nio Gate. On the left and right, you can see mighty Kongo Rikishi images. These images of guardian deities, placed two to a gate at Buddhist temples, are thought to serve as divine protection against the enemies of Buddhism.
Kangi-in Seitendo, A National Treasure
Pass under the Nio Gate and you will arrive at Kangi-in Seitendo at last. Rebuilt several times after fires, the current building has been standing since 1760. Admission to the hall is 700 yen. The Aun No Kai group has volunteers giving tours from 10 AM to 4 PM, every hour on the hour, to deepen visitors' understanding of the temple. Since the tour is only available in Japanese, it would be a good idea to bring along a friend to translate.
Photo provided by: Kumagaya City
This is the designated national treasure, Kangi-in Seitendo. Constructed using Gongen architectural techniques, practically every inch of the structure is covered in gorgeous carvings.
Nikko Toshogu Shrine is perhaps the most famous example of Gongen architecture. Kangi-in's carvings were primarily handled by Ginpachiro Ishihara, who was part of the group which renovated Nikko Toshogu. The patterns on the beautiful building, which compare favorably with Nikko Toshogu, have a hidden common bond behind them. That is why Menuma Shoden-zan is sometimes also called Saitama Nikko.
We will take a closer look at a few of these carvings.
People playing Igo. Are they Gods?
Children playing with a shishimai, a dancing lion.
Some other figures carved into the building include sumo wrestlers.
The figures in these carved-out scenes have quiet, kind facial expressions, and refresh the spirits of those watching them. Since each carving was made from only one plank of wood, you will be surprised at the remarkable craftsmanship.
In Closing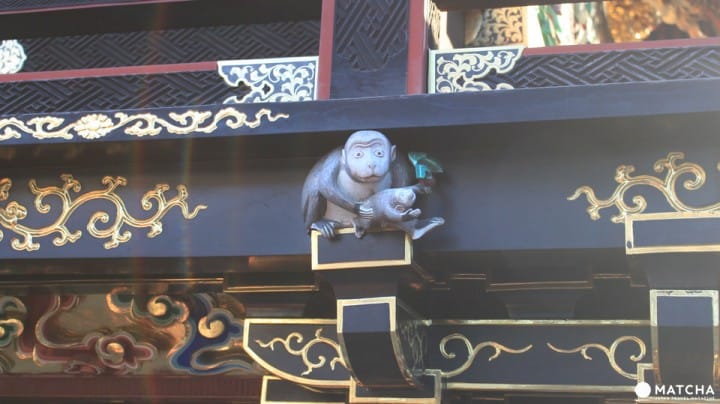 What do you think? There are many more beautiful carvings to be seen at Menuma Shoden-zan. Kangi-in Seitendo underwent seven years of repairs from October 1st, 2003 to September 30th, 2010, and has been reborn with remarkably bright colors. Why not visit Kumagaya City in Saitama and see the beautiful ornamentation that will vividly remind you of Nikko Toshogu?

View Information
Menuma Shoden-zan
| | | |
| --- | --- | --- |
| | Address | Saitama, Kumagaya City, Menuma 1627 |
| | Business Time | Every day from 9:00~16:30(last entry at 16:00) |
| | Required Time | 1 hour |
| | WiFi | Not Available |
| | Accepted Credit Cards | Not Available |
| | Nearest station | JR Kumagaya Station |
| | Access | From JR Kumagaya Station, take the Asahi bus bound for Ota Station/Menuma Shoden-mae/Nishi-Koizumi Station, get off at Menuma Shoden-mae (one minute) |
| | Price | Admission: 700 yen (children under elementary school age free) |
| | Telephone number | 048-588-1644 |
| | Website | Shoden |