A Traditional Summer Event - Experience Awa Odori In Tokyo!
Awa Odori is a summer Japanese dance that began in Tokushima Prefecture 400 years ago. Read about how to see this captivating dance at a festival in August in Koenji, Tokyo, and where to see Tengu Ren, a famous dance group.
Enjoy Japan's Awa Odori Festival
Awa Odori, a folk dance originating from Tokushima Prefecture, is a Japanese summer tradition with over 400 years of history. Thousands of dancers dressed in vivid outfits parade through the streets, calling out to onlookers to join them.
"Fools dance and fools watch; both are fools, so why not dance?" This song is repeated again and again throughout the festival so that everyone, dancers and onlookers alike, have a great time. For that reason, the Awa Odori is also called the "Fool's Dance."
Awa Odori is held throughout Japan around the time of Obon during early to mid-August. The largest festival is in Tokushima City in Tokushima Prefecture.
However, you can still see the events even if you're not in Tokushima, as Awa Odori is performed in the Koenji and Nakameguro areas of Tokyo. This article introduces how you can watch Tengu Ren, one of the most famous Awa Odori dance groups in Tokyo, and have fun at the Koenji Awa Odori Festival.
A Must-See Performance! Watch Awa Dori Up Close
A men's dance with its performers moving in a low stance, and the women's dance featuring elegant moves, are both part of Awa Dori. These two dances are accompanied by the shamisen (*1), taiko drums, bells, and flute.
The Awa Odori is a relatively simple dance, but it is fun to watch and the event atmosphere is exhilarating.
*1 Shamisen: a Japanese stringed instrument. It has three strings with a body covered in either cat or dog skin.
During the festival, "ren", or dance groups, perform original dances while wearing unique outfits. A dancer in each group holds up a large paper lantern displaying their name.
Every group has their own history and tradition. The Tengu Ren, formed in 1965, is a troupe with a particularly long history in Tokyo.
The Tengu Ren has over 130 members and holds practice six times a month during the Awa Odori Festival season.
Tengu Ren includes people of all ages, ranging from four to 90 years old. They all dance like one big family.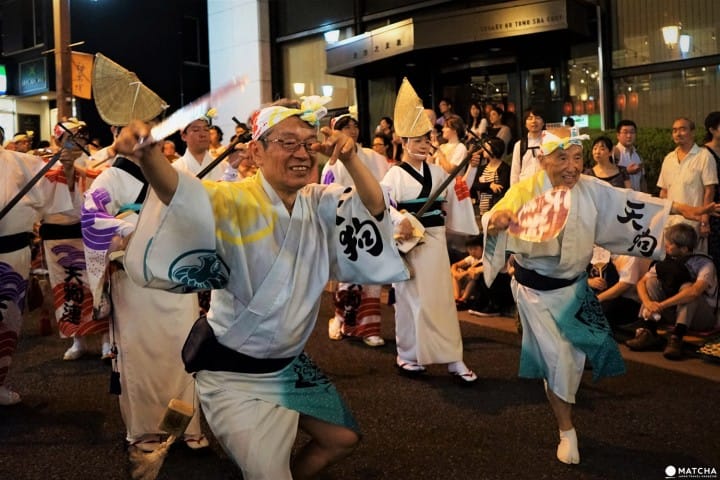 In the Tengu Ren, you'll find dancers holding fans depicting tengu (a Japanese folk creature) and female dancers dressed in bright yellow outfits.
The Tengu Ren also makes appearances at festivals throughout Japan and overseas events. Recently, they have performed their dances in Australia, Singapore, and Taiwan, gaining international recognition.
You'll notice the skill and energy of each dancer of Tengu Ren. The performance reaches a peak when the dancers follow along with an increase in tempo and fast-paced music.

Tengu Ren performs at the Koenji Awa Odori Festival in Tokyo. In 2019, the festival will be held near JR Koenji Station on August 24 and August 25 (Saturday and Sunday).
For more events and to learn more about Tengu Ren, see the official website (Japanese).
Koenji Awa Odori Festival – A Summer Tokyo Event Influenced by Tokushima
Koenji residents decided to host a summer festival in 1957 to revitalize their shopping district. A Tokushima native was among the Koenji residents tasked with being a dance mentor at the time.
This led to the birth of the Koenji Awa Odori Festival, which has grown and gained popularity since it started. In 2018 and 2019, it is a prominent festival with around 10,000 dancers and one million spectators.
Practiced since around 400 years ago, Awa Odori is a festival that continues to fascinate audiences with dynamic dance and music. Watching the participants dance will bring a smile to your face and make you want to join, too.

Original Author: Caitlin Adkins
*This article is an updated version of an article originally published on August 24, 2018.

The information presented in this article is based on the time it was written. Note that there may be changes in the merchandise, services, and prices that have occurred after this article was published. Please contact the facility or facilities in this article directly before visiting.