Winter Limited! 11 Strawberry Flavored Items At Convenience Stores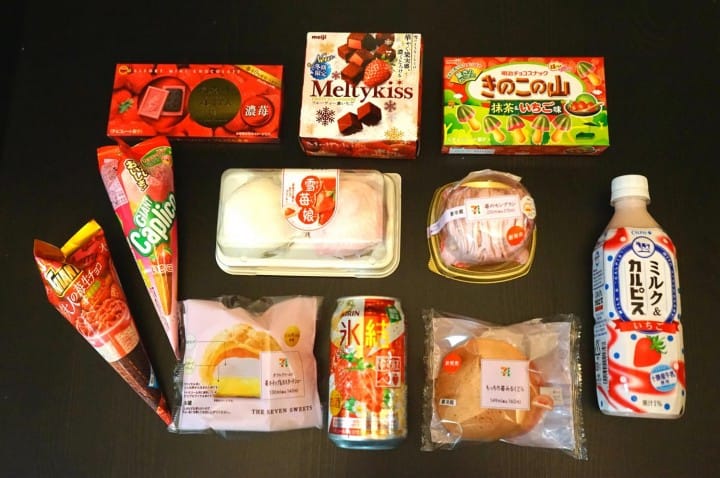 Winter is the strawberry season in Japan and you can find strawberry flavored items wherever you look. Convenience stores have a great lineup of strawberry flavored items which you can pick up for yourself or as gifts.
In Japan, each season becomes the incentive for the release of new flavors of popular snacks and drinks. Winter means strawberry season and suddenly the snack isles in the convenience stores turn pink and red.
Let me introduce you to eleven strawberry flavored items you can easily find at the convenience store every winter.
1. Strawberry Daifuku - A Cake Wrapped in Mochi
Yuki Ichigo (snow strawberry) looks like a regular daifuku (a rice cake with sweet filling) but once you bite into it you are in for a surprise. A strawberry is bedded on a sponge cake, covered in whipped cream and wrapped in a mochi (rice cake). It is basically a strawberry shortcake disguised as daifuku.
Yuki Ichigo is a returning favorite every year and mainly available in January. The last two years some convenience stores even carried a chocolate version in which the whipped cream, as well as the mochi, were chocolate flavored.
If you are wondering what's the difference between the white and the pink version, it's only the color. The flavor is the same. So if you like cake or daifuku, you should give this a try.
Price: from 210 yen
2. Ichigo Mont Blanc - Strawberry Flavored Cake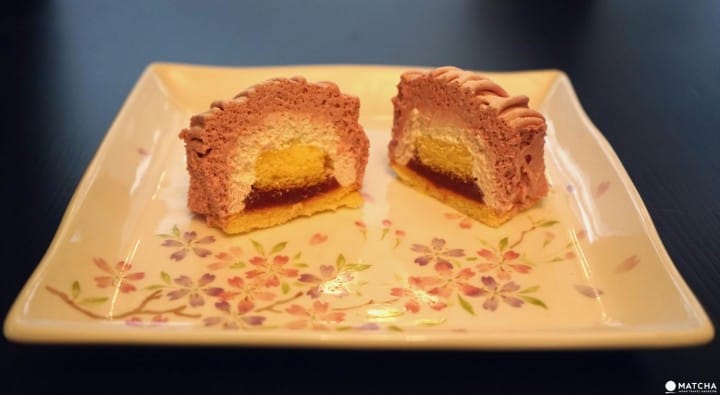 Mont Blanc is a very popular dessert in Japan. While it's traditionally made with chestnuts, there are many variations of it in Japan. This particular Mont Blanc is made with strawberry cream, whipped cream, and strawberry jelly in the center.
The strawberries give it a nice tart flavor and it isn't too heavy, even though it mainly consists of whipped cream. Although it might not be strawberry Mont Blanc every year, you will definitely be able to find some kind of cake in a strawberry variation around this time of the year.
Price: from 250 yen
3. Strawberry Choux Pastry
Choux Pastry is a light pastry dough filled with flavored cream. It is one of the most popular pastries in Japan with many shops being specialized in it. The Choux showcased here has a filling made with custard and strawberry cream.
This particular choux might not always be available, but you will definitely be able to find some kind of strawberry cream filled choux during winter.
Price: from 130 yen
4. Strawberry Dorayaki
Traditionally, dorayaki is a snack made with a filling of anko (red bean paste) sandwiched between two castella pancakes. It can actually be a very creative dessert that can be filled with whipped cream, custard, fruit and many other ingredients.
Strawberry dorayaki has seen many variations. Dorayaki filled with anko, cream, and strawberries, or chocolate dorayaki filled with strawberry-flavored whipped cream and even green tea dorayaki stuffed with real strawberries are just some examples.
The one featured in the picture is a strawberry-flavored dorayaki filled with whipped cream and strawberry jam. The strawberry in the castella dough has a refreshing taste and it goes nicely with the cream.
Price: 150 yen and up
5. Strawberry Flavored Ice Cream
Even though it's winter, strawberry ice cream is another staple in the strawberry-flavored items line up. While normal strawberry ice cream is available all year long, you might find strawberry shortcake or strawberry chocolate flavored ice cream variations in the winter.
This strawberry ice cream has a chocolate covered cone and is topped with strawberry chocolate as well as strawberry flavored cookie crumbles. It has a delightful crunch to it and the dark chocolate pairs nicely with the strawberry flavor.
Price: From 150 yen
6. Giant Caplico - Strawberry Flavored Chocolate in an Ice Cream Cone
Giant Caplico is made to look like ice cream. It consists of air infused chocolate in an ice cream cone and it offers a unique flavor experience. The air pockets in the chocolate make it melt faster in your mouth giving you a sensation very similar to ice cream, minus the cold aspect of it.
Strawberry giant Caplico cut in half
In the winter, you can get strawberry and chocolate flavored giant Caplico. But even without any crazy flavors, this chocolate snack is rather unique and is definitely worth a try.
Price: from 100 yen
7. Kinoko No Yama - Tiny Strawberry Mushrooms
Kinoko no Yama (Mushroom Mountain) is another unique Japanese chocolate snack. It consists of small chocolate mushroom heads with cookies as stem. Kinoko no Yama releases special flavors every couple of weeks and they always have some kind of strawberry flavor in the winter season.
In the past, they had strawberry milk and strawberry chocolate (the chocolate was strawberry flavored and the cookie was chocolate flavored).
This year they released a green tea and strawberry flavor. It might sound like a very odd combination but the bitter matcha flavor and the tart strawberry flavor go together surprisingly well. Even if you can't get this flavor, you should definitely try Kinoko no Yama which can be a great souvenir from Japan.
Price: from 200 yen
8. Melty Kiss - The Winter Limited Strawberry Chocolate
Melty Kiss itself is winter limited. It was first released a couple of years ago and it was such a big hit that it came back every winter since then. The flavors that come back every year are chocolate, strawberry and green tea.
What makes Melty Kiss so special is the sensation it leaves in your mouth. It consists of a velvety chocolate melting in your mouth quickly, leaving a slight cooling feeling. Every piece is thinly covered in cocoa powder to enhance the flavor even more.
If you want to try this unique chocolate, you should buy it as soon as you see it as it might get sold out quickly.
Another thing Melty Kiss is great for is making hot chocolate. Melt about half a pack with a cup of milk and it will result in a creamy cup of hot chocolate. If you use strawberry Melty Kiss, you can still taste the strawberry flavor in the hot chocolate. You should give it a try!
Price: From 250 yen
9. Strawberry Flavored Chocolate - Alfort Mini Chocolate
The chocolate types that get a strawberry makeover change every year but you will definitely be able to find a selection of strawberry chocolate during the winter season. One particular chocolate that releases a strawberry flavor every year is Alfort.
The standard version of these mini chocolates comes with milk chocolate on top of small butter cookies. The strawberry version is a richly strawberry flavored chocolate on top of a chocolate flavored cookie. The strawberry flavor of this is really strong and tart. If you can pick this particular one up, I highly recommend it!
Price: 100 yen and up
10. Strawberry Flavored Calpis Drinks
Calpis is a popular milk-based beverage produced by lactic acid fermentation. Its flavor is comparable to the flavor of yogurt. If you stop by a Japanese supermarket, you will probably find strawberry flavored Calpis everywhere in the winter season.
If you buy the regular type, you might want to mix it with water or soda to adjust its sweetness to your taste. The versions you will find in the convenience store are usually already mixed. In recent years, there was simple strawberry Calpis mixed with water and strawberry Calpis with soda.
This year you can purchase Calpis mixed with extra milk and water. The taste is very rich and sweet. If you don't mind sweet beverages, you should give this a try.
Price: 150 yen and up
11. Bonus! Strawberry Flavored Chu-Hi
Chu-Hi is an alcoholic beverage made with shochu and carbonated water and it comes in a variety of different flavors. It is another recuring member in the strawberry line up every year. There was even a strawberries and cream version in the past.
This year's version is less sweet than its predecessors making it a refreshing change.
Price: 150 yen and up
Enjoy the Winter Strawberry Flavors!
If you love strawberries, you should visit Japan in the winter. Most of the strawberry-flavored items will make great gifts for Valentine's Day as well as they are all colored in pink and red. Besides, picking some of these up is as easy as dropping by the nearest convenience store!
How about giving these strawberry treats a try?
The information presented in this article is based on the time it was written. Note that there may be changes in the merchandise, services, and prices that have occurred after this article was published. Please contact the facility or facilities in this article directly before visiting.