Misono - A Yakiniku Shop In Ikebukuro Perfect For Solo Diners!
You want to eat tasty wagyu beef to your heart's content, but going to a shop by yourself is a little awkward, and it's difficult trying lots of different cuts of meat. No worries! Today we give you details on a yakiniku shop suited for solo diners.
A Recommendation for Hitori Yakiniku
The sound of meat sizzling on the grill, the juice of the meat trickling down, the full flavor of the meat emerging the more you chew it ... If you ever come to Japan, by all means please try wagyu beef yakiniku.
Though it's not a problem if everyone goes out to eat together, there might be some who feel awkward going to a yakiniku restaurant by themselves. One serving of beef is quite a lot so you won't be able to eat a variety of cuts of meat, and you might be concerned about other customers looking at you.
I'd like to eat lots of my favorite cuts of beef at a reasonable price. If only there was such a restaurant...
Well there is! It's just two minutes away on foot from the train station in Ikebukuro, one of the best entertainment and shopping districts in Tokyo.
This easily accessible place is called a hitori yakiniku, a yakiniku shop especially geared for solo diners!
Hitori Yakiniku Misono
As the name of the restaurant suggests, hitori (one person) yakiniku misono is targeted specifically for those eating alone.
This is how the shop's interior looks. Modeled after a sushi restaurant, it has counter seating only.
Every customer is equipped with their own mini-grill, and the seats are comfortably spaced apart. This allows you to focus on the job at hand: grilling the beef and then eating it.
Apparently there are many lone female customers as well.
Various cuts of meat line the shelf in the display case right in front of you, looking somewhat like sashimi ingredients in a sushi restaurant.
At Misono, customers can order beef one piece at a time, from the huge selection of fifty-five different cuts of meat. The shop apparently purchases one whole head of A5 rank wagyu beef, allowing them to offer high quality cuts of meat at reasonable prices.
Today we ordered the ever popular omakase (literally "I'll leave it up to you") course.
The Popular 3000 Yen Course
This is the omakase assorted meat course (3000 yen not including tax). We heartily recommend this course for those who have a hard time deciding what to order from the large menu.
From lean beef to beef marbled with fat, this course contains twelve different cuts of beef. The shop also serves misuji, or brisket, meat from the chuck tender part of the cow, and zabuton, or chuck, the meat from the chuck eye roll of the cow. These are both rare cuts of beef that are restaurant favorites.
Ordering the same cut of beef slice by slice can set you back as much as 3300 yen, so the assorted meat course (moriawase) is your best choice. Being able to eat so many different cuts of meat for only 3000 yen is not that common at a typical yakiniku shop, so here it feels like you're getting a bargain!
Turn on the flame, coat the grill with a bit of beef lard, and you're all ready to go. If you're not sure how to get the grill set up, please ask the shop staff and they'll kindly explain it to you.
Melt in Your Mouth Marbled Meat to Flavorful Lean Meat
OK, let's start grilling!
Since you're by yourself, you can grill the meat exactly to your own liking, and at your own pace.
This meat is fresh and tender, so you can eat the meat even with slightly reddish parts remaining.
Of course it's also delicious if you fully grill the meat so that both sides turn a nice brown color.
You should cook the meat to your own personal liking, but if you're not completely sure how long to cook it for, don't hesitate to ask one of the restaurant staff.
For meat marbled with fat (shimofuri), you can dip it into a sauce (left side in above photo), and for firm and lean meat (akami), dip it into Himalayan rock salt (middle) and lemon juice (right side).
We were told that for both the sauce and the rock salt, about one hundred different types were taste tested before finally deciding on these ones.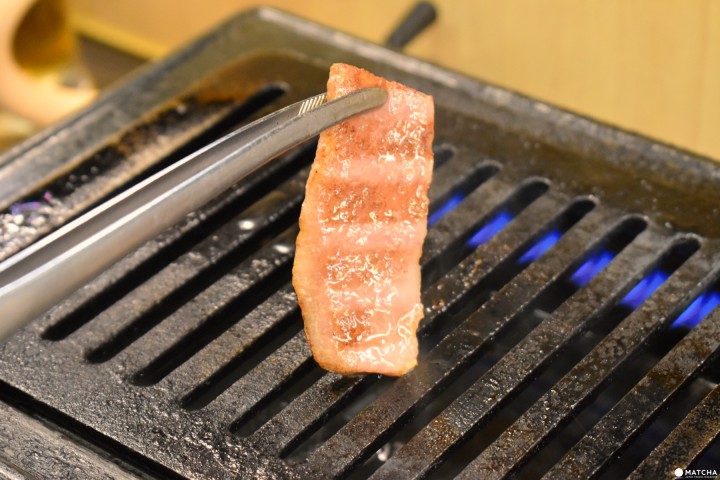 This is sirloin, considered to be one of the highest quality cuts of beef. After completely covering it with the sauce, I took a bite and was surprised at how tender the meat was. The fatty part of the meat melted in my mouth and before I knew it, it was all gone!
As for this thick slice of beef tongue, it had lots of texture, and the more I chewed it the more the full flavor of the meat emerged, and a sense of bliss overcame me.
Dipping the meat into the salt and lemon juice gives it a simple, refreshing taste.
Katashin (from the chuck eye roll part of the cow slightly above where the zabuton meat comes from), is a rare cut of meat, and only a few hundred grams are available per cow. With moderately marbled meat and a full flavor, this offers a well balanced delicious taste.
A 2 Person Course - Enjoy 12 Different Kinds of Beef
The moriawase course consists of a total of one hundred eighty grams of meat. At a typical yakiniku shop, one serving of kalbi meat is said to be about ninety grams, so with this course you can enjoy twice the amount of a regular serving with twelve different cuts of meat.
If you'd still like to eat a little bit more, you can place an extra order.
The moriawase course offers different options as well. There's a 2000 yen version (about eight different cuts of meat) and a 4000 yen version (about fifteen different cuts of meat), so the amount of and types of meat vary according to price.
The cuts of meat offered by the shop differ from day to day, so a list of what meat is available is posted every day inside the restaurant. This looks similar to a sushi shop listing what kind of sashimi is available, doesn't it.
The cheapest cut of beef is franken, or short ribs, the part found near the cow's stomach. One piece costs only eighty yen! In contrast to this is chateaubriand, or tenderloin, a high quality and expensive cut of meat that sells for six hundred yen per slice.
*Depending on the day, the cuts of meat used in the assorted meat course may vary, so there could be times in which the meat featured in this article is not available.
*During busy meal times, there is a 90 minute time limit for eating.
A Multilingual Menu
For international visitors there's no need to worry, because the menu is available in both English and Chinese.
This illustration is Japanese only, but shows the different parts of the cow that are used.
If you're curious about a certain cut of meat, simply ask the shop staff, Kono nikuwa dono bui desuka? and they can point it out on the illustration for you.
Friendly Restaurant Staff
Assistant Manager: Nishioka-san
One reason for Misono's popularity is the friendly service.
With a smile on his face, assistant manager Nishioka-san explains, "I can't speak English very well but I do my best to communicate with the international customers as well".
He goes on to say, "The staff at most yakiniku shops don't usually try to chat with customers, but we talk to them quite a bit. Of course, if you're a customer who wants to enjoy a meal quietly on your own, please don't worry because we'll make sure not to disturb you".
We were told that because they really like the comfortable atmosphere of the shop, there are many international visitors who now make it a point to drop in every time they come to Japan.

When you want to stuff yourself with wagyu beef while in Japan. When you'd like to go out by yourself and enjoy yakiniku and alcohol. When you're on your own but would like to chat with someone as you enjoy your meal.

For times like this, by all means please pay a visit to Hitori Yakiniku Misono.


In cooperation with: Hitoriyakiniku Misono

The information presented in this article is based on the time it was written. Note that there may be changes in the merchandise, services, and prices that have occurred after this article was published. Please contact the facility or facilities in this article directly before visiting.