5 Tips For Karuizawa, Nagano - Weather, Bicycle Rental, And Trip Planning
Karuizawa, Nagano Prefecture, a popular travel destination, is known for its refreshing summers and ideal conditions for skiing and other winter activities. Here are five things you should know in order to have the best Karuizawa trip possible!
Karuizawa, A Popular Travel Destination
Karuizawa in Nagano Prefecture is renowned for its cool summers, and also boasts stunning natural scenery, elegant wooden churches, souvenir shops, outlet malls, and many other interesting spots.
Of course, you can enjoy Karuizawa by visiting without a plan, but we offer five tips to help you make the most of your time there.
What's the best season to visit? How do I navigate through the town? Do you have to pay to use the restrooms on Kyukaruizawa Ginza-dori? Read on for answers to these questions and to prepare for your trip.
1. Seasonal Information
Karuizawa is enjoyable in every season, like offering a respite from summer heat, beautiful fall foliage, and wintertime skiing. However, Karuizawa has a busy tourist season and an off-season. Many stores will be on different schedules depending on the time of year. There may be flurries of snow in March, as well, and there will be very few tourists since the cherry blossoms will not be ready to bloom.
Hotels will be quiet and relatively cheap, but it will be difficult to experience the enthusiastic vibe of the shopping arcades, and you should expect restaurants to offer menus that are different from what they serve during busy season. 
Residents recommend that you come during the fall foliage season and after Golden Week.
The weather will be pleasant for walking outside, and there won't be crowds of visitors. Tourists who want to go to Karuizawa during Golden Week or Obon, two of the busiest times in Japan, should make reservations far in advance.
2. Weather and Things to Know for Your Trip
Photo by PIXTA
This is a list of the temperatures in Karuizawa over the past three years. Compared to places like Tokyo and Osaka, Karuizawa has comparatively lower temperatures, so make sure to take precautions against the cold if you go out in the wintertime. The operating hours of sightseeing spots also change with the seasons.
In particular, most establishments will close around 17:00 in January and February. Snow piles up on the roads, so be aware of snowfall.
Average Temperatures
Previous average temperatures in degrees Celsius, broken down by month
| | | | |
| --- | --- | --- | --- |
| Month/Year | 2015 | 2016 | 2017 |
| January | -3.5 | -3.0 | -3.6 |
| February | -2.4 | -1.8 | -2.5 |
| March | 2.1 | 2.2 | 0.1 |
| April | 8.0 | 8.5 | 7.3 |
| May | 14.1 | 13.5 | 13.5 |
| June | 25.6 | 16 | 15 |
| July | 20.6 | 19.9 | 21.3 |
| August | 20.0 | 20.5 | 20.4 |
| September | 15.6 | 17.8 | 15.6 |
| October | 10.2 | 10.9 | 10.1 |
| November | 6.5 | 3.6 | 3.9 |
| December | 1.1 | 0.5 | -1.8 |
3. How To Get Around: Walking, Bicycle, or Bus?
Photo by PIXTA
We went to Karuizawa in October, March, and June. We do not recommend renting a bicycle in March or during the winter. There is snowfall until early March. Your hands will ache from the cold even just walking outside, so maneuvering a bicycle would be particularly difficult. On top of this is the danger that you could fall over on the snowy roads. The best choice is to go by bus or taxi.
However, in spring and summer many people choose to rent a bicycle. From Karuizawa Station, there are bicycle rental shops all along the way to the shotengai shopping street, so take the following points into consideration and think about renting one for yourself.
Rental Bicycle Prices and Return Times Vary by Shop
Exit Karuizawa Station and you will see several rental bicycle shops. When we checked, Shironeko Cycle, located on the right-hand side of Karuizawa Station's north exit, was comparatively cheap (500 yen, or 1,000 yen for a bicycle with an electric motor). You can ride as much as you like until the 17:00 return time.
Other shops rent bicycles for around 850 yen to 1,000 yen, and they also offer different options, including renting on a per-hour basis or renting the bicycle for longer. Make sure to choose the rental bicycle shop that best fits your schedule and travel plans.
Where Should I Park My Bicycle?
You'll notice that Karuizawa's streets are very wide when walking around outside. The roads are designed for bicycles, so there are lots of paths that are very pleasant to cycle down.
Make sure to park your bicycle in the designated areas to help preserve this nice cycling environment. There is free parking for bicycles on Kyukaruizawa Ginza-dori indicated by signs. In places like Kumobaike, special bicycle parking has been set up. Many shops also have bicycle parking, so ask someone in the shops if you don't know where to park.
Recommended Cycling Routes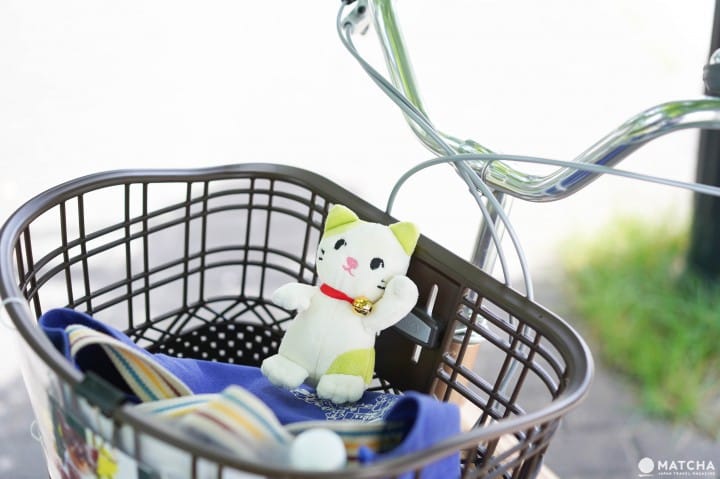 If it's your first time visiting Karuizawa and you'd like to visit the main travel spots, we recommend renting a bicycle near Karuizawa Station, visiting Kyukaruizawa Ginza-dori, Kumobaike, and the Karuizawa Prince Shopping Plaza outlet mall. The time you'll need to spend at each spot will vary, but if you take this route, you should be able to get back to the bicycle rental shop before evening.
A Warning About Riding a Bicycle With Children
Photo by PIXTA
While we were in Karuizawa, we saw many tourists riding bicycles together with their children. However, this is less secure than riding a bicycle solo, and people who aren't familiar with the roads can run into unexpected accidents. Make sure to use the bicycle lanes, and look left and right frequently.
If you don't regularly ride a bicycle, take the bus, use a taxi, or walk. In the worst-case scenario, if you get injured overseas and have to go to a hospital, your medical expenses will be significant.
4. Pay to Access Kyukaruizawa Ginza-dori Restrooms
Photo by PIXTA
Kyukaruizawa Ginza-dori has lots of tourists, so there are toilets which cost 100-yen to use installed along the street. If you don't want to use them, try Karuizawa Station, restaurants, the outlet malls, or Kumobaike.
5. Convenience Stores Are Not Open 24 Hours
Photo by PIXTA
Karuizawa has fewer convenience stores than most places in Japan. Following region regulations, business operations at night are restricted, so most of the convenience stores close by 23:00 at the latest. If you want to buy cup ramen or desserts, purchase them in advance. Most restaurants in Karuizawa close by 21:00 as well.
The town becomes very quiet at around 19:00 which is very different than the lively atmosphere during the day.
Have a Great Trip in Karuizawa
Karuizawa, with its great outdoors, delicious food, and a plethora of sightseeing spots, is the perfect place to visit for a quick trip from Tokyo. We hope that these points will be useful on your journey and that you will have a memorable time in Karuizawa!

*This article was translated and re-edited from the original Traditional Chinese.

The information presented in this article is based on the time it was written. Note that there may be changes in the merchandise, services, and prices that have occurred after this article was published. Please contact the facility or facilities in this article directly before visiting.