Hiroshima's Soul Food! Try Delicious Okonomiyaki At Reichan
Hiroshima's Soul Food! Try Delicious Okonomiyaki At Reichan
Hiroshima style okonomiyaki is different from the Osaka version. Reichan is a popular restaurant with visitors and locals alike offering delicious classic style okonomiyaki for over 60 years. It uses local ingredients and even has a vegetarian option.
Hiroshima locals are proud of their delicious comfort food known as okonomiyaki. According to them, if there is only one thing you have time to eat while visiting the city, then it should be this rich, noodle and cabbage-based dish. 
Let's find out what makes it so special and introduce you to one of Hiroshima's most popular okonomiyaki restaurants, Reichan
Reichan - Over Sixty Years of Okonomiyaki History
Reichan orginally started out as a food stall in 1957. Nowadays they are located in ekie dining inside the Hiroshima Station Building which they moved to in 2018. The restaurant is completely open towards the entrance area but it feels like a normal restaurant once you are seated inside. Traditional noren shields the restaurant from the outside and give it a slight vintage feel.
You can choose between a seat in front of the big hot plate surrounding the kitchen area or one of the small tables in the dining area. If you decide for a seat around the hotplate you can watch the chefs prepare fresh okonomiyaki in front of you. Some kind of okonomiyaki, such as the ones with cheese, even get served directly on the hot plate.
Reichan's Okonomiyaki - What Makes it Unique?
Reichan is one of the last okonomiyaki restaurants in Hiroshima that still prepares traditionally folded okonomiyaki. Every okonomiyaki is folded in half and seasoned twice. Depending on the variety you chose it will be served to you folded or open-faced.
Hiroshima okonomiyaki consists of fresh noodles mixed with cabbage and a generous helping of bean sprouts.  Everything needs to be fresh to ensure the highest quality okonomiyaki. Reichan sources all their ingredients from Japanese farms and gets them delivered fresh every day. They also use meat produced in Hiroshima in all their okonomiyaki that contain pork.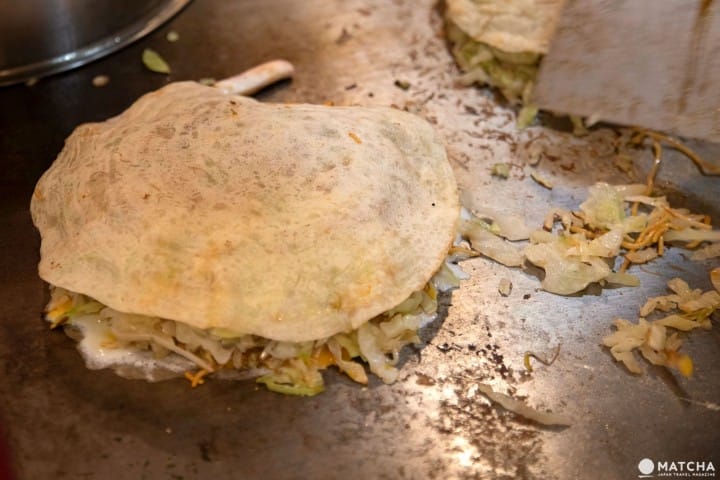 The main ingredients are sandwiched between a thin layer of pancake-like dough. Reichan prepares the dough mixture in little batches and lets it rise for at least four hours to reach its full potential.
Reichan's okonomiyaki is flavored with natural, roasted salt and topped with homemade sauce using a secret recipe. Reichan just spreads a thin layer of sauce on the okonomiyaki but you can add more sauce to your liking. You can choose between their original sauce and a spicy variation on every table. If you like the original sauce you can even purchase it at the store. It would also make for a great souvenir from Hiroshima.
Reichan's Most Popular Okonomiyaki
Reichan offers menus in English, Taiwanese, Portuguese, Korean and of course Japanese so you can easily choose your favorite okonomiyaki. If you are overwhelmed by the variety you can also refer to their rating system.
1. Reichan Special - Pork, Egg, Vegetable, Squid and Shrimp Okonomiyaki
This okonomiyaki has a little bit of everything. It is filled with delicious Hiroshima pork, fresh local eggs and vegetables and juicy squid and shrimp. Hiroshima has some of the most delicious and fresh seafood in Japan. We highly recommend this okonomiyaki if you want to try some of Hiroshima's most popular foods in one.
Reichan uses a little bit of ketchup in their okonomiyaki. You can clearly taste the slight sweetness from the ketchup without it being overpowering and it goes great with the meat as well as the seafood. 
2. Classic Hiroshima Okonomiyaki - A Forever Favorite
Reichan serves this simple folded okonomiyaki since their beginning as a food stall over sixty years ago.  Traditionally most okonomiyaki was served folded in half, nowadays only about five other restaurants in Hiroshima still serve this style. This okonomiyaki only contains the base ingredients including cabbage, bean sprouts, egg and pork. This old favorite is the perfect choice if you want to taste the original taste of original Hiroshima okonomiyaki.
3. Cheese Okonomiyaki - The Classic With a Twist
The base for the cheese okonomiyaki is the classic Hiroshima style. You can choose between normal cheese and mozzarella topping. In combination with the ketchup used it nearly tastes like a cross between okonomiyaki and pizza. It is delicious, rich but surprisingly not too heavy. If the classic okonomiyaki is to simple for you, you can also choose cheese (plus 130 yen) or mozzarella cheese topping (plus 260 yen) for any of the other okonomiyaki available.
The third place at Reichan is actually shared between their cheese okonomiyaki and their deep fried squid okonomiyaki. Ikaten, or deep fried squid, is a popular snack in Hiroshima. Normally it is eaten by itself and not mixed into food. If you love ikaten you should definitely give this okonomiyaki a try. The juicy okonomiyaki and the crunchy squid make a unique pair. Maybe even top it with cheese to enjoy the best of both third place contestants? 
4. Vegetarian Okonomiyaki - For Everyone to Enjoy
Not in the ranking or even on the menu Reichan also offers an option for their vegetarian customers. It doesn't contain any meat or ingredients fried in oil that has been used to fry meat. Their usual okonomiyaki also contains lard for a richer taste, this is replaced by vegetable oil in the vegetarian version. The okonomiyaki still contains eggs to combine the ingredients so unfortunately, it is not vegan.
Please be aware that Reichan's sauce contains Japanese sake so it is not halal friendly or suited for people who avoid alcohol. However, Reichan's owner assured me they are working on an alcohol-free version.
Try Classic Hiroshima Style Okonomiyaki at Reichan
Many Hiroshima locals know and love Reichan. They have been a part of Hiroshimas okonomiyaki culture for generations and it is extremely important to them that every customer leaves with a smile.

It doesn't matter if you want to try the classic folded okonomiyaki, a unique twist on the original or the vegetarian version, Reichan will not disappoint. 

Why not give them a try next time you are around Hiroshima station?

In cooperation with Reichan


The information presented in this article is based on the time it was written. Note that there may be changes in the merchandise, services, and prices that have occurred after this article was published. Please contact the facility or facilities in this article directly before visiting.