2 Days In Tokamachi, Niigata's Art Town: Farm-to-Table Meals And Outdoors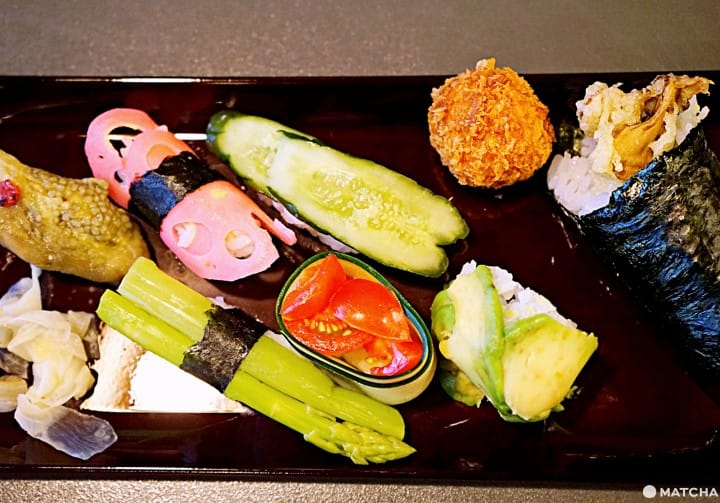 Known internationally for its art, Tokamachi in Niigata is a small city filled with great culture, food, and nature. Visit Tokamachi to enjoy vegetable farming, vegan-friendly sushi, and other interactive experiences with locals. Learn things to do with a two-day itinerary for an unforgettable time.
Tokamachi in Niigata - An Idyllic Town with Art and Beautiful Nature
Tokamachi is a city in Niigata Prefecture, nestled in the mountains. Around two and a half hours from Tokyo via Shinkansen and train, this nature-filled destination is a popular getaway spot for the weekend.
Niigata has excellent skiing and snowboarding, with world-class resorts like Gala Yuzawa. The area is filled with exciting things to do year-round, though.
Tokamachi might be best known in Japan for being the host of Echigo-Tsumari Art Field, part of the Echigo-Tsumari Art Triennale, one of the world's largest art festivals. It is also an area with rich agriculture.
This article focuses on a HOME away from HOME Niigata tour featuring vegetarian Japanese food like homemade soba, vegetable sushi, and farm-to-table dishes. The delicious vegetables and local hospitality make it possible for anyone, including those following a vegetarian and vegan diet, to enjoy rural Japan.
Day 1, Noontime– Local Soba at Seibei
For lunch, head to Sobaya Seibei for a lunch of the local specialty, hegi soba. Hegi soba is different than other buckwheat noodles in a couple of different ways. First, it is served in bite-sized coils, representing part of a kimono. The noodles themselves are made with funori, a type of seaweed, producing a delicious springy texture.
Pictured above is the hegi soba with vegetable tempura, a vegan-friendly dish. The dipping broth is fish-free; be sure to ask the restaurant to make your broth vegetarian and they will do their best to accommodate you.
There are around twenty different soba restaurants in Tokamachi, offering their own versions of hegi soba. Seibei is a favorite of locals and full of charm, as it is built in a 90-year-old traditional home.
Be sure to try the unique toppings Seibei is known for; use the walnuts on the table to put in the broth to add a nutty flavor to the dish.
Day 1, Afternoon – Try Tokamachi Craft Beer and Tour a Microbrewery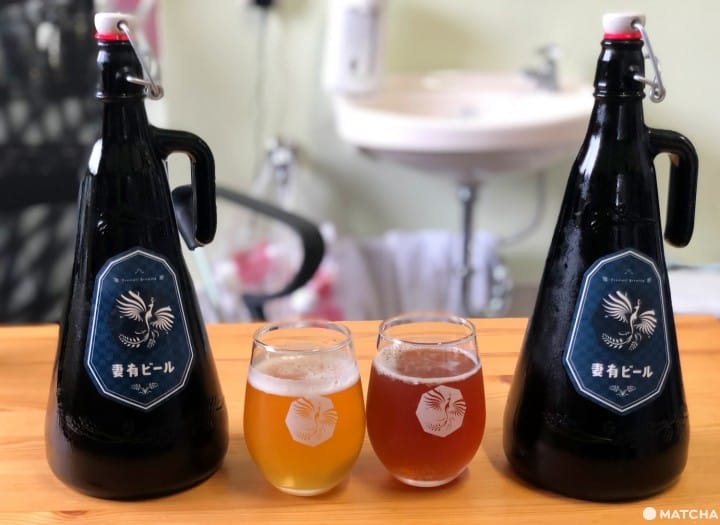 Tokamachi is known for its delicious rice and tasty Japanese sake; however, craft beer is a budding industry. Tsumari Brewing is a small craft brewery adding to the various local beverages. Starting operations in 2018, Ms. Takagi focuses on creating refreshing, easy-to-drink European style craft beer.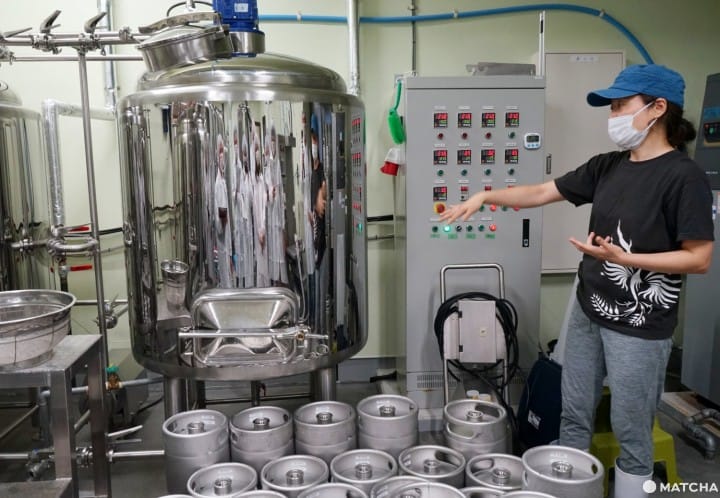 The brewery is small, but Ms. Takagi has a lot of passion and hopes to expand the brewery soon. Ales, seasonal brews, and a beer made with soba (supplied by Sobaya Seibei) are part of the lineup of beverages as of September 2019.
At the end of the tour, you can try some for yourself. We chose to try the session IPA and the soba beer. Both are refreshing and flavorful, and easy-to-drink, even for those not used to craft brews. The majestic phoenix logo of Tsumari Brewing comes from the carvings found on certain types of mikoshi (portable shrines).
You can learn more about Tsumari Beer by visiting their Facebook page and drink it at a few restaurants in Tokamachi.
Please note that brewery tours are available through those offered by HOME away from HOME Niigata. See the official website for more details and to book.
Day 1, Afternoon – Pick Tomatoes and Vegetables Off the Vine at Local Farms
Farming experiences are another must-try in Tokamachi. The tour with HOme away from HOME Niigata includes visits to a few different local farmers where you can learn firsthand about the produce grown and local vegetables.
The bright red tomatoes in the summertime at this farm will blow you away with their juiciness and sweetness. Mr. Ishizuka, the farmer, grows several varieties of tomatoes, which you can sample them as you pick them off the vine.
You may also find kagura nanban, a spicy vegetable. It is a local variety of pepper used in dishes here; it tastes great when stir-fried.
A second farm visit on this tour was to a hop farm. Hops are an essential ingredient in beer, giving it its distinctive bite, and can come in hundreds of flavors. They grow on vines that can reach several meters tall.
You can walk freely around through the garden and see them fresh; feel free to nibble on them raw, but be warned as they are very bitter. You can also put them in beverages to give it extra bite.
See the official website for more details and booking.
After the farming experience, you can relax and get cleaned up before dinner at Sen Nen Yu, a local onsen (natural hot spring) popular with residents.
Day 1, Dinner – Enjoy Farm-Fresh Vegetarian Dishes in Downtown Tokamachi
The vegetables and hops just harvested become the main ingredients of a delicious multi-course dinner in central Tokamachi. Pictured above is IKOTE, a local restaurant and event space in a stylish building. It is designed to look like an igloo, inspired by the city's winters when snow can pile up to three meters (around 10 feet) high.
Some of the highlights of the meal included a lavish salad featuring freshly-picked tomatoes, varieties of tofu, and kagura nanban, the local pepper with Niigata rice. Local sake is also available, allowing diners to get a taste of the region's renowned alcohol.
All dishes at this restaurant on the tour are prepared to be vegan-friendly, without sacrificing flavor.
Ikote is a Niigata dialect that means "let's go." The flavorful dishes made with local ingredients, warm interior, and friendliness of the staff make this an exciting gathering place for locals and out-of-town visitors alike.
Day 1 - Stay the Night at Traditional Japanese Home
After the voluminous dinner, you can stay at Tokamachi Fureai no yado Koryukan (Koyrukan), a guest house inside a remodeled traditional Japanese home. The home is filled with charm and is very comfortable.
In the morning, be sure to look out the window for a sweeping view of the rice paddies outside and mountains in the distance.
The stay included a Japanese-style breakfast that can be prepared vegetarian and vegan upon request. A typical meal includes vegetable side dishes, rice, and a protein (like tofu). Local eggs are also provided for those who want to try some.
English support is available as the owner of the guesthouse can speak English.
Day 2, Lunch - Make Healthy and Tasty Vegetable Sushi with Chefs
For lunch, make your own vegetarian and vegan-friendly sushi. Professional chefs of Matsumi Sushi, a local Tokamachi restaurant, can teach visitors the basics of making sushi and preparing vegetables to an inventive and satisfying meal for all to enjoy.
The vegan sushi course includes eight types of sushi; we learned how to make a roll wrapped with cucumber filled with tomato, along with dragon roll-style sushi with avocado, cucumber, pumpkin, and carrots.
The rest of the course, which included tempura, a croquette, and soup, was prepared by the chefs.
Traditionally made with fish, vegetable sushi is not the first thing that comes to mind as vegetarian-friendly. However, this workshop and restaurant provide a tasty and healthy way for more people to experience Japanese food. See the official website for booking and more details.
Day 2, Afternoon - Learn and Experience Tokamachi's Outdoors
Experiencing the lush environment of Tokamachi is a must when visiting. One recommendation is to see the picturesque beech forest, Bijin Bayashi. The beech trees are stunning and grow straight up from the ground.
The forest is gorgeous in the summer, with the bright green of the leaves resulting from the heavy rain. Harsh heat is shielded by the trees too, making it a great place for a refreshing walk.
For more in-depth learning about the local environment, head to Echigo-Matsunoyama Museum of Natural Science "KYORORO" . The museum is great for guests of all ages, with interactive, large exhibits on the natural environment of the surrounding area.
Guided tours are also available and a fun way to experience firsthand the diverse nature of Tokamachi. The city's location near the Sea of Japan, surrounding mountains, and the large temperature difference between day and night means it receives some of the heaviest snowfall globally. This results in a unique local lifestyle and culture that coexists with the environment, observable in the townscape, its food, and ecosystem.
The tour will take you around the environs of the museum. The guide will point out and explain the plants, including wild mountain vegetables used in local cuisine, as well as beech trees in the nearby forest, bent from the heavy snowfall. The tour is fascinating and easy-to-follow even for children.
HOME Away from HOME - A Great Way to Experience Tokamachi
The places included in this article are part of activities and tours offered by HOME Away from HOME Niigata, a company located in Tokamachi working on making the unique city part of more people's travel plans. It is one of the best ways to explore this rural area, as transportation is provided.
Book and see details on the tour: Vegetarian Japanese Food Tour
Activities and tours centered on local food, art, and nature are available with English and Chinese support. For more information and to book activities, please see the official website.
Visit Tokamachi!
Tokamachi in Niigata is filled with a small-town charm that makes all visitors feel welcome, as if they were visiting their own hometown. HOME away from HOME Niigata allows one to experience this friendly area and all it has to offer with tours and activities that allow you to get a local look at life in rural Japan.
No matter what you do in Tokamachi or what time you visit, you will fall in love with its delicious food, gorgeous landscape, and warm people.
HOME away from HOME Niigata official website: https://homehome.jp/en/
The information presented in this article is based on the time it was written. Note that there may be changes in the merchandise, services, and prices that have occurred after this article was published. Please contact the facility or facilities in this article directly before visiting.