Choosing Surgical Masks In Japan: Hay Fever, Pollution, And Virus Protection
In Japan, surgical masks are thought to protect against hay fever, the air pollutant PM2.5, and even the flu. This article introduces a variety of Japanese face masks, how to wear them, and their effects on the prevention of allergy symptoms and illnesses.
Surgical Masks for Allergies, Air Pollution, and Cold Prevention
When March and April roll around in Japan, it is the season for cherry blossoms. For some people, however, this festive time is synonymous with hay fever. Have you ever been concerned with air pollutants like PM 2.5 or catching the flu?
This article introduces several types of Japanese surgical masks alongside observations and opinions after actually trying them out. We've also included some handy Japanese words and phrases to know when purchasing a mask. Please use this as a reference when visiting a drugstore.
*This information was translated into English from an article written on January 15, 2020. As of August, 2020, some convenient stores and drugstores may be sold out of masks due to pneumonia and other ailments caused by the current outbreak of the COVID-19 virus.
PITTA MASK: Surgical Masks Worn by Korean Celebrities
The PITTA MASK is actually a popular souvenir among international visitors. Made of unique polyurethane material, it not only blocks pollen and dust but also protects the skin from UV (ultraviolet) rays.
However, its popularity can be attributed to Korean idols and movie stars wearing the black and gray versions. As a result, the black-colored masks are often out of stock due to high demand.
The material is soft, allowing for easy breathability, and it doesn't hurt your ears when you put it on. The mask also has a unique fragrance.
Another attractive feature of the PITTA MASK is its variety of colors. You can choose a shade that matches the clothes you're wearing for the day.
Featured above are pastel-colored masks. There are three different hues inside: lavender, salmon pink, and baby pink.
If you gently wash the PITTA MASK with water, it can be worn up to three times.
To put on the mask properly, first, make sure that the mask is facing the right-side up (see instructions on package). Then, slip the string-like material over each ear. Gently press down on the upper part of the mask. This will ensure that it fits snugly and eliminates any small openings between the mask and your face.
A Mask That Removes Odors and Unhygienic Substances
Designed by a physician, this unique mask is said to convert unwanted odors and unhygienic protein substances into water molecules. By utilizing hydro silver titanium technology, protein substances (including pollen, dust, odor, and sweat) are broken down and turned into water molecules.
Based on the concentration levels of hydro silver titanium contained inside, this mask has a +3, +4, and +10 version. Another variety has anti-fog properties, which is ideal for those who wear glasses.
Pictured above is the anti-fog +3 mask. It mainly blocks the air pollutant, PM 2.5, and cold viruses. There's also a mask under this brand that is effective at blocking pollen and house dust. Prices of the mask differ according to their special features.
Although unwanted substances are converted into water molecules, this mask neither feels damp nor humid. It's also not difficult to breathe.
While it doesn't have any other special features, this mask was the most comfortable variety we tried.
According to the official homepage (Japanese), hydro silver titanium converts unhygienic protein substances into water molecules.
This allows the mask to be used for more extended periods than a standard surgical mask. Even if it becomes a bit dirty, it still effectively works and can be used continuously for up to 12 hours a day.
Each package contains three individually-wrapped masks.
When putting it on, make sure that the light blue-colored waterdrop mark is on the outside.
Gently hold the mask down over the bridge of your nose, and properly adjust the shape of the mask. Insert the anti-fog sheet, then press it over the contour of your nose and ensure that the length of the mask is properly positioned over your face. Make any final adjustments for the most comfortable fit.
be-style Mask: For Those Seeking Beauty
Some Japanese people have an inherent sense of style and want to look their best even while wearing a mask. Ideal for those seeking the "kogao" (small face) aesthetic, the be-style mask has specially designed pleats to ensure that your cheeks aren't unnaturally pushed up.
This mask receives lots of attention and praise from its beauty-obsessed customers.
Left: be-style surgical mask, Right: a regular surgical mask
The photo above shows our writer trying on the "kogao" mask. Are there any noticeable differences?
The three-dimensional mask is meant to enhance the wearer's face by creating a smoother line around the lower jaw and chin area.
It's understandable to want to look a certain way even while wearing a surgical mask. This mask allows many people to feel confident to go out into the world and start the day wearing only minimal makeup.
The mask also blocks out pollen and dust. Those concerned with looking their best while protecting themselves must try out one of these masks in Japan!
Three-Dimensional Mask: Blocks 99% of Pollen and PM 2.5 Pollutants!
This three-dimensional (sanjigen) mask is often seen at convenience stores and pharmacies. Designed with a five-layer filter, it is considered to effectively block PM 2.5, pollen, and viruses.
The filter's innermost layer is made with a special material that allows the mask to be worn for long periods. It also doesn't collect lint and fuzzballs, so your face won't get itchy.
It comes in sizes ranging from small to large. People of all ages can easily find a mask that fits their face comfortably.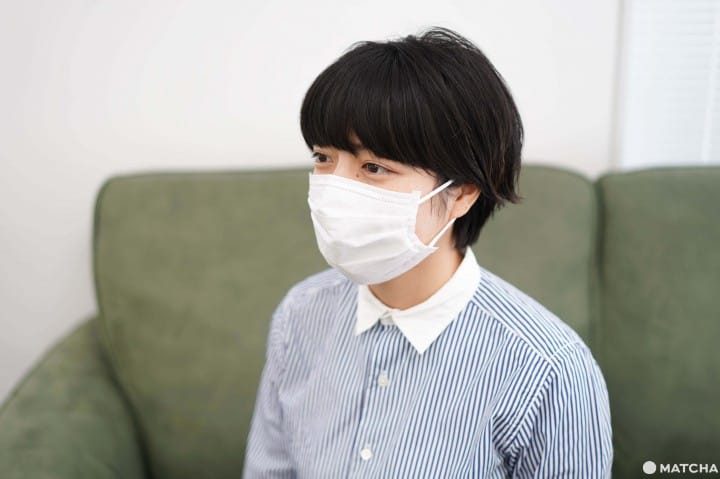 In addition to the standard three-dimensional mask, there are even masks that have a slight fragrance. You will feel relaxed the instant you put on this mask with its subtle mint aroma. Wearers will also experience soothing aroma therapy-like effects when encountering crowds and other congested areas with damp and stale air.
Another advantage of using this mask is that your lenses won't fog up when wearing glasses. Breathe deep and exhale: your glasses won't fog up one bit!
Super Three-Dimensional Mask for Ultimate Comfort!
This super three-dimensional mask was made by the Japanese company Unicharm, which is famous for producing baby and personal care items.
The three-dimensional design not only gives it excellent breathability, but those with makeup don't need to worry about lipstick or lip gloss smudges.
The portion that fits over your ears is made of a soft non-woven material, so there's no discomfort even after wearing the mask for a prolonged period.
This mask has a three-layer filter, which protects against airborne infections. It also blocks viruses and the air pollutant PM 2.5 found in toxic smog.
WAC Mask: Popular Among Foreign Embassy Employees
The WAC mask blocks radioactive substances. It's available at the disaster prevention store, SEISHOP, which has locations in the greater Tokyo area.
Tokyo University developed this mask with a WAC filter, which acts as a countermeasure to nuclear-power disasters.
It effectively absorbs and removes about 99.43% of radioactive substances, including Iodine-131, Cesium-137, and Strontium-90. It was even used at the Fukushima nuclear power plant disaster area.
In addition to the WAC mask, SEISHOP sells N95 masks that protect against viruses.
Japanese Vocabulary for Choosing Surgical Masks
| | |
| --- | --- |
| Japanese word | Pronunciation |
| マスク (mask) | masuku |
| ウイルス (virus) | wirusu |
| くもり止め (anti-fog) | kumori dome |
| 風邪 (a cold) | kaze |
| サイズ (size) | saizu |
Surgical Masks to Meet Your Own Personal Needs
In addition to the masks introduced in today's article, there are many more varieties available at Japanese drugstores.

For example, there's a mask specifically for bedtime. When you insert a special sheet inside the mask, it has a moisturizing effect to prevent a dry throat while asleep. In other words, there is a wide range of masks to meet the specific needs of every customer.

MATCHA's editorial staff tested all of the surgical masks featured in this article and highly recommends each product.

If you can't decide which one to buy, refer to the information in this article and select a face mask that's suitable for you!

Download the MATCHA app for Japan travel: Apple Store | Google Play Store

The information presented in this article is based on the time it was written. Note that there may be changes in the merchandise, services, and prices that have occurred after this article was published. Please contact the facility or facilities in this article directly before visiting.