The Origins of Takoyaki! Taste the Original Recipe at Aizuya in Osaka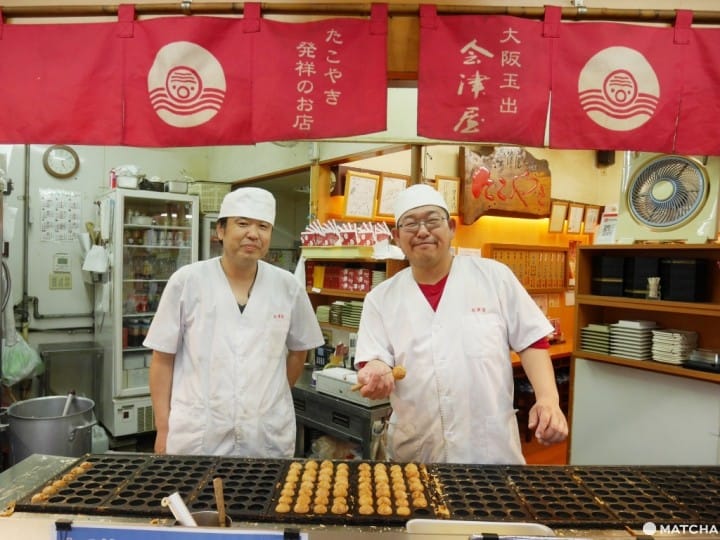 Do you know the origin of takoyaki, one of Osaka's famous street foods? Nowadays, it's served with various toppings, but the original recipe is quite different. Taste the original flavor of these savory snacks at Aizuya!
Famous Food From Osaka
When it comes to Osaka, takoyaki is one of the area's most famous foods.
This savory snack is made with large pieces of octopus, fried in a ball of batter. Cooked until golden brown, it's served with savory sauce, green onions, and paper-thin shavings of katsuobushi (dried bonito). Takoyaki is the ultimate mouth-watering soul food.
But did you know that the original takoyaki was a simple dish that didn't have sauce or katsuobushi? Let's head to the birthplace of takoyaki and learn all about its history!
Aizuya: The Origin of Takoyaki in Osaka!
Aizuya (often spelled Aidu-ya) is the shop where takoyaki was first invented. Their storefront has a large red signboard decorated with a cartoon octopus.
Mr. Tomekichi Endo, the shop's founder, was born in Aizu, Fukushima Prefecture. He moved to Osaka in 1933 and opened a small food stall. The "Aizu" in the name Aizuya comes from the name of his hometown.
However, the shop didn't sell takoyaki when it first opened. They sold something called rajioyaki.
Rajioyaki: Takoyaki's Beefy Forerunner
Rajioyaki is made with thinly sliced beef cooked in soy sauce, konjac, and green spring onions. Once the ingredients are mixed in a batter, it is cooked to perfection. It disappeared from Aizuya's menu for a while before coming back in 2005.
Original Rajioyaki 600 yen/12 pieces
Because the green onions are cooked into the batter, they can be seen faintly through the dumplings. Made with a light soy sauce broth, they have a rich and sweet flavor thanks to the perfectly cooked beef and konjac.
Radio: A Popular Pastime Back in the Day
Rajioyaki was invented around the same time that the radio (pronounced "rajio" in Japanese) was growing in popularity. Many things were named after the radio to imply they were also "the latest fad."
Aizuya wasn't the only place selling rajioyaki; other shops sold these savory snacks with varying recipes and ingredients.
Takoyaki was invented two years after rajioyaki. What inspired its creation? It was Akashiyaki.
Akashiyaki is often compared to takoyaki, but it actually predates its Osakan cousin. In 1935, a customer said these words after eating rajioyaki:
"Osaka uses beef? In Akashi, we use octopus in our dumplings."
The founder was inspired by this comment. He whipped up a batch with octopus in place of beef and konnyaku, creating what we now know as takoyaki.
Katsuobushi? Mayo? Nope, Just Octopus!
Octopus was the only ingredient used in the original takoyaki recipe. There was no red pickled ginger, katsuobushi, mayonnaise, or green seaweed. Intended to be eaten plain, it wasn't even served with sauce! The fancy versions of takoyaki served today were created about 20 years ago.
A special soy sauce broth is added to the batter. Inspired by kozuyu—a regional soup dish from Aizu—the founder developed a recipe based off this dish. While not served with sauce, you can still taste a savory, light flavor from the dumplings.
Original takoyaki (620 yen for 15 pieces)
The soft yet firm dough tastes amazing with octopus. It's much smaller than most takoyaki, and can be eaten in one bite. An order includes 15 pieces of takoyaki and is a filling dish that you'll finish faster than you'd think.
Michelin-Approved Takoyaki
Aizuya has been passing down its founder's recipes for over 80 years. This shop was listed on the Bib Gourmand in the Michelin Guide Kyoto-Osaka from 2016 to 2018. It's truly become a gourmet dish that is representative of Osaka.
The menu also features other dumplings made with the same batter but different fillings. The negiyaki only has green onions, while the tamagoyaki is made with eggs. These dishes are simple in flavor, but stay delicious even when cooled.
The Ideal Snack or Side Dish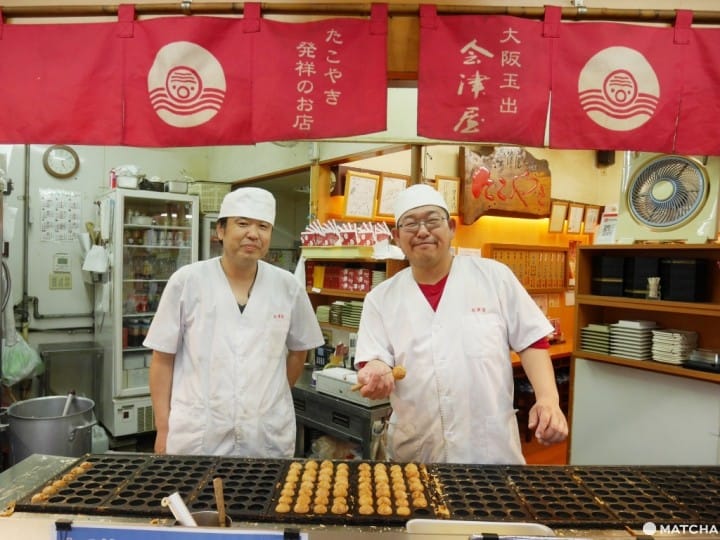 Interested in trying the most authentic takoyaki in Japan? Then head on down to Aizuya, where takoyaki was first invented!
In cooperation with Aizuya

The information presented in this article is based on the time it was written. Note that there may be changes in the merchandise, services, and prices that have occurred after this article was published. Please contact the facility or facilities in this article directly before visiting.