Sparkling Sake - Japanese Champagne That Can Be Enjoyed By Everyone
Sparkling Sake - Japanese Champagne That Can Be Enjoyed By Everyone
Sparkling sake is much easier to drink than regular sake while still maintaining a distinctive sake flavor. Even individuals who usually don't drink sake can fall in love with it. Let us introduce you to a refreshing new world of sake!
Have you ever heard of sparkling sake? It is also known as "Japanese Champagne", being much easier to drink than regular nihonshu (Japanese sake). It is so different that it is often popular even with those who usually don't like sake.
Let's have a look at the types of sparkling sake and what makes it so unique.
What Is Sparkling Sake and How Is It Made?
Picture from Haneda Ichiba Ginza Seven - All-You-Can-Drink Sake And Delicious Edo-Style Sushi
Sparkling sake is any kind of sake with an effervescent quality to it. This effervescence can be achieved in various ways. The main methods are fermentation or manual carbonation with carbon dioxide.
Actually, every type of sake contains bubbles during the fermentation process. However, they usually evaporate into the air, leaving the end product flat and without bubbles. The goal of sparkling sake that only uses fermentation instead of artificial carbonation is to keep the carbon dioxide within the sake. This can be done in the tank during the sake production process or by adding an active yeast, known as kassei nigori, when the sake is bottled.
The active yeast will produce a sparkling sake that gets more and more effervescent as time goes by. This process is very similar to the way sparkling wine and Champagne are made.
While usual sake has an alcohol percentage of 15%, sparkling sake starts as low as 4.5% which is the same with beer. However, sparkling sake can be just as strong as normal nihonshu. When in doubt, check the bottle or ask the bartender for the alcohol content. If you are not used to sake or don't like its strong flavor, start with 5% or lower and slowly increase the percentage if you want something stronger.
Don't be fooled! Even sparkling with 5% still doesn't go down like beer. A 300ml bottle might last you a whole evening, or even two, if you are not used to sake.
Why Is Sparkling Sake Becoming So Popular?
Picture from A Day In Sakaiminato - With GeGeGe no Kitaro, Fresh Seafood, And Sake
Sparkling sake has been around for many years but there weren't many companies producing it. With the approaching Tokyo Olympics in 2020, Japan decided to promote sparkling sake as "Japanese Champagne" to offer a celebratory drink with a Japanese flavor.
For this reason, many sake companies introduced their own interpretation of the beverage. Some have even invented completely new ways to turn their sake into sparkling sake.
Aside from this, people started to appreciate it as a tasty summer drink. Even the most enthusiastic sake lover might switch to beer during the hot summer months because they might want something bubbly and refreshing. Iced sparkling sake with a low alcohol percentage is just as refreshing as a cold beer so sake lovers can still enjoy the taste they like without the drink being too heavy.
For the same reason, you might actually enjoy sparkling sake even if you're not a big fan of sake. The writer of this article could not get herself to like sake over the ten years she has spent in Japan but she discovered that loves sparkling sake! The mild taste and sparkling bubbles make a huge difference to the flavor and feel of the drink.
How to Enjoy the Sparkling Sake
Picture from Haneda Ichiba Ginza Seven - All-You-Can-Drink Sake And Delicious Edo-Style Sushi
You can enjoy sparkling sake in the same way you would drink champagne or sparkling wine. Serve it as cold as possible. If you can't keep it in the fridge, keep it in a bucket with ice.
It is sake after all, so feel to use sake cups for your sparkling sake as well. However, a sparkling wine glass, or flute, is recommended to keep the carbonation for longer. It also makes the sake look more elegant and celebratory, as the bubbles get to stand out more when served this way.
Sparkling sake is not meant to be served warm. The carbonation would quickly escape, leaving the sake flat. If you open a sparkling sake bottle while the sake is warm, it might explode and you will lose most of the precious sake.
How to Pick the Right Type of Sparkling Sake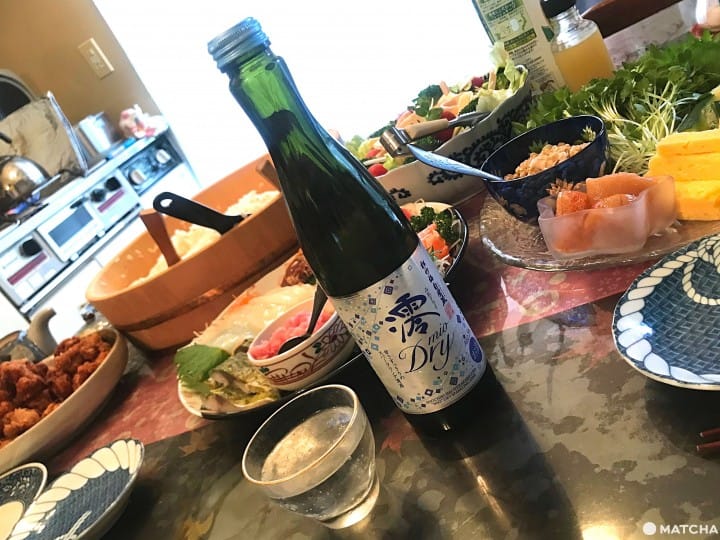 There are various types of sparkling sake that are different from each other, just as is the case with regular sake. Depending on your preferences, you might want to carefully check the following four points to pick the right kind for you.
1. Check the Alcohol Content
If you are a sake lover, already accustomed to the drink, the alcohol content shouldn't matter to you. However, if you are someone who usually doesn't drink or like sake or if it is a hot summer day, you might want to start with the lowest alcohol content, which is 4.5% or 5%. You can always work your way up.
There is something about the effervescent quality of sparkling sake that makes even the 16% sake feel and taste different than regular sake. However, take it easy as its impact on your body will still be the same.
Two very popular low-alcohol sparkling sake are MIO (澪) and Suzune (すず音). Both have only 5% alcohol. MIO uses artificial carbonation while Suzune uses the same fermentation method as Champagne to create fine bubbles.
If you want something special as a gift, MIO and some other kind of sparkling sake are available infused with gold flakes as well. Suzune, on the other hand, can be purchased in three versions: clear, yellow and rosé. The yellow and rose Suzune has only 4.5% alcohol so they are perfect for starters.
2. Do You Like Dry or Sweet Alcohol?
The next question is whether you like your alcohol dry or sweet. While most of the sweetness in sake comes from the rice without any artificial sweeteners added, depending on the fermentation process they can still range from very dry to very sweet.
Generally, most sparkling sake will have a sweeter taste to it. The higher the alcohol content, the sharper will the taste be. However, you can find low alcohol brands like MIO in a dry version as well. The MIO Dry tastes light and fruity. It almost has a taste of Japanese pear to it.
3. Do You Prefer a Creamy, Fresh or Sharp Taste?
Nigori zake at the Craft Sake Week 2019 in Tokyo
Just like regular sake, sparkling sake is available in filtered and coarse filtered versions. Coarsely filtered sake only filters out the big particles and lets small particles of rice and yeast seep through. It has a milky color and is known as nigori zake. The taste is smooth and creamy because the rice flavor is still very much prominent. Even nigori zake that has not particularly been labeled as sparkling sake can be slightly fizzy as the remaining rice and yeast particles keep fermenting in the bottle.
Filtered sake is clear in color. The taste is often sharper or even slightly sour as all the smoothing rice particles have been filtered out. However, it can also be the more refreshing choice that tastes less heavy.
4. How Bubbly Do You Like Your Sake to Be?
Picture from A Day In Sakaiminato - With GeGeGe no Kitaro, Fresh Seafood, And Sake
Sparkling sake can range from a little bit of a fizz to explosively sparkly. The latter is normally the kind that has the active yeast added when bottled. Some types of sparkling sake, like the Dassai Sparkling Nigori, even have extra carbonation together with the active yeast to make them extra sparkly.
There are even cartridges especially made to infuse normal sake with carbonation. However, these are mainly available at restaurants that specialize in sake such as Haneda Ichiba Ginza Seven.
Discover a New, Refreshing Way to Enjoy Sake!
We hope this article has given you a little bit of an insight into the new and exciting world of sparkling sake. No matter if you are a big sake lover or someone who doesn't like sake at all, sparkling sake offers a great variety with something for every taste. It goes great with traditional Japanese food like sushi and tempura but also with western style cuisine such as steak.

Why not try it out on your next visit to Japan or even picking it up as a special gift for someone?

The information presented in this article is based on the time it was written. Note that there may be changes in the merchandise, services, and prices that have occurred after this article was published. Please contact the facility or facilities in this article directly before visiting.