coisof's Delicious Black Soft Serve Ice Cream Is Back At re:Dine GINZA
coisof used to be a popular shop in Harajuku serving "Goth Soft," a pitch-black soft serve in a black cone. It seemingly disappeared in 2018 but celebrates a comeback at the re:Dine GINZA restaurant right now!
coisof Harajuku Moves in with re:Dine GINZA
coisof was a small quirky soft serve shop in Harajuku serving pastel-hued ice cream alongside its famous, black as the night sesame flavored soft serve. It was located on a side street of Takeshita Street and hard to find if you didn't know where to look. However, one day, it was gone.
Its disappearance was a surprise to its fans and Instagram followers but it turns out that coisof was just moving in with a friend. It reappeared in a slightly upper scale version when re:Dine GINZA opened in January 2019.
re:Dine GINZA - A Unique Restaurant Concept?
re:Dine GINZA is a rather unique restaurant. It provides you with separate menus for appetizers, main course, dessert, and coffee. You get to choose the dish combination you want.
The chefs are specialized in a certain dish and will prepare your meal depending on what you choose. You can even vote for the best dishes and help promote a chef to work as the main chef at a different restaurant once he graduates with good reviews.
While GINZA is known as an upper scale district, the prices at re:Dine GINZA  are rather affordable. You don't have to order a whole course and you can also just drop in for a coffee or, in this case, ice cream.
re:Dine is one of the rare places in Japan that is cashless. They offer several payment options, including credit card and Suica cards.
Coiparfait - Fruity and Creamy or Black and Rich?
Picture courtesy re:Dine GINZA
re:Dine GINZA introduced the new coisof menu upon opening the new restaurant. Until June 2019, they only had the parfait-style soft-serve known as Coiparfait.
The Thick Rich Black Coiparfait (1,200 yen plus tax) is sesame and dark cocoa flavored soft serve mixed with rich chocolate cake and crunchy dark cookie crumbles presented in a long-necked glass.
It is served alongside coffee liqueur but can also be ordered without it for 200 yen less. Be warned that the liqueur is fairly strong in flavor so it can overpower the other flavors.
Picture courtesy re:Dine GINZA
The Milk Strawberry Coiparfait is a mixture of strawberries, strawberry sauce, delicious vanilla sponge and coisof milk soft serve. This version comes with cherry-flavored liqueur.
The Harajuku coisof Menu is Back!
Since June 2019, the core Harajuku coisof menu was reintroduced to re:Dine GINZA. It can be ordered as take-out.
First up is the famous Goth Soft (600 yen plus tax). It is the same rich chocolate and sesame soft serve as in the Coiparfait version but served on its own in a black ice cream cone made with charcoal and dark cocoa. This Instagram worthy dessert is even served with a black napkin.
It has a rich sesame flavor with a slight bitterness from the cocoa. It is not too sweet and surprisingly refreshing for ice cream with such deep flavor. The waffle has a rich chocolate flavor. There is no trace of charcoal taste in either of them.
Picture from The Most Flavorful Sesame Ice Cream On Earth! Gomaya Kuki In Harajuku
This ice cream might taste familiar to people who have been to Gomaya Kuki in Omotesando. It was originally created through a collaboration of Gomaya Kuki and coisof. If you want a pure sesame flavor instead, you can also purchase most of Gomaya Kuki's menu at re:Dine GINZA.
Picture courtesy re:Dine GINZA
The coisof milk (600 yen plus tax) decorated with "oiri"  can also be purchased again at re:Dine GINZA. Oiri are colorful rice cracker balls with a thin sugar coating. In Kagawa, oiri are believed to bring good luck.
Picture courtesy re:Dine GINZA
coisof milk has a mild milk flavor which goes well with the crunchy candy. It also softens any other flavors it is paired with. It can be also be purchased in a half-and-half sesame and milk version if the black ice cream is a little bit too strong for your liking or if you just want to try both at once.
Limited Edition Soft Serves
Picture courtesy re:Dine GINZA
While expanding their menu, re:Dine GINZA has also started a seasonal limited menu. During the rainy season, they had an Ameiro Soft (rain colored soft serve). Drizzled with silver and blue candy and blueberry sauce.
Picture courtesy re:Dine GINZA
For the summer months, they offer a Lemon-Cheese Coiparfait (1,200 yen plus tax). Bitter lemon is layered with cream cheese, milk soft serve, and cheesecake. It is served with a ginger liquor which is very strong and spicy.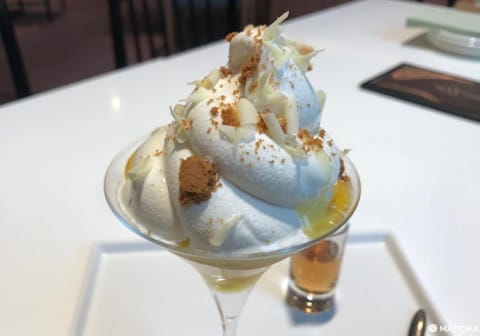 Although the parfait looks light and fresh, it is very powerful in flavor. You can taste the distinctive flavor of cream cheese and bitter lemon. This is great for people who like bitter flavors and something that isn't overly sweet. If you want something sweeter, I recommend opting for the Strawberry Coiparfait.
Come to re:Dine GINZA for Delicious and Instagrammable Soft Serve Ice Cream!
If you happen to be in GINZA, you should definitely visit re:Dine GINZA. Try a whole course created by promising chefs if you have time or just get yourself some delicious, Instagram worthy ice cream. The choice is yours!

In cooperation with Coisof
The information presented in this article is based on the time it was written. Note that there may be changes in the merchandise, services, and prices that have occurred after this article was published. Please contact the facility or facilities in this article directly before visiting.