Karuizawa - Stay At 4 Luxurious Hotels In A Nature-Filled Resort Town
Karuizawa is a popular resort area with elegant accommodations both old and new, including a hotel and ryokan with over 100 years of history and a recently opened concept hotel. With stylish rooms, gourmet cuisine, and Japanese service, guests can spend quality time in this resort town in Nagano.
Karuizawa - Spend a Night at a High-Class Hotel or Ryokan
Karuizawa, Japan's favorite resort town, is a mere ninety minutes from Tokyo via the Shinkansen.
Known as a popular summer retreat visited annually by many tourists, Karuizawa offers much for travelers, including shopping malls, breathtaking nature, and important cultural properties. The sophisticated streetscapes around the cottage resorts are also very memorable.
Stay in Karuizawa and enjoy some sightseeing at your own pace.
In today's article, we introduce four great accommodations, such as a hotel and ryokan that boast over 100 years of history, a signature Karuizawa lodging, and a concept hotel that recently opened its doors to the public.
Go To Travel Booking Websites
- H.I.S.
- Yahoo! Travel
- AirTrip
- JTB
- Nippon Travel Agency
1. Mampei Hotel
Photo by Pixta
Mampei Hotel is a prominent Karuizawa lodging that is well known in Japan. This classic hotel has a history of over 120 years since opening in 1894.
It's also famous for serving as the hotel model in the Studio Ghibli animation film "The Wind Rises" (Kaze Tachinu) by Hayao Miyazaki.
When you step into the hotel, the grand interior will instantly grab your attention. Some of the special features include a red-carpeted floor, Karuizawa-style furniture, and stained glass.
Guest rooms can be found in four separate buildings. The Usui building, the Atago building, and the Bekkan annex are all located in front of the Alps building, the hotel's main complex.
Each building features rooms with its own distinctive style. Check the website to choose the accommodation that's most suitable for you.
It's possible to stay with your pet dog in the cottage-style rooms as well.
Photo by Pixta
The Mampei Hotel is also known for being a favorite of the Beatles' John Lennon, who once stayed here with his family. In the cafe, guests can enjoy a cup of royal milk tea—a recipe that was personally handed down by the legendary musician himself.
With the echo of wild birds chirping and the surrounding nature, this summer cottage area has retained its charming scenery from the past.
Happy Valley, a popular Karuizawa walking path, is close, so guests can enjoy a relaxing stroll without even venturing far.
Check here for details on the Mampei Hotel
Go To Travel Booking Websites
- H.I.S.
- Yahoo! Travel
- AirTrip
- JTB
- Nippon Travel Agency
2. Karuizawa Hotel Tsuruya
Photo by Pixta
Hotel Tsuruya is located just five minutes from Karuizawa Station by taxi.
Drive five more minutes from the hotel to reach Former Mikasa Hotel, a historic sightseeing spot, and the scenic Kumoba Pond. These neighboring sites make the 400-year-old Hotel Tsuruya your best base for Karuizawa sightseeing.
Hotel Tsuruya is near Kyu-Karuizawa Ginza (old Karuizawa Ginza Street), a bustling shopping road reminiscent of Tokyo's Ginza area.
The hotel serves Japanese-style cuisine that showcases Shinshu (the former name of Nagano Prefecture) beef and vegetables, along with fish brought in from Tsukiji Fish Market. The dinner also features steak made with Shinshu cattle popular even with children. Additionally, the dining room comes equipped with high chairs, so parents can enjoy a nice meal with their children.
The breakfast is buffet-style and guests can savor the exquisite flavors of bread, sausage, and homemade jam and yogurt provided by a long-standing shop in Kyu-Karuizawa Ginza.
The hotel features a large, luxurious public bath with mineral-filled hot springs sourced Karuizawa. Take a soothing dip and ease your fatigue.
Check here for details on Hotel Tsuruya

Go To Travel Booking Websites
- H.I.S.
- Yahoo! Travel
- AirTrip
- JTB
- Nippon Travel Agency
3. Kyukaruizawa Kikyo, Curio Collection by Hilton
Kyukaruizawa Ginza. Photo by Pixta
The Curio Collection offered at Hilton affiliated hotels describes a comfortable stay where you can simultaneously spend time enjoying the local area's attractive features.
In 2018, Curio entered Japan with its hotel Kyukaruizawa Kikyo, Curio Collection by Hilton.
The hotel has stylish rooms that emanate a calm atmosphere and eclectic menu with original dishes using local ingredients. Here you'll be able to have a relaxing stay and fully enjoy everything Karuizawa has to offer.
Another great service is the Deluxe Pet Friendly Room. Guests are allowed to stay with up to two pet dogs (each ten kilograms or less in weight).
The check-out time is 12:00, so you can spend a leisurely morning before your departure.
The large public bath is made of marble and granite and has separate bathing times for men and women.
Many products have been carefully selected in order to enhance the guest experience, including Maison Margiela fragrances, La Mer lotions and creams, and Dyson hairdryers.
Check here for the details on Kyukaruizawa Kikyo, Curio Collection by Hilton
Go To Travel Booking Websites
- H.I.S.
- Yahoo! Travel
- AirTrip
- JTB
- Nippon Travel Agency
4. The Prince Karuizawa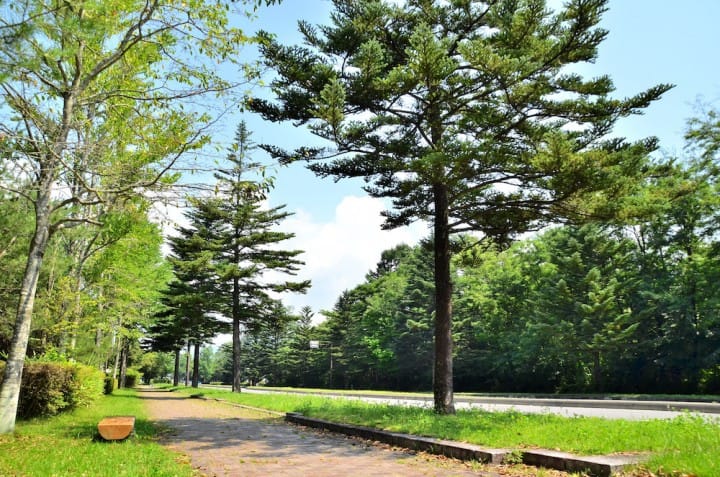 Prince-dori. Photo by Pixta

Prince Grand Resort Karuizawa is a full-scale facility that spreads out in front of the resort town. It contains a number of hotels, including The Prince Karuizawa, which is a luxurious accommodation nestled in nature.

All the rooms, from the Superior Twin Room to the 94.4 square-meter Family Suite Room, have large windows where you can see a gorgeous view outdoors.

Guests can even enjoy a delicious breakfast overlooking the picturesque lake. As you take in the scenic panorama, you'll feel as though you're floating on the lake's surface. Additionally, your hearty breakfast—served one plate at a time—will elegantly start off your day.

The hotel offers great service, including the Guest Service Centre Smile Concierge, where you can store luggage between shopping breaks and meal times. The Forest Hot Spring is an onsen facility exclusively available for patrons staying at affiliated hotels.

Please check here for details on The Prince Karuizawa

Go To Travel Booking Websites
- H.I.S.
- Yahoo! Travel
- AirTrip
- JTB
- Nippon Travel Agency

Main image by Pixta

The information presented in this article is based on the time it was written. Note that there may be changes in the merchandise, services, and prices that have occurred after this article was published. Please contact the facility or facilities in this article directly before visiting.