Yokohama Hammerhead - A Day Of Unique Sweets And Fun In Minato Mirai
Yokohama Hammerhead is a food, shopping, and hotel complex in Yokohama's Minato Mirai that opened October 2019. It has shops where you can make sweets, and a food court with nationally-renowned ramen restaurants. Use this article before and while visiting this trendy spot!
Yokohama Hammerhead - A New Spot to Enjoy in Minato Mirai
In October 2019, the Yokohama's Minato Mirai area welcomed the opening of a new port terminal, the Shinko Pier Cruise Terminal. At the same time, an adjoining shopping facility called Yokohama Hammerhead opened for business.
The theme of Yokohama Hammerhead is food. There are many one-of-a-kind places here, including a famous confectionery where customers can make sweets, and a food court that lets you sample exquisite ramen from all over Japan!
In today's article, we feature the highlights of Yokohama Hammerhead, a must-visit destination full of new and fun things to do.
All About Yokohama Hammerhead
Picture courtesy of Yokohama Hammerhead
Yokohama Hammerhead is a multipurpose complex with gourmet restaurants, shopping, and a hotel. The facility is easily accessed, as it is just ten minutes by shuttle bus (Pier Line) from JR Sakuragicho Station.
Next door are popular sightseeing spots including the Cup Noodle Museum and Yokohama Cosmo World's Ferris wheel.
Five Sweets and Eateries to Visit at Hammerhead
At Yokohama Hammerhead, you can sample various kinds of food and try hands-on experiences as well.
For example, visitors can make Kurumicco, a trendy Japanese dessert, and also personally design your confectionery package for Yokohama Harbor miniature cakes, one of Yokohama's most famous souvenirs.
In addition, there are many gourmet restaurants to browse at Yokohama Hammerhead. Read below to see our five shops that you'll want to visit.
1. Kamakura Beniya Kurumicco Factory - Make Your Own Sweets!
Kurumicco
Kamakura Beniya Kurumicco Factory is the only location in Japan where visitors can make the popular treat, Kurumicco.
Kurumicco is a baked dessert consisting of homemade caramel filled with chestnut pieces, sandwiched between two butter-filled wafer layers. The irresistible combination of caramel, with the perfect amount of sweetness, and crispy textured chestnuts, has attracted a loyal following across Japan.
A stylish package only found at Hammerhead.
The workshop, which costs 3,000 yen, starts with a factory tour on the store premises in which participants can see how Kurumicco is made from start to finish. Afterward, visitors will make some on their own.
Make your own Kurumicco at this workshop.
During the workshop, participants will make the mini whole size (eight portions)! It is one big dessert, ideal for sharing. Put your creation in the book-like package and take it home with you (see picture above).
On the shop premises, they serve various desserts using Kurumicco, making this is the ideal place for a sweets break.
2. JAPAN RAMEN FOOD HALL - Japan's Tastiest Ramen in One Spot!
HAKATA ISSEI's Ajitama Tonkotsu Ramen
JAPAN RAMEN FOOD HALL, right by Yokohama Hammerhead's entrance, is a food court with five ramen restaurants that are famous throughout Japan.
Inside, you'll find unique ramen shops, including ones featuring Hokkaido's Otaru ramen and Sapporo miso ramen, Yokohama sanma-men, local ramen topped generously with vegetables, and Hakata's tonkotsu ramen.
This writer's recommendation is Hakata Issei's tonkotsu ramen. The rich-tasting soup, full of flavor from boiling the pork bones over time, creates a perfect match for the thin noodles! If you love ramen, this is one dish that you need to try.
There's an English menu, and credit cards are also accepted, so this is a worry-free experience.
3. Saryo ITOEN YOKOHAMA - Sip Matcha and Japanese Green Tea
Picture courtesy of Yokohama Hammerhead
Located on the first floor of Hammerhead, Saryo ITOEN YOKOHAMA is a Japanese-style cafe offering genuine matcha green tea.
ITOEN, the same company that bottles Ooi Ocha green tea and other popular beverages, runs the cafe.
Watch the staff make matcha in front of customers.
The shop's most popular item is the Matcha Set (500 yen not including tax). The staff will prepare the tea right before your own eyes.
The matcha isn't overly bitter, so even first-timers will find it easy to drink.
The anko-filled Japanese sweets (ubatama) are a nice compliment to the tea.
Buy Japanese tea in teabags for a souvenir.
There's also a gift shop on the cafe premises. The green tea bags come in cute-looking cans, making it the ideal souvenir (see photo above).
4. ARIAKE HARBOUR STUDIO - Design a Personal Package for Your Dessert!
Buy freshly-baked mini cakes inside the shop.
Ariake Harbour, a baked miniature cake, has been a Yokohama favorite for over sixty years and remains one of the city's most popular souvenirs. In addition to the Double Maron flavor, which allows you to enjoy the rich aroma of chestnuts, you can also try delicious varieties like Gateau Chocolate and Milk Mont Blanc.
Ariake Harbour Studio is located on the second floor and offers a unique hands-on experience to its customers.
With the "my harbour experience" (1,000 yen including tax), participants first choose their favorite flavor, then actually design the package that the sweets go into (see photo below).
Picture courtesy of Yokohama Hammerhead
In the shop's filming booth, participants will get their photo taken, then have the date and their message printed on a paper package for a special keepsake. It is a great way to remember a fun day in Yokohama!
5. YOKOHAMA CARAMELLABO - Indulge in Yokohama Caramel
Picture courtesy of Yokohama Hammerhead
YOKOHAMA CARAMELLABO is Yokohama's first specialty caramel shop and also sells puddings and cream puffs. Yokohama nama caramel (162 yen each including tax) is a customer favorite that's cooked in a copper pot.
The melt-in-your-mouth-texture and the silky smooth sweetness of the fresh cream will have you craving more caramels.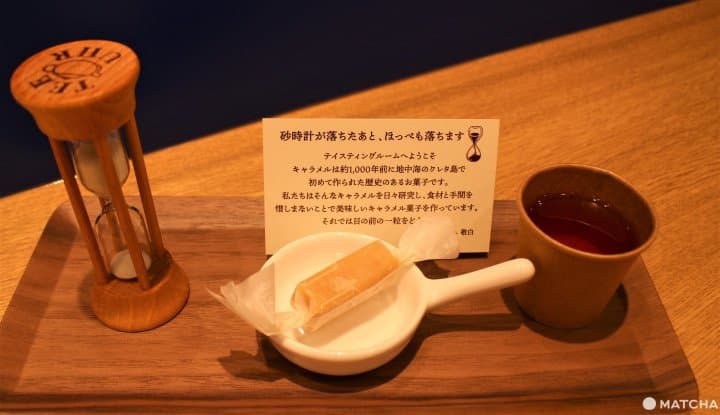 Yokohama Nama Caramel pairs deliciously with Earl Grey Tea
When you order caramel in the cafe, it will be brought to your table with a sand hourglass.
When the sand completely drops to the bottom of the hourglass, the cold caramel will reach room temperature, which is said to be the exact moment when the caramel tastes best.
The rich, sweet flavor and melting sensation of the ready-to-eat nama caramel is addictive!
Yokohama nama caramel requires refrigeration, but they also sell products that can be stored at room temperature. It is also an ideal place for souvenir hunting.
Intercontinental Yokohama Pier 8 -
Comfortable Waterfront Accommodation
Picture courtesy of Yokohama Hammerhead
The Intercontinental Yokohama Pier 8 Hotel occupies the third to fifth floors of Yokohama Hammerhead. After spending time sampling some delicious cuisine, you can retreat to your accommodation for further relaxation.
Picture courtesy of Yokohama Hammerhead
To allow lodgers to enjoy Minato Mirai's ocean breeze, hotel room windows can be opened by guests whenever they'd like to (in Japan, hotel guest room windows often can't be opened).
You can also see the passing cruise ships and Minato Mirai's amazing scenery up-close while enjoying the ocean's fresh scent.
There is also a Japanese-style courtyard on the third floor, allowing you to experience lush greenery from inside the hotel as well.
A Day of Fun at Yokohama Hammerhead
Yokohama Hammerhead has many unique shops not found in other parts of Japan and Yokohama, including Peter Rabbit™ Cafe and the Craft Chocolate Shop.

Be sure to stop by for a one-of-a-kind, hands-on experience in Yokohama!

In cooperation with Yokohama Hammerhead

The information presented in this article is based on the time it was written. Note that there may be changes in the merchandise, services, and prices that have occurred after this article was published. Please contact the facility or facilities in this article directly before visiting.