Shibuya PARCO - Interactive Shopping, Art, And Hands-On Technology
Shopping in Shibuya has become even more enjoyable! Shibuya PARCO, which closed in 2016 for renovations, re-opened on November 22, 2019. This nine-story complex has excellent stores with fashion, art and culture, anime entertainment, and more!
Shibuya PARCO - A Fashion, Art, and Technology Hub
New shopping facilities are popping up one after the other in Shibuya! A large shopping complex called Shibuya Scramble Square opened on November 1, 2019. Then Shibuya PARCO, which closed temporarily in 2016 for renovations, had its grand renewal opening on November 22, 2019.
The Parco building extends from the first basement floor all the way up to the ninth floor. This complex features five themes: fashion, art and culture, entertainment, dining, and technology, and there are a total of 193 shops.
Fashion
There are one hundred fashion shops featuring famous brand names - both domestic and international - including discord Yohji Yamamoto, A.P.C., GUCCI, and LOEWE.
GEYSER PARCO and PORT PARCO, both showcasing next-generation fashion brands, occupy a wide area in complex.
This is the perfect opportunity to purchase fashion items by the next generation of designers, not to mention the long standing popular brands.
Feel the Difference with Customized Clothing
On the second floor at THE NORTH FACE LAB, there's an experiment underway that might possibly be the world's first.
Using a jacket equipped with a 3D scanning system, you can get custom-fit clothes made especially just for you. After a consultation with the knowledgeable staff, you get to choose your favorite color and get measured for size, then the production process begins. It takes about one month for your order to be completed.
Art and Culture
HOBONICHI CultureN is a cultural information center that introduces exhibitions and other events being held in Tokyo. It's a place shared by a gallery and shopping space. Here you can purchase event goods and also datebooks and planners.
HOBO Nichiyobi, managed by the same company that runs HOBONICHI CultureN, opened on the eighth floor. Cultural exhibits are held here.
Also, PARCO Museum Tokyo (fourth floor) is an exhibition space with a concept focusing on art, design, and fashion. When it first opened, it held a joint display in coordination with GALLERY X (B1 floor). Animation and game exhibits are also featured here.
On the second floor, Japanese art magazine Bijutsu Techo opened up a gallery called OIL by Bijutsu Techo.
Enjoy looking at exhibits and displays covering a wide range of different genres.
For Japanese Anime and Games Head to the Sixth Floor!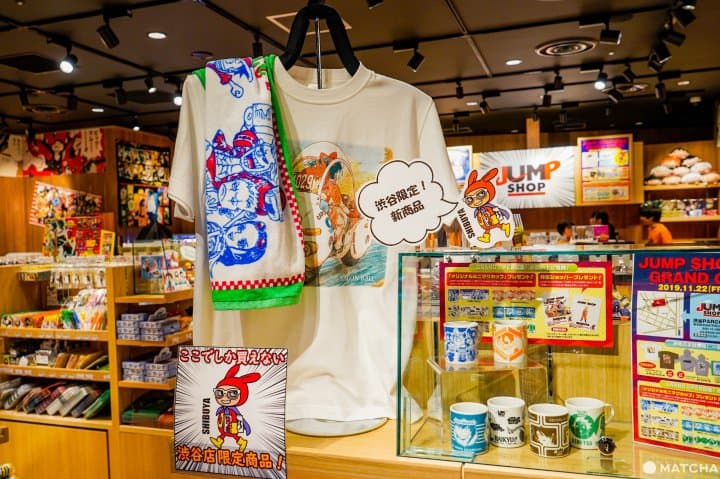 The sixth floor features a wide selection of stores and goods related to animation and games.
Here, assembled together in one place, are famous character goods from both Japan and overseas as well. They include Nintendo TOKYO, Pokemon Center Shibuya, Token Ranbu Yorozuya Honpo, and JUMP SHOT.
Fans will be eager to get their hands on limited-edition goods as well!
Entertainment
Photo by PR TIMES
WHITE CINE QUINTO, a mini-theater managed by PARCO, is one and a half times larger than the previous PARCO theater!
In addition to regular movies, international musicals are also screened here.
The B1 floor features QUATTRO LABO, a music cafe and bar managed by live house CLUB QUATTRO. On the bar's high-class sound system you can listen to music from a selection of more than 3,000 records!
Dining
Next we introduce some restaurant floors that food enthusiasts need to check out!
The B1 floor restaurant area is called CHAOS KITCHEN, and the seventh-floor area is known as RESTAURANT SEVEN. Both floors are lined with shops serving various types of food and drinks including sushi, Japanese sake, yakiniku, ramen, and vegan food (vegetarian).
There are also eating and drinking establishments lining the street on the building's first floor. Business hours differ from place to place.
Here you can find shops where you can enjoy Japanese sake, coffee, and wine as well.
Technology
Photo by PR TIMES
Thanks to the power of technology, shopping has become even more convenient and exciting!
At PARCO CUBE on the fifth floor there are a total of eleven shops. Here, actual stores combine with virtual shops (on-line shopping) to give visitors a new, interactive shopping experience.
Customers can buy their desired product via the on-line store using their smartphone, even when an actual store has run out of stock.
In other words, here you can enjoy shopping in a world that uses the latest VR (virtual reality), AR (augmented reality), and MR (mixed reality) technologies.
At the Tyffonium cafe on the B1 floor, augmented reality (AR) and sweets combine forces to create a highly unique dessert. Almost as if by magic, customers are treated to a new-style parfait!
Visit the Uniquely Designed Shibuya PARCO
Photo by PR TIMES

When you finish your shopping and step outside, please take a closer look at the exterior of the PARCO building. It has an interesting spiral-like design, inspired by the streets and slopes that make up Shibuya's unique terrain.

Also, the fourth, eighth, and tenth floors each have an open outside space that offers spectacular views of this huge metropolis. You can actually climb down the stairs from the rooftop into the street as if you were walking in park built vertically!

Regardless of the direction you face, more than simply looking out at the city, it actually feels like you're in the center of Shibuya.

Please enjoy your shopping at PARCO and the vibrant atmosphere of Shibuya, a trendsetting town that leads the way for Japanese pop culture!

The information presented in this article is based on the time it was written. Note that there may be changes in the merchandise, services, and prices that have occurred after this article was published. Please contact the facility or facilities in this article directly before visiting.