Udon Noodles For Breakfast In Kagawa: 3 Popular Restaurants In Mitoyo
Kagawa has garnered a reputation for udon noodles, boasting the highest number of udon restaurants in the country. However, most visitors are puzzled that these eateries open early in the morning and close around noon. MATCHA visited three popular udon restaurants in the region to find out why.
Unique Udon Restaurants in Kagawa
Steam rising from the kitchen of Kirai-tei in the morning.
Udon, alongside ramen and soba, is a popular noodle dish in Japanese cuisine. Udon noodles are a simple product, made from wheat flour, salt, and water, but their distinct chewy texture has a large following of enthusiasts.
Kagawa, located in the Shikoku region, is considered the home of these thick Japanese noodles. Residents consume seven times more udon than anywhere else in the country, and there are more than 600 udon restaurants in the region.
However, visitors to Kagawa are baffled to discover that most udon restaurants open early in the morning and close in the afternoon.
The noodle-making factory at Uesugi Shokuhin.
Since Japanese-style izakaya pubs are open at night, most people tend to eat out in the evening. Seeing udon restaurants closed in the afternoon is a strange sight even for the Japanese.
This article features three udon restaurants in Mitoyo, a city located in western Kagawa, where our MATCHA writer resides.
Kogane Seimensho Takase Store and Kirai-tei, two of the three restaurants mentioned in this article, are both self-service eateries. Only Japanese is spoken at the three featured restaurants, including Uesugi Shokuhin, so be sure to check this article before visiting or be accompanied by a Japanese-speaking friend.
1. Kogane Seimensho Takase Store: A Popular Udon Restaurant Chain
Kogane Seimensho boasts a wide variety of toppings for udon noodles.
Kogane Seimensho is a popular chain restaurant based in Kagawa and the Shikoku region. It can also be found in Okayama and the Kanto region. Since most of the eateries are franchised, the business hours and menu vary by store location.
There is, however, some interesting information on the restaurant's official website (Japanese).
The 18 stores in Kagawa all open at 6:00 or 7:00 and close between 15:00 and 16:00. On the contrary, stores in other prefectures, including Tokyo, open daily between 9:00 and 11:00 and close around 21:00.
What is the reason behind the different operating hours?
Kogane Seimensho's Takase branch is located near the writer's residence.
This popular eatery is constantly packed with white-collar workers, families, and high school students in the afternoon. It is also frequented by our MATCHA writer.
The photograph above shows a small-sized kake udon (noodles in warm broth). The chikuwa isobe-age topping (deep-fried fish cake flavored with seaweed flakes) costs an additional 100 yen with tax.
The business hours are from 6:00 to 15:00. Between 6:00 and 10:00 on weekdays, customers can enjoy a small-sized kake udon (*1) for 170 yen with tax. After 10:00, this dish will cost 230 yen.
The udon at Kogane Seimensho can be described as springy and soft. The restaurant only uses Japanese wheat flour to preserve the noodle's taste.
*1 Kake udon: A staple menu at udon restaurants in Kagawa consisting of noodles in a warm broth.
The business hours at the Takase store location, which opened in 2011, used to be from 7:00 to 18:00. According to the manager Mr. Ozaki, "Aside from vacant seats in the evenings, many customers requested for an earlier store opening."
The number of customers increased once the business hours changed. When our writer visited the store at 6:30 on a weekday, construction workers and married couples were coming in intermittently.
Many of the early-morning eaters tend to be workers from nearby construction sites. Mr. Ozaki added, "But that doesn't explain why other customers visit the store so early in the morning. I think Kagawa residents who like budget-friendly fast food prefer to eat udon for breakfast and lunch."

2. Enjoy Local Cuisine at Kirai-tei
To find out whether eating udon for breakfast is common among Kagawa locals, our MATCHA writer headed to the next restaurant.
Kirai-tei, located ten minutes by foot from JR Motoyama Station, was founded by a Kagawa local in 2014. It is open daily from 6:00 to 14:00.
While a small-sized kake udon costs 220 yen, customers can order it for 160 yen between 6:00 and 9:00. The udon noodles have a delicious, smooth texture.
Kirai-tei offers a ball of steamed rice called mosso-meshi (140 yen, including tax), as pictured on the right-hand side of the photo above. This regional rice dish is filled with deep-fried tofu, konnyaku jelly, and iriko (*2).
The word "Kirai" is also derived from the old naming of this area. This eatery truly felt like it was connected to the local community.
*2 Iriko: Dried sardines. It is an ingredient used for the dashi (soup stock) of udon and creates a unique flavor.
The writer asked the owner of Kirai-tei about the business hours. "When I inquired with my friends before starting the restaurant, most of them replied that they wanted to eat udon before going to work, and suggested that I open the restaurant in the morning."
When our writer visited the store at 6:00 on a weekday, there were people in workwear and sweatsuits eating udon, reading newspapers, and watching the news on TV. Some of them appeared to be regular customers as they exchanged greetings with the owner.
According to an udon-loving friend of the writer, local farmers prefer to eat at udon restaurants upon finishing their morning labor. There are many farms near Kirai-tei, so some of the early-morning customers are the local farmers.

3. Uesugi Shokuhin: A Long-Established Udon Restaurant
The third restaurant is one the longest established udon eateries in the region.
Established in 1907, Uesugi Shokuhin started as a store selling udon noodles and daily necessities. The restaurant then opened in 2000 to serve piping hot noodle dishes directly to customers.
After appearing in the Japanese movie "UDON" in 2006, the eatery gained popularity among visitors to the city in addition to its regular customers.
The rural landscape surrounding Uesugi Shokuhin.
The official business hours are from 6:30 to 9:00 on weekends and public holidays. On weekdays, the restaurant is only open for an hour and a half from 6:30 to 8:00. On some days, it will be open for as long as the noodles are available.
The udon at Uesugi is famous for its chewy texture, which attracts a large number of enthusiasts. Chewing the firm noodles will make you feel invigorated.
The restaurant offers kake udon, shoyu (soy sauce) udon, and kama-tama udon, which is topped with a raw egg. They also serve a rare menu item: natto udon.
There are many Japanese who eat natto (fermented soybeans) for breakfast. After a customer requested natto with the chewy noodles, it earned a place on the menu.
Although the writer isn't a fan of natto, he tried it as a topping on the shoyu udon. He was pleasantly surprised by how the stickiness of the fermented soybeans paired well with the firm noodles.
One reason for the short hours at Uesugi Shokuhin is that it still produces dried udon noodles, which are sold at nearby markets in the afternoon.
According to the staff, anoother reason is that there are many customers who "prefer to eat hot noodles in the morning."
Garlands from the local elementary school and autographs of entertainers who visited the restaurant adorn the walls.
When the writer visited the restaurant around 9:00 on Saturday, it was filled with customers who appeared to be locals.
During his meal, a family with a small child entered the restaurant. While the parents chatted with the owner, the child sang a song learned at school. It was a heartwarming scene.
Our writer, who grew up in the Kanto region, would typically spend his weekends with family members. Similarly, Kagawa residents seemed to enjoy their mornings with their families at udon restaurants.

Get up Early and Enjoy Kagawa Udon
Why do udon restaurants in Kagawa open in the morning and close in the afternoon? Perhaps the answer is that locals prefer to eat out in the morning.
You will see an assortment of customers from families, those eating breakfast before work, and farmers who finished their early morning tasks. An udon restaurant is a truly unique environment providing sights that can't be seen anywhere else.
Those who have a chance to visit Kagawa should get up early and enjoy piping-hot udon to start their day.
Udon Restaurant Tours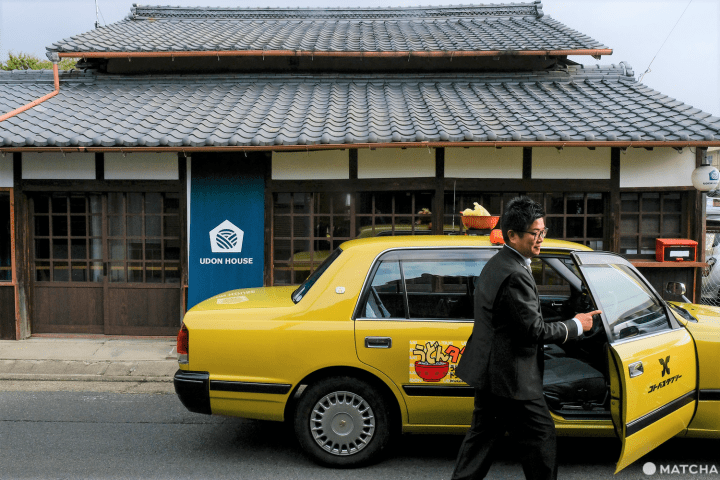 From Kagawa Gastro Tours: Seasoned Travelers' Plan
Some udon restaurants in Kagawa cannot be accessed by public transportation. If you wish to visit these eateries, how about taking part in a tour?
The driver of Udon Taxi, operated by Kotohira Bus, will act as your tour guide and take you to local restaurants not listed in guidebooks. The taxi's roof is decorated with an object resembling an udon bowl. This unique tour will make a lasting memory for those visiting Kagawa, the birthplace of udon.
From Kagawa Gastro Tours: Udon Beginners' Plan
UDON HOUSE is a unique lodging facility where guests can experience noodle-making. Guests can take part in a workshop to learn about the history of udon and tour affiliated farms.
Guests will also go "udon-hopping" in the morning, visit restaurants well-known to locals, and slurp these signature noodles for breakfast.
English-speaking staff members are available at Udon Taxi and UDON HOUSE. Check out Kagawa Gastro Tours and read about the activities in the articles listed below.
In cooperation with Kogane Seimensho Takase Store, Kirai-tei, and Uesugi Shokuhin.
The information presented in this article is based on the time it was written. Note that there may be changes in the merchandise, services, and prices that have occurred after this article was published. Please contact the facility or facilities in this article directly before visiting.