Kagawa Gastro Tours: Udon Beginners' Plan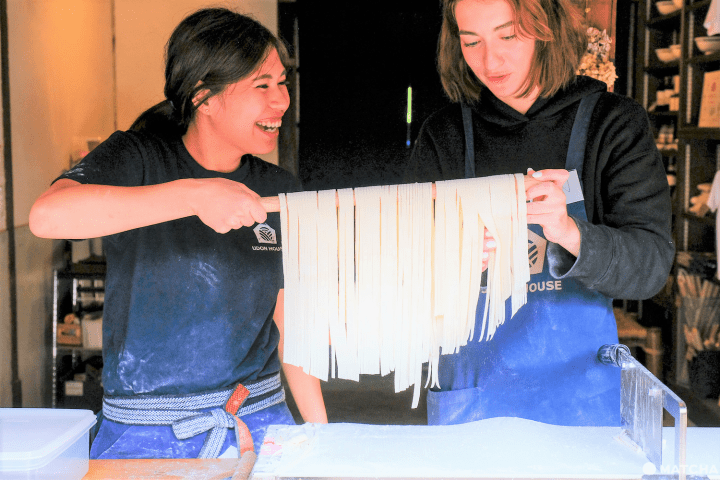 The Kagawa Gastro Tours are your gateway to Kagawa and the larger Setouchi region. The Udon Beginners' Plan is a fully-guided food tour. Your English-speaking Udon Taxi driver takes you to UDON HOUSE where you'll learn to make and enjoy Sanuki udon, as well as to Kotohira for sake tasting.
A Two-Day Tour to Fully Experience Kagawa, the Udon Country
The Udon Beginners' Plan is a two-day tour that introduces you to Kagawa and its famous local dish, Sanuki udon. First, an English-speaking driver of Udon Taxi will take you from Takamatsu Airport to UDON HOUSE to taste udon noodles and learn udon making. Participants will also enjoy sipping sake at Kinryo Sake Brewery and a visit to Kotohira Shrine.
The Udon Taxi will also take visitors to some of the area's hidden udon restaurants, known only to the locals. You can reserve the tour from the Kotohira Bus official website.
Udon Beginners' Plan - Tour Details
- Riding the Udon Taxi and visiting famous udon restaurants.
- Cooking Sanuki udon, the local specialty, at UDON HOUSE.
- Udon hopping, a tour offered by the UDON HOUSE staff.
- Visiting Kinryo Sake, a sake brewery in Kotohira.
- Taking a walk in Kotohira.
- Visiting Kamata Shoyu, a local soy sauce factory.
*The Kagawa Gastro Tours also offer a two-day Seasoned Travelers' Plan, as well as a three-day Camping Car Plan for nature lovers.
Day One
1. Udon Taxi: Airport Pick-up
After arriving at Takamatsu Airport, you'll be greeted by your Udon Taxi driver. (*1) They will take you to a local dining place where you can enjoy your first local udon noodle dish at one of the region's legendary shops.
If you plan to arrive by Shinkansen or train, the Udon Taxi will pick you up at the station.
*1... Udon Taxi is a Kagawa sightseeing taxi. The drivers are guides who are very knowledgeable about udon and local restaurants. They can offer travel tips in English so international visitors can be at rest that they will enjoy every minute of their trip.
2. Local Udon - Your First Meal in Kagawa
You'll try authentic handmade udon and interact with the locals with the help of your Udon Taxi driver. All you have to do is relax and enjoy!
3. UDON HOUSE - Your Gateway to Kagawa, the Udon Country
Next, you'll be heading to UDON HOUSE, an accommodation facility located in a renovated traditional Japanese home in the city of Mitoyo.
UDON HOUSE provides guests with modern hostel-style accommodation along with udon-making and local food culture classes in English and Japanese.
You'll learn the essential ingredients to udon, meet local farmers, and make your own noodles from scratch—a complete introduction to the culture of Sanuki udon.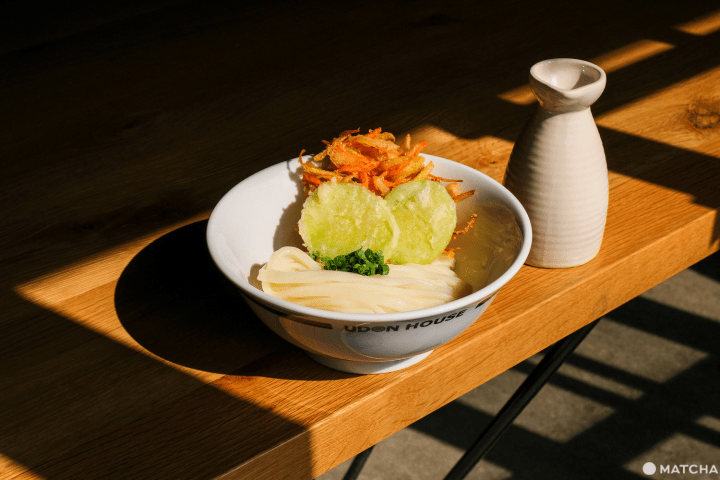 4. Chichibugahama Beach - Japan's Most Instagrammable Sunset
After learning how to make and eat udon at UDON HOUSE, you can ask the staff to take you to Chichibugahama, a beach that is famous for its mirrored tidepool sunsets and breathtaking colors at dusk.
With a bit of luck, you'll be able to capture unforgettable photographs before heading back to UDON HOUSE.
*2... The visit to Chichibugahama is optional. If you wish to go there, please tell the UDON HOUSE. The beach can be visited only in the summer. In case of inclement weather and depending on the seasonal tides, there may be times when the beach cannot be visited. We kindly ask for your understanding.
After visiting Chichibugahama, we suggest going back to UDON HOUSE to get a good night's rest.
Day Two
5. Udon Hopping - The Sanuki Way to Start Your Day
Udon for breakfast? Absolutely! Locals love to start their day with a steaming bowl of udon. This is your chance to sit shoulder-to-shoulder with them as you practice your slurping skills.
Sanuki is the historical name for the Kagawa region and is why local udon dishes are called Sanuki udon.
You'll be introduced to lesser-known udon places that other visitors to Japan would have trouble finding on their own.
6. Kinryo in Kotohira - Sake Tasting in a Traditional Town
Now that you've had your fill of udon, it's time to indulge in a drink or two in the charming town of Kotohira, home to Kotohira Shrine—Shikoku's most popular shrine—and Kinryo Sake Brewery. Kinryo Sake has been producing nihonshu liquor for over 200 years.
After a brief guided tour of the Kinryo Sake Museum, you'll get to sample some of the finest sake the region has to offer.
The beautiful scenery of the traditional Kotohira streets will steal your heart. Here, you can feel the charms of the region with all your senses.
6. Kotohira Shrine - 785 Steps to Heaven
You'll have a chance to work off some of those calories in Kotohira where you'll climb Kotohira Shrine's famous 785-step staircase. The approach winds its way through an eclectic shopping arcade. How about stopping by one of the many shops to catch your breath and buy unique souvenirs to take home?
Visitors are rewarded for their efforts with the beauty of the shrine itself—the perfect place for a moment of peace and reflection.
7. Kamada Soy Sauce - Shoyu To Go!
Before heading to your hotel or the train station, you'll have one last stop at the Kamada Soy Sauce Factory, which has been brewing soy sauce ("shoyu" in Japanese) since 1789.

Enjoy a sample tasting to familiarize yourself with the diversity of soy sauce flavors and grab some to enjoy back home. This soy sauce goes great with udon so how about trying your newly acquired udon-making skills at home?

Book Your Kagawa Gastro Tour: Udon Beginners' Plan

To those travelers who have visited Japan several times already, the Kagawa Gastro Tours offer the Seasoned Travelers' Plan.

Text and photos by Lance
Supported by Udon Tourism Promotion Association

The information presented in this article is based on the time it was written. Note that there may be changes in the merchandise, services, and prices that have occurred after this article was published. Please contact the facility or facilities in this article directly before visiting.