Make Your Own Noodles! Stay At UDON HOUSE And Savor Local Kagawa Culture
UDON HOUSE is an accommodation facility offering workshops and unique experiences in Mitoyo, Kagawa Prefecture. From udon-making classes to udon restaurant hopping, to local farm tours, guests can take in the many charms of this scenic area with all their senses.
UDON HOUSE: A Lodging All About Udon Noodles
Picture courtesy of UDON HOUSE
Home of the contemporary art festival, Setouchi Triennale, scenic Kagawa Prefecture is also known for its delicious Sanuki udon noodles.
Udon noodles here have a firm, chewy texture and are traditionally served in a sardine-based broth. Sanuki udon has been enjoyed in Kagawa since the Edo Period (1603-1868).
Udon has a long history here, and people in Kagawa today consume this noodle dish more than seven times the average Japanese person. If you are interested in experiencing this unique udon culture, we recommend staying at UDON HOUSE in Mitoyo.
In addition to booking a stay, you can participate in an udon-making class, harvest vegetables for tempura on a farm tour, and visit local udon restaurants. It is a way to taste not just noodles and get an up-close experience of the culture of Kagawa.
UDON HOUSE offers English language support, so overseas visitors can stay without stress.
*In response to the COVID-19 pandemic, UDON HOUSE is currently limiting stays and activities to only one group per day.
5 Features of UDON HOUSE
At UDON HOUSE, you can book a one-night stay to experience the culinary culture of udon over two days. They also offer half-day workshops and online courses.
We cover five features of the UDON HOUSE experience below.
1. Take an Udon-Making Class
Udon noodles are made from wheat flour, salt, and water. Although the ingredients are simple, there are many steps involved in noodle making, including kneading, rolling, and letting the dough sit. At UDON HOUSE, you will experience each part of the noodle-making process.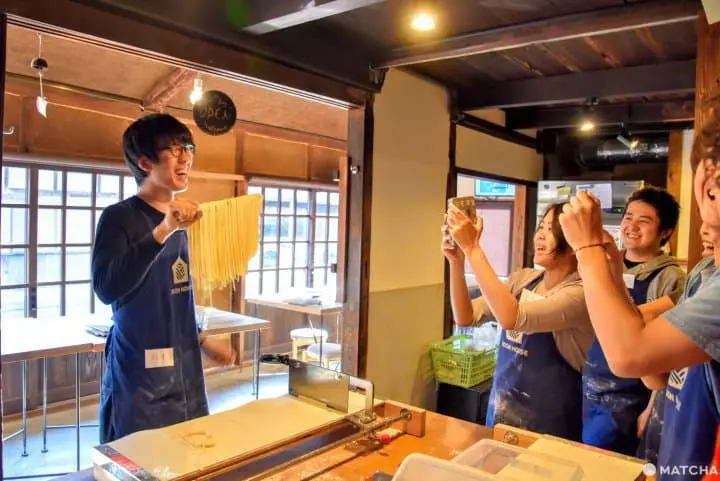 This is a great activity to enjoy among friends and family.
You'll feel like an udon chef as you knead the dough with your feet, taste-test different broths, and cut your own noodles. Udon making is a unique experience that will leave you craving the dish all the more so after your trip is over.
2. Take a Lesson on Udon History
How did Sanuki udon become the staple food of Kagawa? The answer lies in its history and climate.
While the dough is sitting, you will learn about the history of udon noodles. Presented in a quiz format, the lesson is engaging and fun for all participants—even families with small children.
The history lesson includes popular sightseeing locations today, such as Kotohira Shrine and Shodoshima Island. These scenic spots may inspire your next trip.
3. Harvest Vegetables at a Local Farm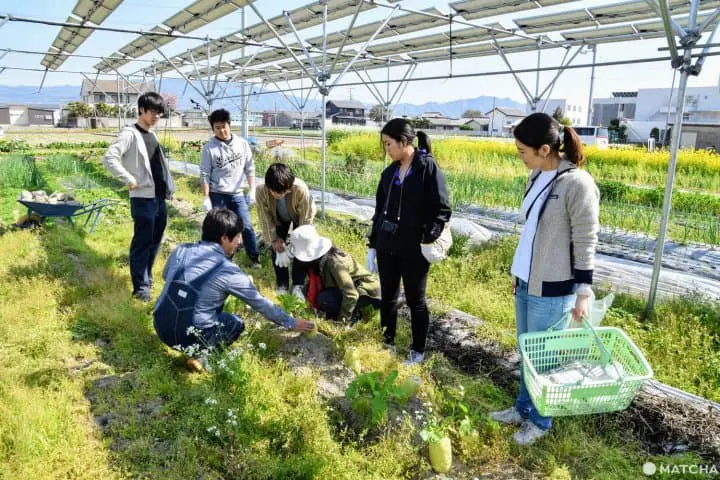 Sanuki udon is typically enjoyed with a side of tempura. At UDON HOUSE, you will visit a local farm and harvest vegetables yourself to be fried in tempura batter.
The farm tour is a great way to learn more about Kagawa and the people who live here. You will see firsthand how much care the farmers put into growing their crops.
Once the udon and tempura are made, it's time to savor the homemade dishes at an udon party! The vegetables accompanying the handcrafted noodles make a satisfying meal.
4. Go Udon Restaurant Hopping
Picture from Kagawa Gastro Tours: Udon Beginners' Plan
If you booked a two-day plan, the second day will kick off with breakfast at various udon restaurants.
There are many top-quality udon restaurants in Mitoyo. Enjoy traditional dishes from Kagawa at restaurants that have retained the nostalgic charm of the Showa Era (1926-1989).
5. View the Sunset at Chichibugahama Beach
You will also find one of Japan's most beautiful sunsets in Mitoyo. Chichibugahama Beach is not far from UDON HOUSE, and if the sky is clear, the staff may bring you to the beach in the evening.
Online Courses Available!
As the coronavirus pandemic has put a halt to international travel, UDON HOUSE has made udon-making courses available online.
Participants will learn all about these beloved noodles in a two-hour lesson via the video conferencing service Zoom. If you live in Japan, you will receive a package with udon noodles, dashi broth, and one vegetable variety for tempura. Check the UDON HOUSE website for additional information and to join a class.
Stay at UDON HOUSE
Pictures courtesy of UDON HOUSE
The rooms at UDON HOUSE are dormitory style, but each bed area has a door to give guests peace and privacy. The surrounding area is quiet at night, so you will have no trouble getting a good night's rest.
Pictures courtesy of UDON HOUSE
UDON HOUSE was renovated from a traditional house that was built over 70 years ago. During your stay, be sure to visit the tatami room, which is perfect for relaxing.
Accommodation Cost at UDON HOUSE
UDON HOUSE accepts reservations of groups from two to ten people. Depending on the number of guests, the accommodation cost ranges between 15,000 and 30,000 yen. Check the UDON HOUSE website (Japanese) for more details.
Udon-Themed Souvenirs
At UDON HOUSE, you can purchase unique souvenirs that are udon-themed. The picture above is the adorable house-shaped box "Udon House," which comes with noodles and broth.
The package itself has a number of surprises. One of these is a Japanese board game (sugoroku) hidden inside. You can also use reuse the box as a decoration in your home.
From udon bowls and rolling pins to udon-themed T-shirts and towels, you will find an assortment of one-of-a-kind memorabilia. These items can also be purchased on UDON HOUSE's online store (Japanese).
How to Get to UDON HOUSE
UDON HOUSE is a brief one-minute walk from JR Motoyama Station. This location makes it easily accessible even if you don't have a car.
There are several stunning sightseeing spots within walking distance. These include the pilgrimage site of Motoyamaji Temple and Kurashi-no-Mori, a space showcasing local crafts. We recommend stopping by if you have extra time.
Join Kagawa Gastro Tours
If you're looking to dive deeper into the culture and food of Kagawa, check out Kagawa Gastro Tours.

At UDON HOUSE, you can embark on guided tours of nearby sightseeing locations, like the famous Kotohira-gu Shrine. The guest house even offers nature experiences in the Setouchi area with a rental camping car (RV), too.

UDON HOUSE is an excellent way to immerse yourself in the thriving udon culture of Kagawa. Consider booking a stay here when planning your next trip!

In cooperation with UDON HOUSE

The information presented in this article is based on the time it was written. Note that there may be changes in the merchandise, services, and prices that have occurred after this article was published. Please contact the facility or facilities in this article directly before visiting.