5 Excellent Pocket Wi-Fi Routers for Internet Use in Japan
This service includes sponsored advertisements.
Visitors to Japan may be wondering how to connect to the internet during their trip. This article introduces the types of internet services in Japan, important points when renting pocket Wi-Fi routers, and which routers to choose in various situations.
Using the Internet While on a Trip to Japan
Photo by Pixta
The internet has become an essential tool on trips or extended stays in Japan. For example, you can use the net to look up routes on Google Maps or easily apply for specific services.
Those staying in Japan for an extended period should secure an internet service plan with a Japanese provider. But a pocket Wi-Fi router may be a better option for short trips or a stay under a year.
Since some readers may not be familiar with internet services in Japan, this article will discuss how to connect to free Wi-Fi, internet connection methods, and various pocket Wi-Fi routers.
We will also compare five pocket Wi-Fi routers in terms of price and data capacity. If you're planning a trip or a long-term stay for studies or business, take a look at our suggestions!
For MATCHA Readers: 20% Discount on NINJA WiFi Rentals
*MATCHA's readers receive a 20% discount on NINJA WiFi rentals booked through this link.
Table of Contents
Free Wi-Fi in Japan
In recent years, free Wi-Fi spots have cropped up in hotels, cafes, and shopping malls across Japan.
Among the many free Wi-Fi services available, the most famous is an app called Japan Wi-Fi auto connect. Available in 16 languages, it can be used at over 50,000 spots nationwide. The app only connects to Wi-Fi services provided by enterprises or local governments, so it should be relatively safe.
On the other hand, some may want to immediately post photos on their SNS account or use Google Maps while walking.
Free Wi-Fi, which is only available in certain areas, is inconvenient in that regard.
Moreover, users will be sharing a network with an indefinite number of people. It would be wise to avoid disclosing private information, such as one's credit card number.
The Difference Between Pocket Wi-Fi Routers, SIM Cards, and Data Roaming
When it comes to connecting to the internet in Japan, besides installing a fiber-optic internet service at home, there are three options to get online in Japan: pocket Wi-Fi routers, SIM Cards, and data roaming.
Each of them has different features that set them apart.
Pocket Wi-Fi Routers
Photo by Pixta
A pocket Wi-Fi router is a device smaller than a smartphone. It can immediately be used by entering a password.
It offers a large data capacity and can be connected to multiple devices. Therefore, a router can be used during a group trip or when simultaneously using a PC and smartphone.
However, most routers are provided on a rental contract and must be returned when leaving Japan, making it a little bothersome.
SIM Cards
Photo by Pixta
SIM cards are inserted into smartphones. They are inexpensive compared to pocket Wi-Fi routers but lack data capacity.
As of September 2022, Japan Travel SIM by IIJmio, a 1.5 GB card, can be purchased on Amazon for 1,864 yen. Alternatively, a rental router will cost 300 to 1,000 yen daily, so SIM cards are a much more affordable option.
Regarding difficulties with SIM cards, users have to unlock their smartphones and switch out their existing cards. Figuring out the initial settings may be another obstacle, too.
Data Roaming
A data roaming service allows users to use the services of their original provider during international travels. While expensive, it is hassle-free because the user does not have to do anything.
There usually are no restrictions on telephone calls and texting. However, some providers might have limitations in terms of data transfer.
Pocket Wi-Fi Routers and SIM Cards Are Popular Choices
Below is a list of the pros and cons of these three internet options.
Pocket Wi-Fi Routers
SIM Cards
Data Roaming
Pros
A large amount of data will be available.
Multiple devices can be used at once.
Inexpensive.
A wide variety of choices.
The application process is simple.
Cons
More expensive than a SIM card (300 to 1000 yen/day).
The SIM lock has to be released.
The amount of data will be restricted.
The initial settings may be difficult to understand.
Switching SIM cards may be difficult.
Expensive.
Comes with various restrictions.
When visiting Japan, most travelers choose a pocket Wi-Fi router or a SIM card. Please refer to this article when selecting an option that is right for you.
The following are tips for selecting a pocket Wi-Fi router and the various services available.

Important Points in Choosing and Renting a Pocket Wi-Fi Router
Photo by Pixta
You can utilize any pocket WI-FI router by following the steps below.
1. Make an online reservation to rent the router.
2. Receive the router at airports, post offices, or hotels in Japan.
3. Return the router upon leaving Japan.
The details vary depending on the provider, so read on to learn about important points when renting a router.
1. Data Capacity, Rental Period, and Billing
Most providers offer unlimited usage (*) or a plan with a restriction of 1 GB per day. The bill changes according to the plan.
Some providers offer a discount for long-term plans, while others do not. The former is ideal for more extended stays, and the latter is fit for a short rental plan. The bill should be around 10,000 yen per month with a long-term discount.
*Even in the case of unlimited usage, the transmission speed might become slow after exceeding 3 GB in one day.
Estimated Data Usage in Japan (1 GB)
E-Mail: 2,090 emails. (500 KB per mail)
Video Viewing: about 4 hours and 16 minutes at medium quality.
Google Maps: about 1,432 views (10 minutes per view).
Reference: Wi-Fi Rental Dotcom (Japanese)
2. Booking and Receiving the Router
While busily preparing for their trip, most people may forget to book a router.
Many providers ask users to apply three days before receiving the device. There are exceptions, such as NINJA WiFi, which requires only one day. If you are in a hurry, please take advantage of these services.
3. Receiving/Returning the Device at the Airport
In most cases, the router will be sent to your accommodation in Japan (hotel, friend's house, etc.). You can also pick up the rental device at post offices in major airports.
Some providers, such as NINJA WiFi or Sakura Mobile listed below, have a counter at the airport, allowing users to receive the device from the staff. They are located at multiple airports, so first-time users should take advantage of this service.
Users will be asked to send the router back in a bag enclosed in the package or return it to the airport counter.
4. Insurance
A reimbursement fee will be charged if users lose or accidentally damage the router. In the case of Japan Wireless, losing or damaging a router and the inserted SIM card will cost 40,000 yen.
Most providers offer an insurance plan to reduce reimbursement costs. Those visiting Japan for the first time should consider using this service.
5 Recommended Pocket Wi-Fi Routers
Many Japanese providers are offering rental pocket Wi-Fi routers.
The five companies listed below all have English websites. Some even have Chinese websites, so there is no need to worry about language barriers.
We've compiled a list according to various needs below!
1. NINJA WiFi: The Best Option for Trips Ranging from One to Three Weeks
Picture courtesy of NINJA WiFi
The best option for a trip of up to two weeks is NINJA WiFi. Vision, Inc., the managing firm, was established in 1995. The company has been thriving in the international communication service industry and is highly esteemed.
Originally, using 1 GB of data per day used to cost 880 yen. However, NINJA Wi-Fi revised its rates in March 2023.
Currently, there are three plans available: you can use up to 3 GB per day for 770 yen, up to 5 GB for 1,100 yen, or up to 10 GB for 1,320 yen!
You can use a generous amount of data and it's very convenient for short-term use.
The firm also boasts the largest number of airport counters, and it only takes a day to rent a router.
If users apply for a device before 15:00 (JST), they can receive it at various airports (Narita Terminal 1 and 2/Haneda International Terminal/Kansai International Terminal 1/Naha Airport) the next day. If you apply two to four days in advance, you can pick up the router at 11 airports in Japan.
There is a 20% discount coupon exclusively for MATCHA readers. Apply for the discount by clicking the banner below.
NINJA WiFi also offers various options as well, such as travel medical insurance or rental translation machines (POCKETALK). They are sure to be of support to first-time visitors in Japan.
For MATCHA Readers: 20% Discount on NINJA WiFi Rentals
*MATCHA's readers receive a 20% discount on NINJA WiFi rentals booked through this link.
2. Japan Wireless: The Best Option for a Long Stay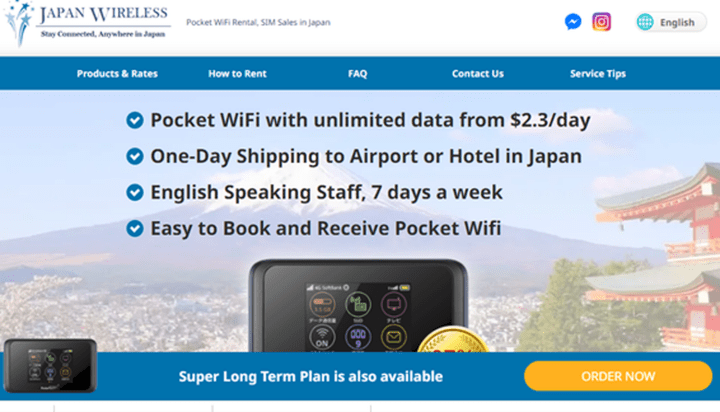 Picture courtesy of Japan Wireless
Japan Wireless is managed by Inbound Platform, which handles camping cars, along with medical information service for foreign nationals.
The service offers unlimited usage, and the bill changes according to the rental period. As of October 2022, it costs about 1,400 yen a day for short-term rentals and 1,900 yen for two days. This may seem relatively expensive at first glance.
But if the rental period extends over six months, there is a plan with a monthly rate of 5,580 yen. The year-long plan has a monthly rate of 4,980 yen, which makes it cost-effective in the long term. Students planning to study abroad in Japan for an extended period should look at this company.
Japan Wireless also offers an express service so users can receive a router within 24 hours. Those in a hurry should make an inquiry.
Since they do not have a private counter, the router will be sent to an airport post office in Narita (Terminal 1 and 2), Kansai International, Chubu Centrair International, Fukuoka Airport, and the QL Liner counter at Narita Airport. The routers can also be mailed to hotels and private residences in Japan.
3. Sakura Mobile: The Best Choice for Users Who Want Support in English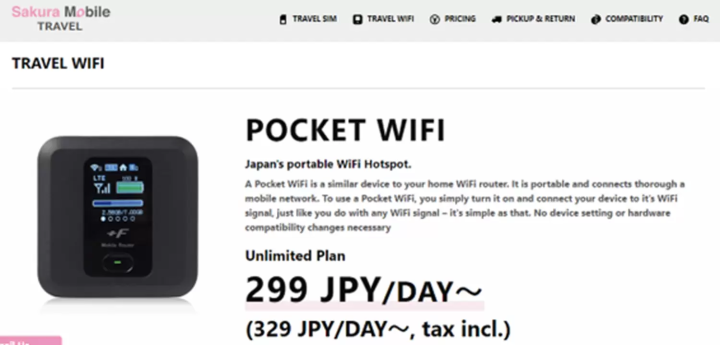 Picture courtesy of Sakura Mobile
Sakura Mobile offers various internet-related services, including SIM cards for overseas visitors and optic-fiber services for foreign nationals in Japan.
Sakura Mobile has gained a reputation for the quality of their support in English. User reviews mention that "when I was hesitating between going for a SIM card or for pocket WiFI, they actually researched the quality of the signal in the area I was planning to visit and gave me the right advice."
This router rental service is the same as Japan Wireless, with unlimited usage and the bill changing according to the rental period. While the daily rate for a one-week plan costs over 1,000 yen, it drops to 299 yen in a long-term plan.
Users will receive the router three days after submitting their application. Pick-up counters are set up at Kansai International Airport and Narita Airport (Terminals 1, 2, and 3). Sakura Mobile also has an office in Shinjuku, where the routers are distributed. Please consider visiting the office if you prefer to interact with an employee in person.
Routers can also be sent to post offices, including the ones at Chubu Centrair International Airport and New Chitose Airport. You can also have the router delivered to hotels in Japan.
4. Japan Wifi Rental: The Top Inexpensive, Short-Term Option
Picture courtesy of Japan Wifi Rental
Short-term visitors looking to save expenses should take a look at Japan Wifi Rental. They offer a plan of 50 GB a month, with a daily rate starting from 430 yen. There is also a discount for long-term rentals at a monthly rate of 6,450 yen.
Users can only receive the router at airport post offices, hotels, or a friend's house. The airports are limited to Narita (Terminals 1 and 2), Haneda, New Chitose, and Chubu Centrair International, so it may be slightly inconvenient.
5. mobal: Sim card + pocket wifi - a winning combo for long term stays in Japan
Picture courtesy of Mobell communications
Long-term visitors and foreign residents in Japan will find having both a sim card and pocket wifi quite convenient. And mobal is just the service to provide it.
It offers a simple plan of a 100GB data limit for only 4980 yen per month. Similar to Japan Wireless it offers a discount on the cost of the pocket wifi rental fee, with 10% off when you purchase it with a sim card.
Mobal connects through the same towers as the major telecommunications networks offering wide coverage and ready access whenever and wherever you need it.
The minimum rental period is 3 months and you can have the device mailed to your desired location within 2-5 business days. There's no service fee for this either! For details check out their home page here.
Mobal is a service offered by Mobell Communications Limited. Founded in 1989 it is a telecom company that believes in charitable responsibility such as donating to impoverished communities in Africa.
Choose the Right Router and Stay Connected Japan
There are plenty of wonderful places to visit in Japan. When possible, saving on personal expenses is important when trying to partake in various memorable experiences.
Please use this article as a guide, and look for a pocket Wi-Fi router that fits your needs!
Written by
I joined MATCHA in October 2017. Living and working in Mitoyo, Kagawa, since April 2019. I live near Chichibugahama Beach, which is known as the "Mirror of the Sky."

The information presented in this article is based on the time it was written. Note that there may be changes in the merchandise, services, and prices that have occurred after this article was published. Please contact the facility or facilities in this article directly before visiting. Some of our articles contain affiliate links. We kindly ask our readers to exercise careful judgement when making a purchase or booking a service online.
Top Articles
There are no articles in this section.