Sumo Wrestling Guide - Key Terms, Buying Tickets, And Ways to Enjoy
Sumo, Japan's national sport,is best enjoyed by knowing the terms and watching a professional tournament. Ryogoku Kokugikan is the main facility in Tokyo where sumo tournaments are held. Find out how to buy tickets and enjoy sumo to the fullest!
Japan's National Sport, Sumo: What is it?
Sumo, the Japanese characters of which mean, "to strike one another," is Japan's national sport. Though it is described as a "modern Japanese martial art," sumo actually became a formally organized sport at some point in the 17th century, and so has a long history. In the past, sumo tournaments were also religious ceremonies, and even now many religious customs remain a part of the sport. 
Today, sumo is rooted in Japanese life as the national sport. Perhaps not so surprisingly, it has become popular overseas as well. So, what exactly is sumo? Where can you see it in Japan? What should you be aware of when watching a bout? To answer these questions, we've compiled some helpful information about sumo here, from the basics of the sport to information about how to watch it in person.
Sumo's Wrestlers Are Called Rikishi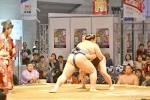 "Sumo" is a sport where two competitors called rikishi, clad only in wrapped loincloths (mawashi), grapple with each other inside a dohyo ring measuring 4.55 meters in diameter. A rikishi's goal in a match is to force his opponent either out of the ring or to touch the ground with anything other than the soles of their feet. A talented rikishi can successfully throw an opponent in seconds.
Today, Sumo has gained international recognition, and there are many rikishi who hail from other countries that also contribute to the sport. These non-Japanese rikishi have gained a lot of media attention recently for their presence in the top-ranks. 
As for female rikishi, currently, there are none in the professional ranks. As a general rule, women are restricted from participation in sumo competitions and ceremonies for traditional and religious reasons. Even so, there are women today who compete on university teams and at some amateur sports clubs.
What is Banzuke?
There are two kinds of sumo: o-zumo and sumo. Put simply, o-zumo is the professional sport and sumo is the amateur sport. O-zumo is what is popularly broadcast on television.
Each rikishi in o-zumo has what is called a banzuke, which is their ranking among all rikishi. From the top, the highest banzuke is yokozuna, followed by ozeki, sekiwake, komusubi, and maegashira. These rikishi are in the maku-uchi, the first division. Below the maku-uchi, you will find rikishi in the juryo (second division) and makushita (third division). If a rikishi from a lower division topples someone of higher rank, people call the win a ban-kuruwase, which means upset victory.
Let's Watch Sumo in Tokyo!
Ryogoku Kokugikan is the only place in Tokyo where you can see official professional sumo bouts, or honbansho. A large sports facility built in 1985, Ryogoku has a capacity of 11,000, and also hosts other combat sports events in addition to sumo.
Official pro sumo tournaments are held six times a year, but there are three annual tournaments at Ryogoku Kokugikan Hall, which are held in January, May and September. Seeing sumo in person will leave a much deeper impression of the sport's intensity than if you just watched a tournament on TV, as you can hear the "smack" of colliding bodies, and see the sweat scattering the air, of wrestlers pouring everything they have into a match. If you're interested in pro sumo, we definitely recommend watching a tournament in person!
Confirm Event Times and Ticket Purchase Methods Beforehand
Professional sumo at Ryogoku Kokugikan is not year-round. As we previously mentioned, tournaments at Ryogoku occur in January, May and September, with each tournament lasting about two weeks. Other tournaments are held in Osaka, Nagoya in Aichi and Fukuoka, so check the sport's official website for the full schedule.
Tickets Prices and Where to Purchase
Although seating for each bout depends on the stadium it is held at, in general, there are two types of seats to choose from: single seats (tamari seki), and box seats (masu seki), which are for groups of 4 or more. These box seats are great for groups, as you can sit down, take your shoes off and relax in them. Prices vary, but box seats tend to run about 10,000 yen per person, including tax. Single seats, which can be either on the first or second floor of the arena, are considerably cheaper, costing anywhere from 2100 yen to 10,000 yen per person. The most expensive seats of all are the ringside seats, which cost about 15,000 yen per person.
Tournament tickets only start being sold about a month in advance of each tournament, so it is a good idea to have all of your travel arrangements made before trying to purchase your sumo tickets. Check the Japan Sumo Association's official website or call for tickets. Tickets can be purchased online from overseas using this page as well, so if you're interested, please take a look.
Another thing to note is that single seats and some box seats are awarded by random draw, and they may sell out. Sumo tickets are in high demand, so buy as early as you can. However, tournament tickets only start being sold about a month in advance of each tournament, so it is a good idea to have all of your travel arrangements made before trying to purchase your sumo tickets.
You can also try and purchase tickets directly at Ryogoku Kokugikan on the day of the tournament, but it will be very crowded and might sell out early, so we recommend getting your tickets beforehand.

For MATCHA Readers Only! 5% Discount Coupons!
MATCHA's readers benefit from a 5% discount service on their purchase of activity tickets from the Voyagin website. Upon performing your online payment, please insert the discount coupon code "voyaginmatcha". You will receive a 5% discount on your purchase! (This service does not apply for Tokyo Disneyland and DisneySea)
Purchase tickets from Voyagin here
Get Tickets for the Sumo Wrestling Tournament in Tokyo
How to Watch Sumo
The day's events will start at about 9, with the venue and ticket sales opening from 8 o'clock in the morning. After purchasing your tickets, you can stay for the entire day at the stadium, which is great if you really want to see all that there is to see in a sumo tournament. The big stars of the sumo world however, will be arriving for their bouts at about 2 in the afternoon, and the day's tournament will end at 6 in the evening.
Reference sites: Japan Sumo Association English site
There's no particular dress code for spectators. Ryogoku Kokugikan is mostly non-smoking, but there are designated smoking areas. Although you may have seen it happen before, throwing cushions after a win or loss is actually banned at sumo tournaments because of the danger it poses to those sitting ahead of you, so please refrain from doing so. If you follow these simple rules, you can thoroughly enjoy your time at the honbansho of your choice.
Visit A Sumo Training Facility!
Rikishi train very hard year round, with highly regimented exercise and diet routines, to be in top form for matches. They need not only strength, but speed and agility to be top competitors. 
To train, rikishi gather in heya, where members live under the tutelage of a master and learn to adhere to the various aspects of a sumo lifestyle. While heya have typically been closed to outsiders, some have recently opened their doors to allow visitors the rare experience of observing a practice session. 
One such heya is the Musashigawa-beya in Edogawa-ku, Tokyo where practice begins bright and early at 8 am. If guests stay until lunch break, they may even be invited to eat Chanko Nabe, the incredibly nutritious and filling stew that supports the robust active lifestyle of sumo wrestlers!
For more information on viewing a sumo practice session, or eating Chanko Nabe, please read Watching A Sumo Practice Session At Musashigawa-Beya and Chanko Nabe (Sumo Stew) - Japanese Encyclopedia.

The information presented in this article is based on the time it was written. Note that there may be changes in the merchandise, services, and prices that have occurred after this article was published. Please contact the facility or facilities in this article directly before visiting.