Hotel Anteroom in Kyoto - Rooms Shaped by Art and Japanese Culture
At Hotel Anteroom in Kyoto's Kujō area, one can enjoy looking at Japanese art throughout the entire hotel complex. Let's go there and get all the details.
South of Kyoto station lies a peaceful and quiet suburb called Kujo. Today we're going to introduce you to Hotel Anteroom Kyoto, which is situated in one corner of this residential area. After renovating part of a 23 year old university dormitory, the hotel opened in April, 2011. The hotel's concept is, "bringing art and culture together to express an ever-changing contemporary Kyoto".
Then in July of 2016, a renewal took place in which the remaining rooms of the dormitory were renovated, adding 67 new rooms. The resulting characteristic feature is one of creating spaces which bring artists and hotel guests into closer proximity with each other.
A 365 Day Of the Year Art Exhibit
This renewal, which added more beds to the hotel, has incorporated "Wa" (harmony) as a third element to the existing concept of art and culture. From talented newcomers all the way up to Japan's leading artists, a total of 200 works of art by about 70 groups of artists, are displayed throughout the hotel including the individual guest rooms. Staying here is just like visiting an artist friend's home!
Let's take a look at the rooms right away.
8 Concept Rooms
Mika Ninagawa-inspired concept room
There are eight concept rooms designed by Japan's top artists, such as Kohei Nawa and Mika Ninagawa.
A concept room designed by Shiho Ukaji
This concept room is courtesy of Kenji Yanobe
Teppei Kaneuji-inspired concept room
On this occasion I had the pleasure of staying in a room that was decorated with everyday images from various manga (Japanese comics). In fact, the everyday scenes captured on the walls of my room are from some of Japan's most popular manga, such as Doraemon and Tensai Bakabon.
Other Art To Be Enjoyed
As soon as you enter the hotel lobby, you are greeted by Gallery 9.5. In commemoration of the hotel's renewal opening, an exhibition entitled, ULTRAxANTEROOM, is currently underway here and will continue until September 11, 2016.
The ANTEROOM BAR, which opens daily from 8 o'clock in the evening, has a selection of more than 30 kinds of whiskey in addition to beer and non-alcoholic beverages.  You can also enjoy the monthly cocktail recommendation, an idea conjured up by a hotel staff member.
In the courtyard, which lights up in the evening, there's a contemporary interpretation of a traditional Japanese rock garden. In the center of the display are Red Bayberry trees (Wax Myrtle trees), representing Kyoto Gosho (*1), and surrounding them are moss-covered objects acting as ponds.
(*1)Kyoto Gosho, or Kyoto Imperial Palace, is where former emperors lived during the period from 794-1869. The palace grounds stretch 250 meters in length from east to west, and 450 meters from north to south. On the grounds there is a building that is open to the general public for viewing, allowing visitors to see the change in architectural styles following the Heian period.
Have A Great Breakfast At ANTEROOM MEALS
Venturing into the city of Kyoto for a local-style breakfast is one morning possibility, but instead we recommend having a great breakfast in the hotel at ANTEROOM MEALS. You get to choose one main dish (4 options, including pita sandwiches and granola) and have a visit to the salad bar. This will definitely wake up and energize your sleepy body!
The morning menu uses lots of fresh, nutritious vegetables brought in to the hotel by Sakano Tochu Soil. There are also smoothies and soup, so before I knew it I got completely filled up!
*Please note: In rooms other than concept rooms, the breakfast and room charges are separate.
Possibilities Are Endless With Hotels and Art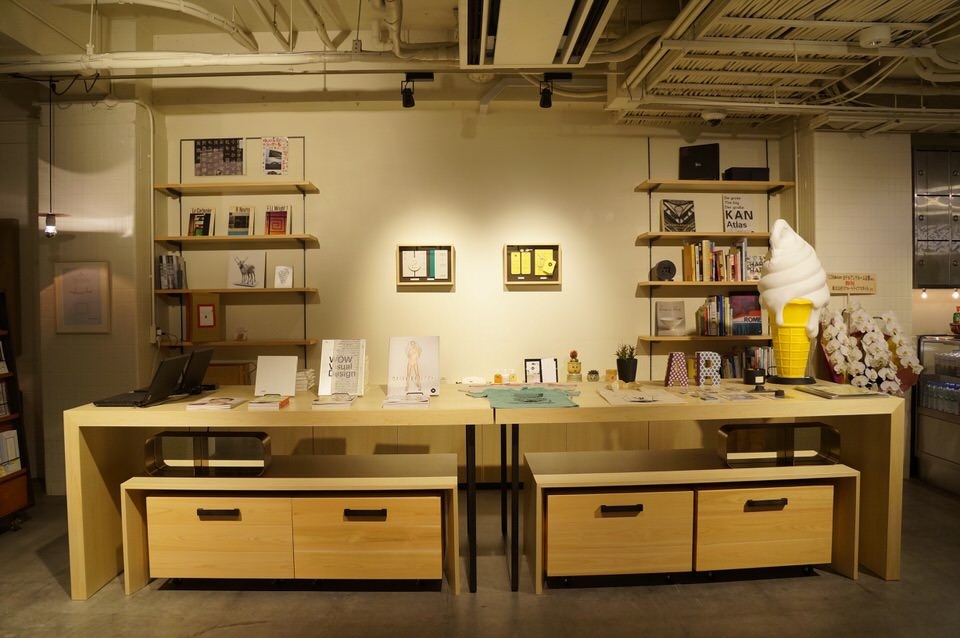 This area combines a retail space with a library. A personal computer and printer are available for use free of charge. You can also purchase works done by various artists and Hotel Anteroom merchandise.
By staying at ANTEROOM it is our hope that you'll begin to feel the depth and richness of Kyoto's history and tradition, and also experience a Kyoto influenced by present-day progressive art and culture, explains assistant manager, Masako Ueda.
Using a hotel instead of a gallery as their exhibition space, posed a challenge for the contributing artists. But this is also a place where international guests and people unfamiliar with art and design, have a direct point of contact with Japanese artists and their work, making this a good starting place for the next project.
Anteroom essentially means a small room connected to a larger one, often used as a place for people to wait. During your stay here, we recommend taking this opportunity to get aquainted with a newer Kyoto, the cultural capital of Japan.
Information
HOTEL ANTEROOM Kyoto

Address: Kyoto, Minami-ku, Higashi-Kujo, Aketa-cho 7
Hours: Check-in:15:00, Check-out:10:00
Wi-Fi:Yes
Credit cards: Accepted (Visa, Master, JCB, Amex etc.)
Languages: Japanese, English
Information in other languages: English
Nearest station: Kujo station (subway)
Access: Kujo station- 8 minutes on foot from exit #4
Price range: Singles-from 6,000 Yen, Courtyard Twins-from 15,000 Yen (tax included, can change according to the season).
Telephone: 075-681-5656
Website: Hotel Anteroom Kyoto

The information presented in this article is based on the time it was written. Note that there may be changes in the merchandise, services, and prices that have occurred after this article was published. Please contact the facility or facilities in this article directly before visiting.