Akita's Famous Nyuto Onsen: Getting There, Hot Springs, And Inns
Right by the Nyuto mountains in Towada Hachimantai National Park in Akita's Semboku city, you will find the Nyuto hot springs. Learn how to get there and ways to spend a great time at inns and baths in this onsen village.
What is Nyuto Onsen?
Nyuto Onsen is a hot spring area located at the foot of the Nyuto mountains in Towada Hachimantai National Park in Semboku city, Akita.
In this hot springs village, there are seven accommodation facilities to choose from (Tsuru no yu, Tae no yu, Ganba, Ogama, Magoroku, Kuroyu, and Kyukamura). They are surrounded by lush greens and some are stylish wooden inns that blend into the natural environment.
If you stay at any of the seven inns or hotels, you will be able to purchase the Yumeguricho pass that will allow you to bathe in all seven facilities for only 1800 Yen. If you plan on staying for the night, it's a great idea to enjoy the vaious types of baths by using this handy pass.
Among the popular open-air baths, there is a kon'yoku (*1) type of bath. It is best to research about the hot spring facility and the inn prior to arriving to see what kind of baths they have and where.
*1 kon'yoku: A mixed bath. A bathing style where both men and women can bathe in one bath. It is common in suburban hot springs.
The Effects of Nyuto Hot Springs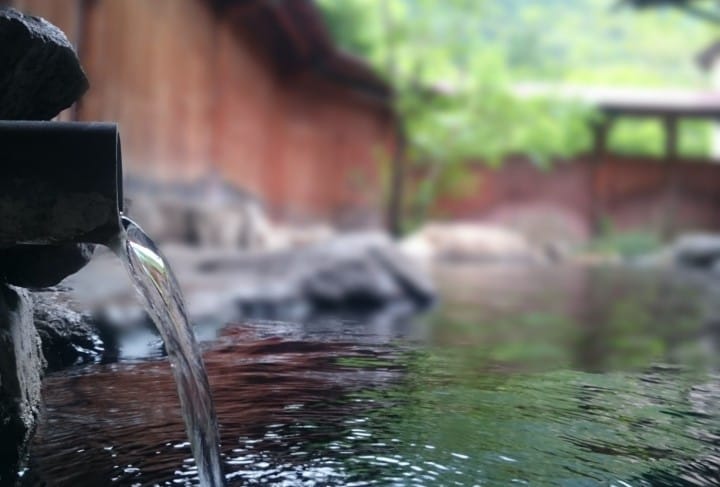 The springs at Nyuto Onsen contain calcium, magnesium, and sulfur in their waters. These minerals are said to help skin problems and aid digestion.
It is also recommended for those who have bruises, cuts, skin problems such as eczema, and those with weak stomachs.
*Please note that the effects vary by bathing facility.
How to Get to Nyuto Hot Springs
From Tokyo, you can get to Nyuto Onsen in the following way.
Take the bullet train from Tokyo Station and get off at Tazawako Station. It will take approximately 3 hours and cost 16,000 yen one way.
From Tazawako Station you will need to get on the Ugo Kotsu bus bound for Nyuto Onsen. You will get off at the last stop, Nyuto Gaba Onsen bus stop. It will take you around an hour and it is 820 yen one way.
For more information on how to ride the shinkansen, please read Getting Around In Japan: How To Use Trains, Buses And Taxis.
One-Day Nyuto Hot Springs Bathing Spots
Ogama Hot Springs
This hot spring facility is inside a former elementary school's wooden building. You can take a quick dip without staying overnight. The open-air bath and the indoor bath are both separated between genders, so those who would feel uncomfortable in a mixed bath can relax and bathe here.
Bathing fee: Adult: 600 yen, Child: 300 yen (tax included)
Address: Akita, Semboku city, Tazawako, Tazawa district, Sendatsuzawa Kokuyurin
Website: Ogama Hot Springs (Japanese)
Kuroyu Hot Springs
A one-day hot spring facility inside an iconic wooden house with a thatched roof (*2). Here, along with gender separated open-air baths and indoor baths, there are also mixed gender open-air baths which you can enjoy as well. On days with heavy snow, the facility will be closed. It is advised for you to visit this spot during spring to late autumn.
For further information about thatched roof houses, please read the following article: Marvel at the UNESCO-Recognized Architecture of Shirakawa-gō.
Bathing fee: Middle school students and above: 600 yen, elementary school students 300 yen (tax included)
Address: Akita, Semboku city, Tazawako, Obonai 2-1
Open: Mid-April - Early November
Website: Kuroyu Hot Springs (Japanese)
*2 Thatched roof: a roof made using dried pampas grass.
Magoroku Hot Springs
A hot spring inn located in the mountains slightly away from the central Nyuto Onsen area, Magoroku hot spring is also a one-day hot spring that has an open-aired mixed bath, an open-aired bath for ladies, a separated indoor bath, and an indoor mixed bath. All baths are on the smaller side and are suited for small groups.
Bathing fee: 520 yen
Address: Akita, Semboku city, Tazawako, Tazawa, Sendatsuzawa
Website: Magoroku Hot Springs (Japanese)
Recommended Inns in Nyuto Hot Springs
Tae no Yu
Along with an open-air bath, there are seven types of baths for you to take a relaxing dip in. There are two open-air baths. One is a large mixed bath where you can witness a panoramic scenery of the forest and valley. The other open-air bath is a slightly smaller one that can become private on a first-come-first-serve basis. Rooms for overnight guests are all Japanese-style.
Address: Akita, Semboku city, Tazawako, Obonai, Komagatake 2-1
Website: Tae no Yu (Japanese)
Tsuru no Yu
©JNTO
This is a historical inn that has been operating for nearly 400 years and is so popular that it is hard to get reservations for it.
The popular large open-air bath, Tsuru no yu, is a mixed bath. For women who are uncomfortable bathing in a mixed bath, there is a separate open-air bath and an indoor bath as well. There are no open-air baths for men, but there is an indoor bath for them. All rooms here are also Japanese-style.
Address: Akita, Semboku city, Tazawako, Tazawa-ji, Sendatsuzawa Kokuyurin 50
Website: Tsuru no Yu
Kyukamura Nyuto Onsenkyo
Unlike the other locations we have introduced, this is a modern-style hotel in Nyuto.
Dinner here is buffet-style using local and fresh ingredients from Akita. You can try the Akita specialty, the Kiritampo, Damako, and the Yama no imo stews that are specialties of the Tazawa area. There are western-style and Japanese-style rooms here.
Address: Akita, Semboku city, Tazawako, Obanai, Komagatake 2-1
Website: Kyukamura Nyuto Onsenkyo (Japanese)
Tips on Enjoying Nyuto Hot Springs
Nyuto Onsen in the mountains of Akita is a hidden gem that will allow you to forget the daily hustle bustle. It is a popular hot spring in Japan. During the winter when the snow becomes very deep some facilities will close however, so it is advised to check their website in advance or contact the Nyuto Hot Springs Association for more information.
Semboku city where the Nyuto hot springs are located also has samurai residences such as the Kakunodate Samurai Manor of the Aoyagi Clan, dating back to the Edo Period. Inside, you will find arms and armor passed down in the samurai family and many artistic artifacts on display. You may also experience wearing a samurai armor replica there as well. For those who are interested in Japanese history, this is a must-try.
For more information about how to bathe in hot springs, please read What You Should Know About Bath Culture In Japan.
The information presented in this article is based on the time it was written. Note that there may be changes in the merchandise, services, and prices that have occurred after this article was published. Please contact the facility or facilities in this article directly before visiting.