Enjoy Cherry Blossoms And Sweets At Meguro River
One of the best cherry blossom areas in Tokyo is along the Meguro River, near Shibuya. How about strolling along the street, checking out the shops of Naka-Meguro, and enjoying the flowers this spring? Learn how to have a day filled with flowers, sweets, and relaxation.
Cherry Blossoms near Naka-Meguro Station
Meguro is located two stops from Shibuya Station by train. Upon exiting the front ticket gate of the Tokyu Toyoko Line in Naka-Meguro Station, the closest station to the blossoms, there will be a large pedestrian crossing that crosses through Yamate Dori Avenue.
This area is one of the most popular cherry viewing spots in Tokyo. Continue reading to learn what to do and how to have a great hanami (flower viewing) experience.
Once you go across the pedestrian crossing and walk along the railway tracks, you will immediately find yourself at the end of the Meguro River. Your stroll will begin from here. Stand with your back facing the overhead structure of the Tokyu Toyoko Line and begin walking along the river.
Photo courtesy of Naka-Meguro Station Shopping District
There are approximately 800 cherry blossom trees along the Meguro River. Each row of trees is an incredible length of approximately 3.8 km long.
The cherry blossoms bloom annually near the end of March. A cherry blossom festival is also held around the time of full bloom. Although the full blooming period is beautiful, it is said that the period when the petals are falling and are carried away by the river is lovely as well.
As you continue along the Meguro River, there will be shops such as Italian restaurants, cafes, and more where you can eat while viewing the cherry blossoms from inside. Reservations are necessary during the cherry blossom season; there are even shops that are fully booked a year in advance.
1. Fukusaya & Kitchen: A Shop That Keeps Its Castella Recipe Unchanged
A few minutes after you begin walking, a wonderful fragrance that smells faintly of eggs and sugar will waft in the air. That means Fukusaya is nearby.
Fukusaya's flagship shop is located in Nagasaki, Kyushu and is a long-standing castella shop that was established in 1624. A castella is a baked sweet introduced from Portugal that was later adapted into what is now known as a traditional soft-textured Japanese confectionery.
The ingredients consist of a simple mixture of eggs, sugar, wheat flour, and mizuame (*1). Even now, Fukusaya continues to preserve tradition by not using a mixer. Instead, bakers whisk the mixture by hand.
*1 Mizuame: a sweetener made from starches such as corn and potato. It is a sweetener that has long been used as an ingredient in Japanese sweets.
Unfortunately, there is no eat-in corner. However, you can purchase souvenirs and taste castellas sold directly from the kitchen.
The smallest size available is 0.6 (about 310 g) with one box at 1188 yen (plus tax). The castella is cut into small slices to allow it to be eaten with ease. Its expiry date is quite short due to the lack of additives.
2. Green Bean To Bar CHOCOLATE: the Japan-based Chocolate Atelier
The next shop can be found on the opposite side of Meguro River. Cross the bridge and make a U-turn along the river where you will then walk in the direction of the overhead railway. A shop with a fashionable blue exterior is what you're looking for.
Here, you will find a Japan-based Bean to bar (*2) shop by the name of green bean to bar CHOCOLATE. You can also watch as chocolate is made from behind a glass where the kitchen is situated inside the shop. It's also possible to sample chocolate tablets made from cacao beans from all over the world.
*2 Bean to bar: a small-scale chocolate shop that integrates both chocolate production from a selection of cacao beans to sales.
The shop includes an eat-in corner inside where you can enjoy drinks and chocolates. Takeout is also possible; doesn't a chocolate drink (550 yen plus tax) while viewing the flowers sound wonderful?
It is proper etiquette to bring your trash with you as there are no trash cans placed along the Meguro River. Please remember to bring your cup home to discard after drinking.
3. Happy Pudding Mahakala: Enjoy Pudding Under the Blue Sky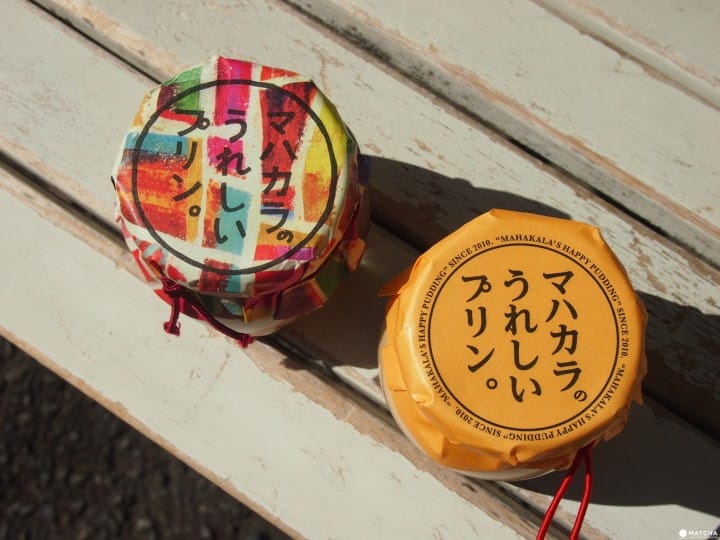 Continue walking towards the overhead structure for a few minutes and you might come across people eating something delicious. They are eating pudding from Happy Pudding Mahakala.
It is a small shop that is located on the first floor of an apartment, so the shop will be at capacity with a few people inside. They have a system in place where only one group is let in at a time.
One jar of custard pudding is around 390 yen with tax. Novelty pudding flavors such as coffee milk or chocolate are also available. Feel free to sit on the bench situated outside to eat if the weather permits it. The shop also provides a bin for customers to discard their jars.
4. Starbucks x Tsutaya Books: Lastly, Research With Coffee!
After having your fill of sweets, wouldn't you like to drink some coffee next? Continue walking towards the overhead structure of the Tokyu Toyoko Line and underneath it, you will find Naka-Meguro Tsutaya Books. There is also a Starbucks attached to the bookstore, so you can buy coffee and head over to the bookstore to read on the sofas inside.
Not only are there English magazines available, but the bookstore is also equipped with free Wi-Fi and USB charging ports. Researching information for your trip can be done here, too.
Stop by for a Sushi Lunch at Iroha Sushi
Are you wondering what if you get hungry while you're walking? When that happens, cross over to the opposite side of the overhead structure. You will immediately find yourself at Iroha Sushi as you walk along the river.
The restaurant's menu is available in various languages (English, Korean, Chinese), so visitors can peruse the menu without any issues. A one-person lunch set is available for a reasonable price of around 814 yen with tax. Sushi can be ordered in single servings as well.
How was your casual stroll? It will be crowded during the cherry blossom season, but being in the area for even just an hour is a lot of fun, and the sakura are gorgeous and a must-see.


The information presented in this article is based on the time it was written. Note that there may be changes in the merchandise, services, and prices that have occurred after this article was published. Please contact the facility or facilities in this article directly before visiting.