Internet Cafes And Luggage Storage Around Tokyo Station
Night buses that depart late in the night to arrive at the destination in the morning are budget friendly and convenient. Use the services of internet cafes and coin lockers to take a rest before departure. Here are some in the Tokyo Station area.
When traveling around Japan, a low-cost and convenient travel method is the overnight bus. However, unlike other transportation methods, overnight buses depart late at night and arrive early in the morning. In addition to that, many dining places are not operating at the time of arrival, making it difficult to find a place to take a break.
This time we would like to introduce you places that are open early in the morning and late at night around Tokyo Station. Here is a collection of cafes you can use upon arrival, Internet cafes to prepare yourself before departure, and places to store your luggage while you tour around.
At the end of this article, you can find a convenient map with a listing with all the places mentioned in the article.
Internet Cafes You Can Shower
Internet cafes are multi-service facilities that are open 24 hours offering plenty of magazines to read and drinks for you to enjoy.
1. Customa Cafe Yaesu Branch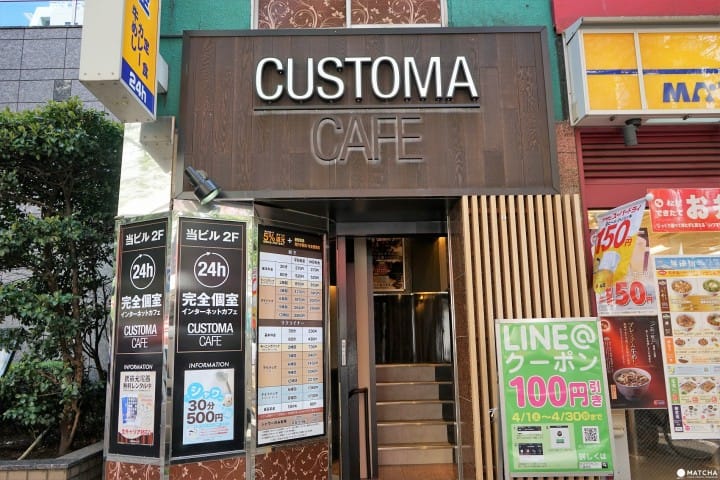 After getting out of the Yaesu central exit of Tokyo Station, cross the street and walk about 2-3 minutes. This is one of the few internet cafes near Tokyo Station. To rent a private room for 30 minutes it costs 270 yen, while renting a reclining seat in the open area is 230 yen. From 5:00 to 12:00, there are also two-hour morning packages (private rooms: 850 yen, reclining seat: 730 yen) available. You can use the shower for 500 yen (30 minutes). All the prices listed here include tax. For more information about prices, please check the site below.
Customa Cafe Yaesu Branch
Address: Tokyo, Chuo, Yaesu 1-6-5 Chuo Building 2F-6F
Website: http://rakutama.com/en/index.html
2. Media Cafe Popeye Kanda Branch
Located right in front of the South exit of Kanda Station, this internet cafe can be easily reached from Tokyo Station by foot in about 15 minutes. With six types of seats, base prices begin at 30-minute durations. The reclining seat, flat seat, bed type seat begin at 250 yen for 30 minutes. If you are using a private room, you can shower for free for 30 minutes.
Media Cafe Popeye Kanda Branch
Address: Tokyo, Chiyoda, Kajimachi 2-1-2 Eikoh building 3F-5F
Website: http://www.media-cafe.ne.jp/tenpo/kanda/service.htm#service (Japanese)
MANBOO! Kanda South Exit Branch
This cafe is also right by the south exit of Kanda Station (about 15 minutes away on foot from Tokyo Station). Base prices start at 200 yen for 30 minutes and you can use the shower as well. There is a morning package from 5:00-9:00 for 500 yen for two hours.
MANBOO! Kanda South Exit Branch
Address: Tokyo, Chiyoda, Kajimachi 1-7-4 Hakuei building 2F~3F
Website: http://manboo.co.jp/shop/shop2.php?act=0427 (Japanese)

The information presented in this article is based on the time it was written. Note that there may be changes in the merchandise, services, and prices that have occurred after this article was published. Please contact the facility or facilities in this article directly before visiting.