Cool Yourself With Japan's Favorite Summer Dish - Hiyashi Chuka
Summers in Japan are even more special thanks to various seasonal cuisines that everyone can enjoy. Hiyashi Chuka is a summer dish made with cold noodles and vegetables. Everyone looks forward to this dish on hot days!
The onset of summer has already begun in Japan. The temperatures are soaring. During these hot and humid days, everyone wants to eat chilled dishes like cold soba, cold udon, and cold ramen or hiyashi chuka as it is popularly known. The name hiyashi chuka literally means "chilled Chinese food". The dish first appeared in Sendai about 80 years ago and is a combination of Western, Chinese, and Japanese influences.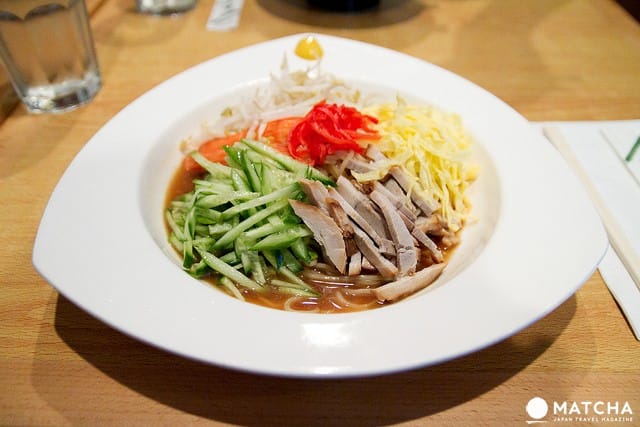 When people think hiyashi chuka it is usually accompanied with thoughts of summer. In fact in southern Japan, hiyashi chuka is more popular as the temperatures are high. Because of the cold noodles and broth, it is a very popular dish to eat during the hot summer months. The refreshing chilled toppings help to cool down during hot summer, while the light, slightly sour dipping sauce wakes up the taste buds. A great meal for leftovers, as there is no need to re-heat!
A Simple yet Popular Dish in Summer
After eating the hot soupy noodles during the winter, Japanese enjoy chilled noodles with various colorful toppings in summer. Hiyashi chuka is more popular due to its chilled sauce and vibrant toppings. Characterized by the vivid contrast between the thin noodles and colorful toppings of sliced ham, cucumbers, and fried eggs, this seasonal dish has become a culinary symbol for the Japanese summer. Some consider hiyashi chuka an iconic treat, especially in the southern areas of Okinawa, Osaka, and Kyoto. All of these colorful toppings are arranged methodically on top of the bed of chilled noodles in a circular fashion, producing both a beautiful and delicious meal. The careful arrangement of the dish highlights the importance of presentation, as well as taste in Japanese cuisine and culture.
Hiyashi Chuka at Convenience Stores
In Japan, it is even easier to satisfy your hiyashi chuka craving, as the dish is sold everywhere from 7-Eleven to high-end restaurants. Hiyashi chuka is almost exclusively sold in the summer months. Most 7-Eleven or Lawson convenience stores sell pre-made hiyashi chuka in typical, plastic containers in the bento lunchbox section. They are a treat on the go in the hot weather. Individual sauce packets and noodles are also sold in convenience stores. Many noodle shops start serving hiyashi chuka from May to September, and some convenience stores start selling it from April onward.
Ingredients for Making Your Own Hiyashi Chuka
The main draw of hiyashi chuka is the seasonal, colorful and vibrant toppings atop the cold noodles. Assorted veggies and meat are tossed in a vinegary dressing and placed on a bed of cooled, cooked noodles. The dish is refreshing, filling, and quick to make. There are a variety of toppings you can add to hiyashi chuka. The classic combo, which is likely found at restaurants, includes shredded egg, ham, cucumber, tomatoes, crab stick and shrimp. But, of course, you can use whatever you like.
The most important thing is to make sure there is a good mix of crunchy, refreshing vegetables (like cucumbers and celery) along with ingredients that provide some brightness, like tomatoes and even peaches. Proteins such as poached chicken breast, ham, pan-fried Spam, Chinese roast pork, shrimp and even poached lobster are all good additions. Four to eight toppings are more than enough for a good bowl of hiyashi chuka. Seasonal fruits and vegetables like asparagus, snap peas and corn add in to the taste and show as well. Other combinations that are popular in Japan are shrimp, corn, ham, cucumber with tomatoes or grilled chicken breast, tomatoes, shredded cabbage, ham and egg.
Dressing
The dressing should be a great balance of salty, tart, sweet, and mildly spicy flavors. Usually, a soy sauce or sesame based dressing is poured over the noodles and toppings. For the dressing, simply blend in the soy sauce, sesame oil, rice vinegar, sugar, and grated ginger. Just heat about 2 tablespoons of water in a fry pan, then add all the ingredients and mix well. Let it cool down and put it in the fridge to make it cold. After making the sauce, move on to prepare the noodles and the toppings.
Noodles
While the toppings are an important part of this dish, one cannot enjoy hiyashi chuka without fresh thin noodles. Fresh noodles can be found in the freezer section of supermarkets. Another option is to use ramen or yakisoba noodles. If neither of these two options is available, soba noodles (made from buckwheat), can also be used. It wouldn't be the same dish, since buckwheat noodles taste very different from the light, thin noodles, but it will still make a tasty meal.
Recipe
Hiyashi chuka is very simple and easy to make. The ingredients and recipe are below.
Ingredients
200g thin noodles, frozen store bought noodles can also be used.
1 cucumber
1 tomato
½ cup bean sprouts, blanched
4 slices ham
Kinshi Tamago (thinly sliced sweet egg omelette)
Benishoga (red pickled ginger)
Sauce/Dressing
3 Tbsp soy sauce
4 Tbsp rice vinegar
4 Tbsp water
1 Tbsp sugar
1 Tbsp sesame oil
Instructions
1. Cook dried noodles in boiling water and drain hot water. Let it cool under running cold water. Strain well and set aside. If you are using frozen, store bought noodles, just thaw it and heat the noodles in the microwave with a little water. Set aside to cool.
2. Cut cucumber and ham into long pieces, and cut the tomato into wedges. Blanch the bean sprouts.
3. Mix all the dressing ingredients together in a bowl and keep it in the refrigerator to cool.
4. Place the cool noodles in a bowl and add all the toppings to the dish, then pour your dressing over it.
5. Your hiyashi chuka is now ready to savor. Enjoy!
In Conclusion
On hot days, a cold dish like hiyashi chuka is the perfect nutritious meal to cool the body down, while filling up the tummy. If you have a chance, try eating hiyashi chuka at different places and prices to find your favorite style. While the ingredients vary depending on the prefecture and shop, these delicious yellow, springy noodles that have become synonymous with summer in Japan are guaranteed to make your heart content.

The information presented in this article is based on the time it was written. Note that there may be changes in the merchandise, services, and prices that have occurred after this article was published. Please contact the facility or facilities in this article directly before visiting.