Calbee PLUS Harajuku - Freshly Fried Potato Snacks And Special Flavors
Calbee is one of the leading snack manufacturers in Japan. At Calbee PLUS in Harajuku, you can enjoy freshly fried and limited edition potato snacks. Let's check it out!
Harajuku is famous for its abundance of snack and sweet shops in all kind of variations. However, there are a couple of shops that seem to always have a line and this makes you wonder what they are all about. Calbee PLUS is one of those shops.
Let us introduce you to the popular snack shop selling steaming hot potato snacks worth lining up for!
Calbee and Calbee PLUS
Calbee has been founded in 1949 and is one of Japan's best known snack companies. While they do mainly focus on potato-based snacks, they also carry a line of popular cereal products.
Japan might have one of the biggest flavor varieties of chips on the market and Calbee is one of the forefront inventors. From simple salt and the popular salad flavor to Japanese plum and even chocolate covered chips, no flavor seems impossible.
Calbee PLUS is a specialty store that focuses on freshly made Calbee chips and potato sticks. They also sell limited edition snacks you can only get at the Calbee PLUS store as well as variations from all over Japan.
Only at Calbee Plus - Freshly-Fried Potato Snacks
Calbee PLUS opened with the wish to provide their customer with the freshest fried potato chip experience possible. They offer three made-to-order variations: flavored freshly fried chips, "Poterico", and "Potechurro".
Poterico Salad Flavor - Calbee Plus Bestseller
Jagarico is one of Calbee's most popular snacks. It is a potato-based stick shaped snack but also contains other ingredients like dried vegetables in the dough. The consistency is not like normal potato sticks. It's airy yet crunchy and rather unique.
Poterico is the fresh version of Jagarico. They are available in salad flavor (their bestseller) and cheese flavor. Both versions cost 310 yen per cup.
Poterico somewhat resembles flavorful, airy french fries with a perfectly crunchy outside and a soft, satisfying core. The original Jagarico is also airy but crunchy all the way through. If you love Jagarico or french fries you should definitely give this fresh snack a try.
If you want to try something even more unique, there is also a Potato Churro which is basically a giant Poterico in churro form. It is available in salt, cinnamon and cocoa flavor.
Fresh Chocolate Potato Chips with Soft Serve Ice Cream
A summer favorite is the "Potato Chips Chocolate&Chocolate with Soft Ice Cream" (460 yen). It consists of freshly fried potato chips covered in cocoa powder and melted chocolate and served alongside vanilla soft serve ice cream. There is also a version with simple fried potato chips and ice cream without the chocolate.
The mixture of the savory potato together with the rich chocolate and creamy ice cream offer a completely new taste experience. The ice cream makes this heavy snack rather refreshing.
The freshly-fried potato chips can also be purchased without ice cream. They are available in a variety of sweet and savory variations.
Special Edition Potato Snacks - The Perfect Souvenir
Besides offering fresh snacks, Calbee PLUS is also a specialty store offering Limited Editions from all over Japan.
HOKKAIDO IMOKOMACHI - The No.1 Souvenir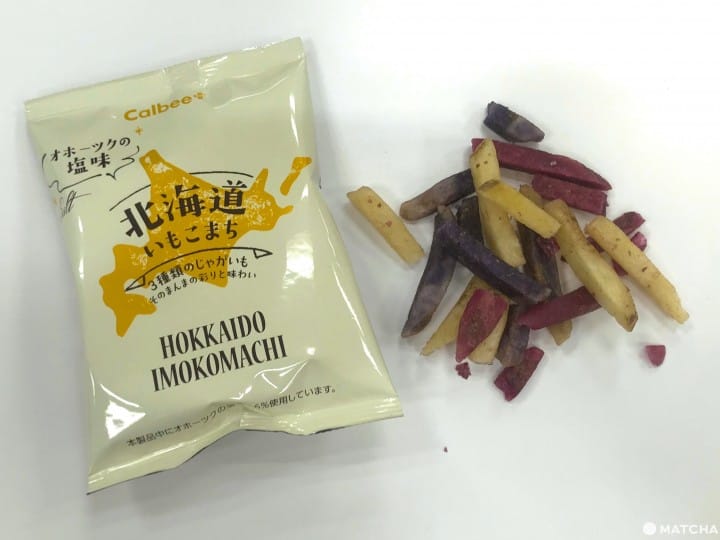 This popular souvenir is usually limited to Hokkaido and comes with three different versions of stick-shaped potato chips all featuring popular potatoes from Hokkaido.
Northern Ruby potatoes are used for the red, Kitamurasaki potatoes for the purple and Toyoshiro potatoes for the yellow potato sticks. Each color has a slightly different flavor to it and they are also very impressive to look at.
Harajuku Jagarico Selection - Flavors From All Over Japan
As mentioned before, Jagarico is one of Calbee's most popular snacks. It has been reinvented in many different flavors all over Japan.
The Harajuku Jagarico Selection offers eight of the most popular flavors in a youthful looking jeans printed package. It contains curious flavors such as choco banana and takoyaki.
If you are only interested in some of these unique flavors you can also buy them as single packs at Calbee PLUS.
Chocolate Potato - Winter Limited
Chocolate Potato is the packaged version of the Calbee PLUS chocolate covered potato chips. Although a returning item, it is only available in the winter months due to the hot summers in Japan and the risk of melting.
This year they offer a version with dark chocolate, nuts, coconut, and strawberry flavoring. The tart strawberry, creamy chocolate, and savory potato create a completely new flavor together. Definitely, one of the most unique flavors I ever tried when it comes to potato chips or even just chocolate.
If you like their shrimp flavored snack EBISEN, they offer it in a chocolate covered version as well. You can choose between dark chocolate and white strawberry flavored chocolate.
SAKURA POTATO - 2019 Spring Limited
SAKURA POTATO are potato sticks covered in a Sakuramochi flavor. They have a light pink color to them and are perfect as a hanami snack or a special gift.
If you are familiar with the soft sweet and salty taste of real sakuramochi, you can actually taste it covering the potato sticks. It is a very unique combination definitely worth trying.
Freshly Fried Chips and Unique Souvenirs
Even though the area around Takeshita Dori is filled with creative snack shops, Calbee PLUS is very unique in its own right. The constant line of people is just one proof of this.
How about trying some freshly fried potato snacks? Don't forget to pick up some snackable souvenirs for your loved ones at home as well!
In cooperation with Calbee PLUS


The information presented in this article is based on the time it was written. Note that there may be changes in the merchandise, services, and prices that have occurred after this article was published. Please contact the facility or facilities in this article directly before visiting.