Guesthouse Irodori Kamakura: A Barrier-free Lodging For All
Guesthouse Irodori Kamakura is a special lodging owned by a samurai and run by disabled staff. The facility is barrier-free, wheelchair user-friendly, welcoming to all guests. Learn about the owner, the accessible guesthouse, and a way for all visitors to enjoy the ancient capital of Kamakura.
Tomoya Takano: A Modern-Day Samurai with a Special Guesthouse
People open guesthouses for different reasons. Perhaps some people may want to make friends. Some might want to be able to work from home.
It was, however, different for Tomoya Takano when he opened his special guesthouse in Kamakura.
The bushi (samurai) in the picture above donning traditional armor is Tomoya Takano, the owner of the lodging introduced in this article.
Mr. Takano calls himself a "Reiwa (*1) Bushi." He wears traditional samurai armor when greeting the guests and also when traveling around Kamakura. He sometimes carries a large bamboo basket when he rides the train.
The guesthouse he opened is very unique.
*1 Reiwa: The Japanese era which started May 2019.
Guesthouse Irodori Kamakura: Meet the Staff
Guesthouse Irodori Kamakura is located in a renovated house, built ninety years ago. It is a wooden building, with the aroma of tatami creating a nostalgic interior.
It looks no different from other lodgings, but once inside, guests will notice the staff using the blackboard to communicate.
Picture courtesy of Guest House Irodori Kamakura
The staff are all handicapped in their hearing, vision, or physical mobility. They vary in age, with some being high school and university students to those in their seventies. They have no trouble serving guests.
The Story Behind the Guesthouse
Mr. Takano started the guesthouse because of friendship. His good friend was born paralyzed from the neck down. However, he wanted to study at a regular high school with able-bodied students.
Mr. Takano talked to various schools on behalf of his friend, but most of them turned down the request. In the end, his friend was accepted to a school, but the process made Mr. Takano realize the discrimination towards people with disabilities in Japan.
He realized that his friend and others were no different from non-disabled people. They want to contribute to society, study. and work. However, opportunities are limited, even if the person has the necessary skills for the task.
Mr. Takano decided to create a place where disabled people can work with non-disabled people. In 2017, he started Guesthouse Irodori Kamakura, welcoming his disabled friends as staff members.
A Barrier-Free Lodging
The guesthouse is designed to be accessible by everyone and free of potential barriers.
Mr. Takano previously worked as a nurse, and is familiar with some of the difficulties of disabled people face. For instance, the entrance is sloped for the wheelchair users.
The most innovative room may be the restroom. Wheelchair users can enter this spacious room easily, and all the furnishings are set in a low position.
Mr. Takano carefully planned the guesthouse, even furnishing a wheelchair fit for bathing.
Many disabled guests have enjoyed staying at this facility. Mr. Takano also offers a tour of Kamakura enjoyable for all.
Enjoying Kamakura
Picture courtesy of Guest House Irodori Kamakura
Picture courtesy of Guest House Irodori Kamakura
Mr. Takano started taking the guests to the beach, and also pushed a wheelchair up the steps at Tsurugaoka Hachimangu Shrine. He puts forth as much effort as possible so that guests can enjoy their stay.
With a smile, he said that "going up the steps at Tsurugaoka Hachimangu was gruelling, but the guests really enjoyed the visit."
To enjoy Kamakura with guests, Mr. Takano studies historical maps to learn more about the ancient capital. We encourage you to wear zori sandals, and tour the old, historic Kamakura with him, away from bustling tourists.
Making a Positive Change in Kamakura
This special guesthouse had growing pains in the beginning. Nearby residents were concerned about a guesthouse with disabled staff in their neighborhood. Mr. Takano's conviction did not waver, as he and the hard-working staff earned trust from the locals.
"Some people come over just to talk, and others will come to help us out," Mr. Takano told MATCHA. The guesthouse is now a welcome part of Kamakura.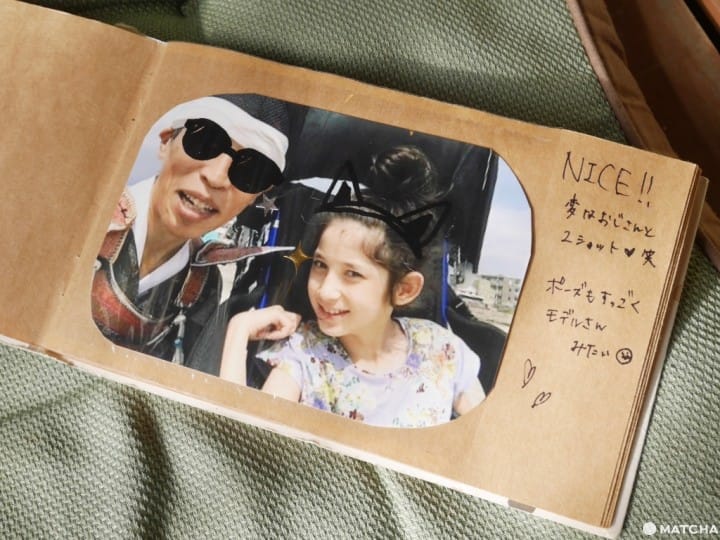 Mr. Takano has always wondered how he could make a difference in society. When a child speaks to him while he is guiding disabled guests, he feels that this question has been answered.
Mr. Takano's actions are starting to be noticed and he now believes this is his chance to make a positive impact in Japan.
A Special Stay at Guesthouse Irodori
Mr. Takano, wearing traditional samurai armor, is a hero every day. He hopes to help the community and his disabled friends to create a chance for growth and education.

Mr. Takano is recruiting people to become samurai with him and to work along with his disabled staff in the hopes of creating a better environment. If you feel have the same aspirations, visit Kamakura and talk to this kind-hearted samurai.
This article was translated and edited from an article written in Chinese.

The information presented in this article is based on the time it was written. Note that there may be changes in the merchandise, services, and prices that have occurred after this article was published. Please contact the facility or facilities in this article directly before visiting.