No Residents Here! Marunouchi, The Business District Around Tokyo Station
While many people imagine Tokyo as a bustling metropolis, there are a few areas that are uninhabited. This article is centered on Marunouchi, the business district around Tokyo Station that has almost no residents.
How Many People Actually Live in Tokyo?
Tokyo is overflowing with people. This writer has endured the overwhelming crowds countless times at the famous Shibuya scramble crossing, where waves of pedestrians surge around you, and Ameya Yokocho in Ueno, which is constantly bustling with shoppers.
While Tokyo is an expansive metropolis with a population to match, the city is also where many people commute to for work from the suburbs and surrounding prefectures. Although it is packed with office workers in the daytime, there are a few areas that become deserted in the early morning and late hours.
The Marunouchi Area, located between Tokyo Station and the Imperial Palace, a symbol of this business district, is one such site.
Marunouchi Ni-Chome and San-Chome: A Business District with No Residents
The headquarters of many major Japanese banks and trading companies can be found in Marunouchi. According to Chiyoda City, which governs this area, there are just twelve residents registered in the Marunouchi Itchome district, one resident in Ni-chome, and zero in San-chome. (*)
The writer spent a day in Ni-chome and San-chome, along with Marunouchi Naka-dori Street: the main street of the Marunouchi area.
*The statistics are as of October 2019. For details, please refer to this Japanese site.
12:00
It is a three-minute walk to Marunouchi Naka-dori Street from Tokyo Station. High-end fashion brands, such as Hermes and Tiffany, are in between the high rise office buildings along the street, creating a sophisticated atmosphere.
Around noon, office workers began pouring out of the buildings at lunchtime.
A group of women cheerfully heads to a restaurant. There is a man eating his bento on the bench. They are all enjoying a brief break.
Several trendy food trucks also appeared. The area resembles a street in Paris with people relaxing at the streetside tables.
18:00
Photo by Pixta
Seasonal illuminations light up the street around 18:00. This light-up is held annually from early November to February.
People heading back to their homes fill the road. Some browse the shops while others enjoy a drink with their colleagues. As the night goes on, you can sense elegance in the air—a complete 180 from the intense atmosphere in Shinjuku or Shibuya.
23:00
Only a handful of people is left. Those who hope to take photographs of the seasonal illuminations should visit at this hour.
However, the quiet hours are fleeting as construction workers appeared, replacing those employed in offices. In urban areas, maintenance work is carried out in the late hours.
5:30
The next morning, there is no one in the streets. The usually bustling business area truly looks deserted.
The whole area is silent, which is completely different from the day before. There are no household noises that can typically be heard in a residential district. If you want to experience this kind of atmosphere, come to Marunouchi before 6:30.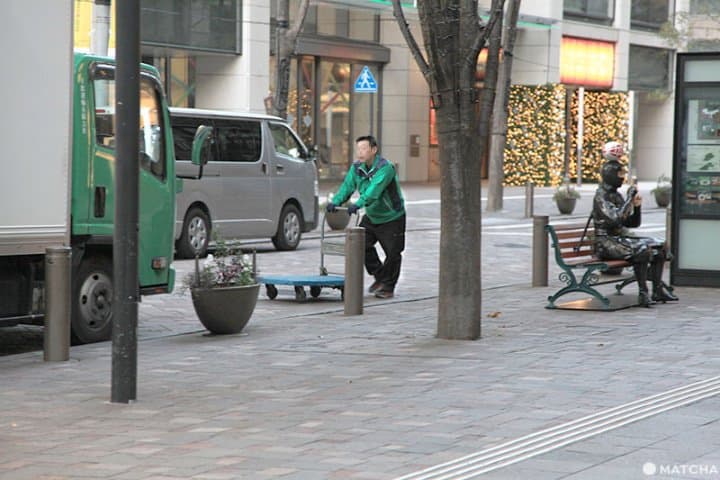 After a while, janitorial staff for office buildings and restaurant suppliers start to arrive. These people support the most famous business district in all of Japan.
7:00
Around 7:00, office workers gradually appear as another day in Marunouchi begins.
Silence in the City
Marunouchi Naka-dori Street is where you can witness the quiet side of Tokyo—an area where hardly any Tokyoites reside. While it is fun to experience this silence, it might be interesting to linger a bit longer.
The ever-changing scenery is fascinating to watch, and by observing the people that support this business district in the morning and the middle of the night, visitors will realize that office employees are not the only workers in Marunouchi.
Bonus -- How to Photograph Tokyo Station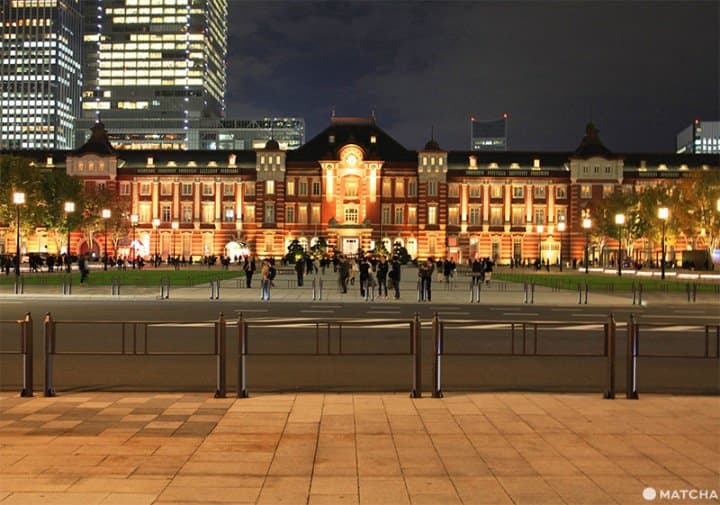 While visiting the Ni- and San-chome district, the writer found a spot to take great photographs of Tokyo Station.
Those planning to take a panoramic photograph should go to Gyoko-dori Avenue, which is located right in front of the station. Both the building's north and south wings can be snapped from here.
For a daytime photograph, visit the station after 12:00 as the shadows of surrounding buildings have shifted away. A nighttime picture should be taken before 20:00 because the light from the nearby buildings illuminates the station. Keep these facts in mind and use them during your photo session.

The information presented in this article is based on the time it was written. Note that there may be changes in the merchandise, services, and prices that have occurred after this article was published. Please contact the facility or facilities in this article directly before visiting.