Lush Harajuku Releases 101 Old And New Exclusive Bubble Bars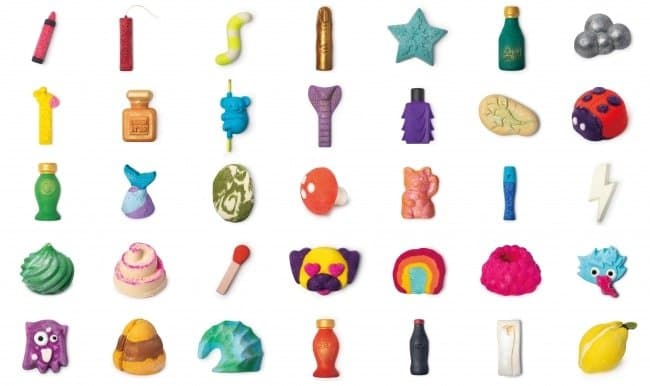 Until now, Lush Harajuku was a bath bomb exclusive store. As of December 2019, they are mixing things up by adding 101 Harajuku exclusive bubble baths to the mix.
Lush Harajuku Bath Bomb store opened its doors a little bit over a year ago. They delivered a small batch of new Harajuku bath bombs to the store, including an adorable Godzilla and a temple bath bomb.
Visitors can also enjoy the Lush Shinjuku megastore, but the Harajuku location still offers a one-of-a-kind experience for customers. As of today, December 6, 2019 they will carry 101 new and exclusive bubble bars only available at Lush Harajuku. The exclusive bubble bars will include old favorites as well as many new inventions.
What is a Bubble Bar?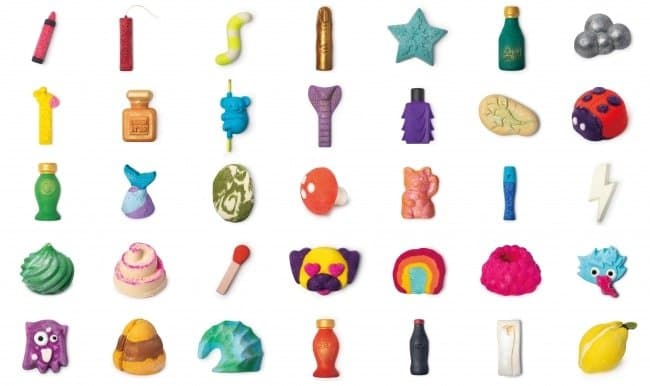 Lush bubble bars are a unique way to enjoy a bubble bath. There are two kinds: bubble bars, and reusable bubble bars. Both can be used for multiple baths which makes them very budget-friendly.
The normal bubble bars can be used as a whole or by breaking off pieces for multiple baths. Crumble the desired amount with your hands under the running water. Swish the water around for extra bubbles.
The reusable bubble bar, in this article also referred to as bubble stick and bubble bottle, is harder and can be directly held under the water stream until you have the desired amount of scent, color, and bubbles. After use, set it aside to dry.
Sixteen of Lush Harajuku's Exclusive Bubble Bars
Here are sixteen of the new exclusive Lush Harajuku Bubble Bars.
1. Rainbow Bubble Bar
The Rainbow bubble bar (200g, 1080 yen) has the refreshing scent of lemon myrtle. It is recommended to be used with the massage bar "Each Peach" (lemongrass and mango butter) or the soap "Lemon Zest" (lemon) for an uplifting experience.
2. The Great Wave
Named after the famous Japanese wood print, The Great Wave bubble bar (180 g, 920 yen) features the scents of jasmine and ylang-ylang. Use it with "Gooddess" (jasmine) bath bomb and "Tender is the Night" (jasmine, ylang-ylang, and vanilla) massage bar for a calming bath time.
3. Wood Child (aka Magic Mushroom)
Wood Child bubble bar (100g, 920 yen), also known as Magic Mushroom, is an old school Lush favorite. The white parts feature the "Vanilla Dee-Lite" (strong vanilla) fragrance and the red part has the scent of "Yummy Yummy Yummy" (strawberry) which is a discontinued shower gel. This one goes well with "Vanilla Dee-Lite" perfume, "D'Fluff" (strawberry) shaving creme, and "Sympathy for the Skin" body lotion (Banana - Vanilla).
4. Mermaid Tail
Mermaid Tail bubble bar (100g, 1080 yen) is made with softening fairtrade cocoa butter and uplifting grapefruit oil. Use with "Happy Hippy" (grapefruit) shower gel and "Baked Alaska" (lemon) soap for an energizing bath.
5. Bubble Bubble Toil and Trouble
Bubble Bubble Toil and Trouble bubble bar (90g, 800 yen) is inspired by witches. The scent is lime and neroli and it is in the same scent family with "Calacas" shower gel and jelly as well as "Calavera" and "Monsters Ball" bath bomb, which can both be found at the Harajuku store.
6. Miss Whippy
Miss Whippy (150g, 980 yen)used to be a famous bath bomb in the same shape and scent but now it has transformed into a bubble bar. The fragrance is vanilla strawberry and it goes well with the "Candy Rain" conditioner of the same scent as well as "Marshmallow World" (strawberry and cream) bath bomb.
7. Koala
Koala bubble bar (100g, 920 yen) has the uplifting scent of lemongrass and mint. It goes well with mint-scented products such as "Dirty Springwash" shower gel or "Magic Crystals" body scrub as well as "Avobath" (lemongrass) bath bomb.
8. Crayon
Crayon bubble stick (60g, 700 yen) has the sweet fragrance of pink grapefruit and bergamot. Pair well with "Think Pink" (candy) bath bomb and "Bubble Gum" (sweet bubble gum) lip scrub.
9. Golden Finger
Golden Finger bubble stick (70g, 700 yen) features plastic-free glitter and bergamot oil. The scent is that of sweet, warming caramel.
10. Magic Flute
Magic Flute (60g, 700 yen) is a mint scented bubble stick made with fairtrade cocoa butter. It goes well with other mint secnted items such as "Magic Crystals" body scrub or "Dirty Springwash" shower gel.
11. King Cobra
King Cobra bubble stick (60g, 700 yen) has the befitting earthy scent of patchouli and ho wood oil. I goes well with "Karma Kream" (patchouli-orange) body lotion and "Rentless" perfume.
12. Dynamite
Dynamite bubble stick (65g, 700 yen) features the warming sensation and fragrance of cinnamon, ginger, and clove. Use with "New" (cinnamon and clove) shampoo bar and "Wiccy Magic Muscles" (clove and peppermint) massage bar for a spicy, muscle relaxing bath.
13. Sugar Rush
Sugar Rush bubble bottle (180g, 1700 yen) has a spicy, sweet cinnamon fragrance. It is recommended to pair with "Tumeric Latte" (spicy vanilla) bath bomb and "Hottie" (vanilla-black pepper) massage bar.
14. Love Perfume
Love Perfume bubble bottle (160g, 1700 yen) is made with the fragrance of the same name. It is a sweet floral scent made with bergamot, ylang-ylang, and lemongrass. It goes well with the perfume as well as the "Avobath" (lemongrass) bath bomb.
15. Icon No.29 Perfume
Icon No.29 Perfume bubble bottle (250g, 4000 yen) is also modeled after the perfume of the same name. It has a spicy fragrance mixed with the scent of orange blossoms.
16. Cocktail Perfume
The Cocktail Perfume bubble bottle (200g, 4000 yen) has a classic mixed drink fragrance. It features jasmine, rose and ylang-ylang.
Each of these bubble bars will only be available at the Lush Harajuku store. They will make great gifts and souvenirs for every bath lover!
Written by Chiara Mischke
Pictures courtesy of Lush Japan


The information presented in this article is based on the time it was written. Note that there may be changes in the merchandise, services, and prices that have occurred after this article was published. Please contact the facility or facilities in this article directly before visiting.