Ready For Japan! Vol. 1 - 10 Unforgettable Views In Japan
MATCHA editors introduce their favorite scenic destinations in every corner of Japan. View photos of gorgeous mountainous regions like Kamikochi, seasonal flowers near Tokyo, and snow-lit paths of Mt. Akan from the comfort of your home, and get excited for when you can visit in-person.
Ready for Japan!
Photo by Pixta
In these difficult times, MATCHA is focusing on what makes many of us happy––dreaming about travel. We created a new series entitled "Ready For Japan!," centered around enjoying Japan from the comfort and safety of your own home. The global COVID-19 outbreaks have forced many to cancel trips to Japan, making travel out-of-the-question.
We look forward to when you can visit in-person, and hope that the Ready for Japan! series helps you get excited about your future trip to Japan.
Read also:
MATCHA Recommends! 10 Unforgettable Views in Japan
The MATCHA staff members come from various countries and have diverse backgrounds. For the first edition of Ready For Japan!, we will share some spectacular destinations that have left a lasting impression on us.
1. The Path of Light: Miyajidake Shrine, Fukuoka
Photo by Pixta
Suggested by: Chu, editor for MATCHA's Taiwanese website
This first scenery is a rare sight as visitors can only catch it two times a year.
To witness this view, head to Miyajidake Shrine in Fukuoka Prefecture. Twice a year in late February and late October, the sunset lines up with the approach to the shrine. Each phenomenon lasts only about a week.
Nicknamed the Path of Light, Chu recounts, "It wasn't just a pretty sight to post on Instagram. When I saw it, I felt as if time had stopped. It was almost like a purifying experience."
Photo by Pixta
Even if you don't catch the Path of Light, Miyajidake Shrine is a spectacular location to visit. The giant shimenawa (sacred ropes) at the front of the shrine measures 2.6 meters in diameter, 11 meters long, and weighs three tons. It is the largest shimenawa in the country. Just as impressive is how this giant braided straw rope is replaced every year.
The Goshuin-cho Book of Light (Japanese) for collecting shrine and temple seals will make a great memento.
2. An Endless Pilgrimage Path: Kumano Kodo, Kansai
Photo by Pixta
Suggested by: Jasmine, editor for MATCHA's English website
A World Heritage Site, Kumano Kodo is a pilgrimage path that stretches across Mie, Wakayama, Nara, and Osaka prefectures in the Kansai region. It connects Ise Jingu Shrine to the Kumano Sanzan (the Three Grand Shrines of Kumano): Hongu Taisha, Hayatama Taisha, and Nachi Taisha.
"Hiking through the woods was an otherworldly experience. Nowhere else feels as rich in history and nature as Kumano Kodo," Jasmine reveals.

Yunomine Onsen: A Tiny World Heritage Bath
Photo by Pixta
In addition to the pilgrimage route, Jasmine recommends heading to Yunomine Onsen. The Tsuboyu pictured here is a natural spring bath designated as a UNESCO World Heritage site. Enclosed in a simple wooden structure, the onsen is just large enough to fit two or three people. There is a 30-minute time limit, so plan accordingly when going with a larger group.

3. An Exhilarating View: Mt. Nokogiri, Chiba
Suggested by: Tei, editor for MATCHA's Thai website
Up next is an exhilarating view. Can you see what's going on here?
Yes, you can walk to the end of this protruding rock! This is Mt. Nokogiri in Chiba Prefecture. Known as "Jigoku Nozoki," or Hell's View, this viewpoint is situated on the premises of Nihonji Temple.
Photo by Pixta
The grounds of Nihonji Temple consist of the entire mountain, and the temple is famous for having Japan's largest Buddha statue. Towering at 31 meters, it dwarfs both the Great Buddha of Kamakura (13 meters high) and Nara (18 meters tall).
Mt. Nokogiri is a superb location to immerse yourself in lush nature and historic tradition.

4. Breathtaking Beauty: Kamikochi, Nagano
Suggested by: Tei, editor for MATCHA's Thai website
"Although I'd seen other people's photos, when I saw it with my own eyes, it was more beautiful than I'd ever imagined," recounts Tei.
Kamikochi is a scenic destination located in the mountains of Nagano Prefecture. Despite being a mountainous area, it has a fair amount of flat land with carefully-maintained hiking trails. Even if you don't have trekking gear, visitors can enjoy a casual hike by wearing comfortable shoes.

5. View Overlooking the Seto Inland Sea: Mt. Shiude, Kagawa
Photo by Pixta
Suggested by: Mizzochi, editor for MATCHA's Japanese website
Mt. Shiude in Mitoyo, Kagawa, was listed among New York Times's 52 Places to Go in 2019 as an iconic viewpoint of the Seto Inland Sea. Two months that are especially beautiful are March and April, revealing beautiful cherry blossoms in full bloom against the stunning sea.
Photo by Mizzochi. Catch glimpses of the Seto Inland Sea and its islands as you hike Mt. Shiude.
"Personally, my favorite views are those seen along the mountain trails," comments Mizzochi, a local of Kagawa Prefecture.
"As you climb the mountain path radiated by sunbeams, you can see the islands and the sea between the trees and guardrails. Whenever I catch glimpses of this scenery, I feel like I've found blue gems in the forest."

Chichibugahama Beach: A Quintessential Sunset Spot!
Photo by Pixta
On the same Shonai Peninsula as Mt. Shiude is the popular sunset location Chichibugahama Beach. During low tide, the tide pool covering the beach resembles a mirror and beautifully reflects the sky.

6. Shimmering in the Winter Night Sky: Lake Akan, Hokkaido
Photo by Pixta
Suggested by: Ramona, editor for MATCHA's English website
Lake Akan is surrounded by magnificent natural landscapes in Kushiro, eastern Hokkaido. Ramona, who recommends this unforgettable place, saw the lake one winter when she joined a guided tour.
"After walking through the forest at night, we arrived at the frozen Lake Akan. The moon and stars illuminated the snowy landscape as stars shined brightly in the clear, pitch-black sky. You can only experience this otherworldly scenery of Lake Akan during the winter."
Frost flowers. Photo by Pixta
You can also see frost flowers blooming on chilly winter mornings. Surrounded by impressive peaks and vast forests, Lake Akan is the ideal location to go hiking.
The lakeside area has plenty of facilities and cultural elements to enrich your experience. This includes the Akanko Onsen and Akanko Ainu Kotan, where you can learn about the culture of Japan's indigenous Ainu people.
7. The Magnificent Snow Corridor: Tateyama Kurobe Alpine Route, Toyama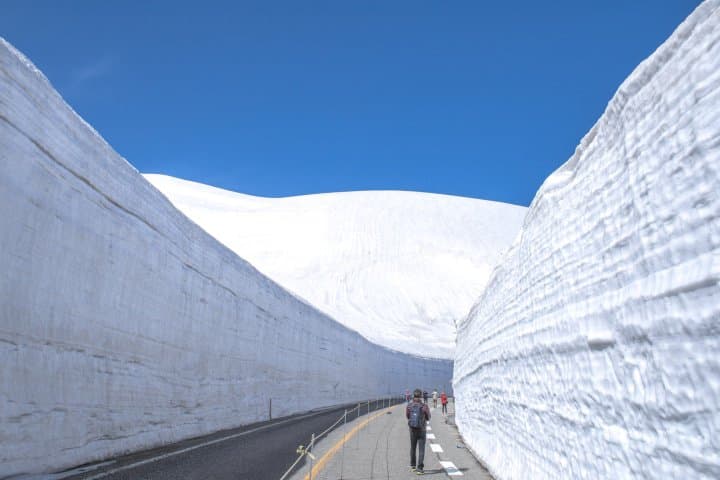 Photo by Pixta
Suggested by: Inoue, part-time MATCHA employee
"Enjoy this snowy landscape to your heart's content," comments Inoue. The Tateyama Kurobe Alpine Route cuts through the Northern Alps, where mountains are at an altitude of 3,000 meters (around 9,843 feet).
The Alpine Route has many popular locations, but we highly recommend the Snow Corridor that can only be seen between April and June. This area gets extreme snowfall at an altitude of 2,450 meters. Clearing away the snowfall from the road creates a snow corridor measuring 20 meters high!

8. A Canvas of Sakura: Kumagaya Sakura Tsutsumi, Saitama
Photo by Pixta
Suggested by: Chu, editor for MATCHA's Taiwanese website
Witness a colorful canvas of cherry blossom trees and rapeseed flowers at the Kumagaya Sakura Tsutsumi in Saitama. Along the Arakawa Riverbank is a spectacle of 500 cherry blossom trees planted along a two-kilometer stretch.
Words cannot do justice to the scenery's beauty. The Sakura Festival is typically held during early April. With plenty of food stands, the Kumagaya Sakura Tsutsumi is a fantastic place for hanami (cherry blossom viewing parties).
9. The Great Ginkgo Tunnel: Showa Kinen Park, Tokyo
Photo by Pixta
Suggested by: Chu, editor for MATCHA's Taiwanese website
If you happen to visit Tokyo in autumn, visit the Showa Kinen Park. "Just a short train ride away from the heart of Tokyo is a marvelous ginkgo tree tunnel," describes Chu.
The Showa Kinen Park is dazzling with colorful nature year-round. Cherry blossoms and baby blue eyes bloom in the spring while autumn features golden ginkgo trees and cosmos flowers.

10. A Hidden Gem: The Tama River, Tokyo
Suggested by: Tei, editor for MATCHA's Thai website
Tei, our Thai site editor, recommended our last location. In fact, it's where he used to live while studying abroad in Japan: the Tama River near Kamata, Tokyo.
"It was a three-minute walk from my dormitory. The vast sky and the spacious area was very refreshing. The scenery also changes with the time of day and seasons. I was fortunate to have experienced this view every day."
The Tama River is in a residential neighborhood away from the busy sightseeing districts of Tokyo. It is one of the many underrated, hidden gems in Japan.
In this article, we shared some of our team's most unforgettable views. Enjoy the gorgeous pictures in this article, and enjoy these places in-person the next time you visit Japan!
Main image by Pixta


The information presented in this article is based on the time it was written. Note that there may be changes in the merchandise, services, and prices that have occurred after this article was published. Please contact the facility or facilities in this article directly before visiting.