Ready For Japan! Vol. 5 – 5 Ways Japan Stays Positive During COVID-19
Learn about fun initiatives that could help keep you positive during the coronavirus pandemic. We've gathered some creative ways people are dealing with COVID-19 across Japan, ranging from cheerful character masks to live streaming, to an accommodation plan to work remotely like a novelist.
Coping with COVID-19 in Japan in Creative Ways
People throughout the world are experiencing difficult times due to shortages of face masks and citywide lockdowns caused by the novel coronavirus.
However, even in the face of the pandemic, some are combating this global outbreak with courage and humor. Japan is no exception. In this article, we've put together a list of helpful initiatives of dealing with COVID-19 from across Japan that we hope will help put a smile on your face.
Read also:
1. Takamatsu, Kagawa: Cute Surgical Masks and Graduation Song Videos
Left is Setouchi Sunny's president and YouTuber, Ryushi Osaki. Picture courtesy of Setouchi Sunny
Takamatsu in Kagawa Prefecture is one of the best known venues for the Setouchi Triennale, Japan's largest contemporary art festival.
Setouchi Sunny, a media company sharing the charms of this region on social media platforms like YouTube, is also based here. In cooperation with the Anabuki Group—an estate agency also based in Takamatsu—they've created adorable character face masks in March 2020 and have distributed these masks for free.
The masks are printed with Sunny-chan, Setouchi Sunny's penguin mascot, and Ahna-chan (Japanese) from Anabuki Group.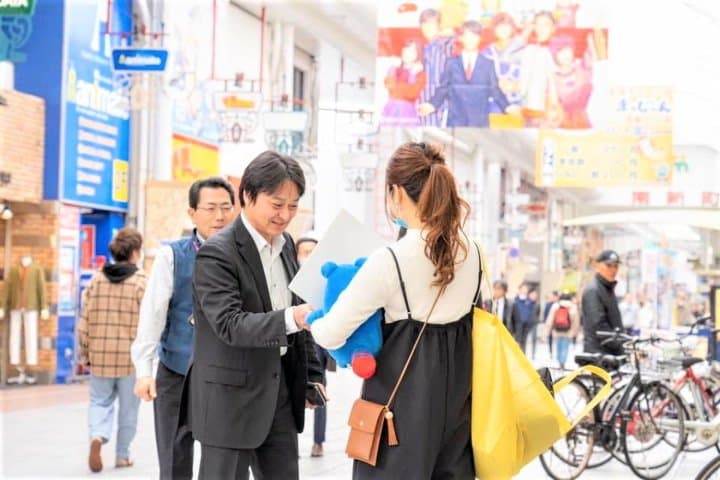 Pictures courtesy of Setouchi Sunny
Masks were distributed in shopping districts, daycares, and support facilities for persons with disabilities in Takamatsu, bringing smiles to all who received them and lightening the mood.
March is the graduation season for elementary, junior high, high school, and university students in Japan. During this time, graduation ceremonies are held at schools throughout the country to congratulate and motivate young people as they embark on their new journeys. However, many schools canceled their ceremonies due to COVID-19 in 2020.
Given these circumstances, Setouchi Sunny collaborated with local junior high school and high school students to create a compilation graduation song video.
In the video, students sing "On the Day of Departure (Tabidachi No Hi Ni)," a classic graduation song played at countless schools. Many Japanese graduates were moved to tears upon hearing this melody as they recalled their school memories.
2. Hongo, Tokyo: Work Remotely From a Japanese Inn Beloved by Literary Giants
Sanshiro Pond at the University of Tokyo. The name comes from "Sanshiro," a novel by Natsume Soseki. Photo by Pixta
The University of Tokyo is perhaps Japan's most exemplary national university. Homeikan, an established ryokan (traditional inn) near the esteemed school, offers an enticing accommodation plan called The Great Writer Confinement (Bungo Kanzume Plan).
The word "kanzume" in Japanese usually refers to canned foods. However, it also describes writers who confine themselves to a hotel or ryokan to focus on crafting their manuscripts. This plan makes it possible for guests to stay at an elegant ryokan, having the same experience as literary greats from the past. There's also an option of having an "editor" urge you to finish your writing!
While this offer has already sold out, regular accommodations are still available. Additionally, the ryokan's wooden structure is over 100 years old and is a Registered Tangible Cultural Property of Japan. Why not stay here and work like a novelist?
Homeikan Official Website: https://www.homeikan.com/en-5
3. Higashikagawa, Kagawa: Crafting Hand Covers
Pictures courtesy of Emoto Tebukuro
It's been reported that routinely sanitizing your surroundings and washing your hands are preventative measures against COVID-19. In a country like Japan, where trains are often crowded, commuters have expressed fear of touching the straps and handrails directly.
Emoto Tebukuro, a glove manufacturer from Higashikagawa City in Kagawa Prefecture, has developed hand socks through crowdfunding (Japanese) as a solution to those worries.
Pictures courtesy of Emoto Tebukuro
While this product is typically used for UV protection, the gloves cover your entire hands and fingers, helping wearers avoid directly touching surfaces and objects, such as train straps, doorknobs, and elevator buttons.
"There are no features that will completely prevent you from being infected by the coronavirus. Nevertheless, our company has made these gloves in hopes that it'll help customers stay positive and lessen any mental burden you are carrying, even if it's a small amount." (From the official website in Japanese.)
Higashikagawa City is responsible for around 90% of the gloves manufactured in Japan. The city is also home to the unique museum, Kagawa Glove Gallery (Japanese). Emoto Tebukuro's initiative to combine design with artisanal skill can be said to fit perfectly in this "Sacred Land of Gloves!"
4. Toyoake, Aichi: Get Active At Home With Calisthenics
This video features Daikinboshi Calisthenics, a program endorsed by Toyoake City, to help citizens combat lack of exercise. Toyoake has encouraged its elderly population, who are self-isolating at home due to the coronavirus outbreak, to utilize these exercises.

"Daikinboshi" is a sumo wrestling term to describe when a hiramaku (a wrestler in the highest division) wins against a yokozuna (the highest rank in sumo). The word means "the most spectacular victory."
Daikinboshi Calisthenics was named after the Battle of Okehazama, which took place in Toyoake during the Sengoku Period. During the bloody clash, Oda Nobunaga's weaker and smaller troops emerged victorious over Imagawa Yoshimoto's massive army. There's also a variation of the exercise called Toyoake Nobunaga Calisthenics: a nod to the warlord.
Radio calisthenics, well-known by everyone across Japan, is another way of exercising and stretching at home. We'll be featuring this subject in a later installment of the Ready for Japan! series, so please look forward to it!
5. Live-Streaming Cherry Blossoms in Japan
MATCHA's Hanami Live Stream in mid-March, 2020
While many people are staying indoors to slow the spread of COVID-19, this has inspired a movement to share information online and live stream videos. MATCHA also partook in this global trend and recently hosted a hanami (cherry blossom viewing) live stream.
Follow MATCHA's Facebook communities to learn about the cherry blossoms and other latest updates in Japan.
MATCHA English Facebook: https://www.facebook.com/mcha.jp
Chinese: https://www.facebook.com/matcha.traditional.chinese
Thai: https://www.facebook.com/matcha.thai
Staying Positive during Tough Times
These days are gripped by uncertainty and stress due to the ongoing coronavirus pandemic. However, it's during these times precisely that we hope to be positive and courageous. We hope this article brought some joy and happiness to your day.
MATCHA started Ready For Japan!, a special feature that allows readers to experience Japan from the comfort and safety of home. Be sure to take a look!
In cooperation with Setouchi Sunny, Emoto Tebukuro
Main image courtesy of Setouchi Sunny

The information presented in this article is based on the time it was written. Note that there may be changes in the merchandise, services, and prices that have occurred after this article was published. Please contact the facility or facilities in this article directly before visiting.