Win A Stay At SEKAI HOTEL Fuse And Experience Local Osaka Culture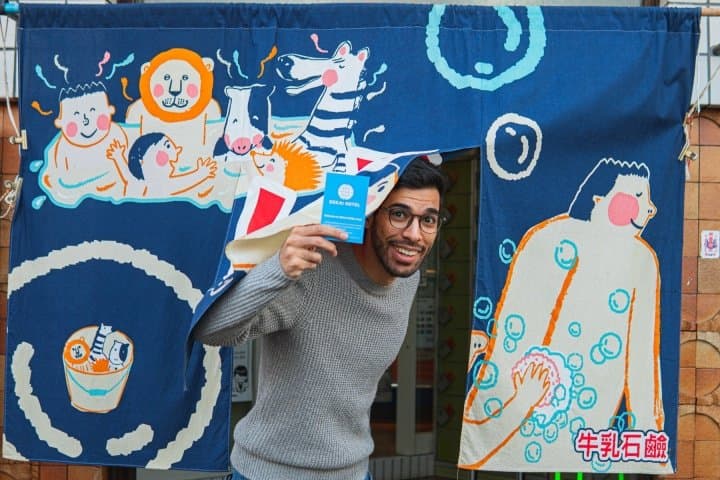 Experience another side of Osaka culture in the neighborhood of Fuse! Bustling with locals, this area is perfect for immersing yourself in the daily life of Osaka residents. We are giving away a free stay at SEKAI HOTEL Fuse to five MATCHA readers! Read this article to find details on how to apply.
The application period has ended.
Fuse: Experience a Typical Day in Osaka
With popular destinations from Dotonbori, Shinsaibashi, Universal Studios Japan, to Tsutenkaku Tower, Osaka is filled with shopping centers and theme parks. A little off the beaten path and away from the main attractions, Fuse in Higashiosaka is a popular place among residents.
Fuse is a traditional shopping district overflowing with local energy. With a history spanning before World War II, the Fuse shopping district is the largest in Higashiosaka. It has a diverse selection of both longstanding and trendy shops. A favorite among locals, it is a great place to experience the daily life of Osaka.
Apply to win a free stay at SEKAI HOTEL Fuse by filling in the form at the end of this article! The five winners will be selected by a raffle and contacted by e-mail regarding the results.
Let us first introduce a recommended itinerary to make the most of your trip to Fuse in Osaka.
Day 1, 11:00 - Arrive at Fuse Station
You can arrive at Fuse in one hour by taking a bus from Kansai International Airport (KIX) (*). You can also ride the train from Shin-Osaka Station, which takes about 30 minutes. (Get on the Osaka Metro Midosuji Line from Shin-Osaka and transfer onto the Kintetsu Nara Line at Namba Station. You will arrive at Fuse Station in about ten minutes.)
From Osaka Station, take the Osaka Loop Line and transfer at Tsuruhashi Station. The total ride time is about 25 minutes.
*When this article was writen in June 2020, the bus service has been suspended due to the COVID-19 pandemic.
11:30 - 12:00 - Pick Up a SEKAI PASS at the Front Desk
Once you arrive in Fuse, let's first check into your hotel. Located in the shopping district, SEKAI HOTEL Fuse is a five-minute walk from Fuse Station. The hotel has staff who can speak English, French, Spanish, and German.
To make the most of your visit, the staff will hand you a SEKAI PASS card and introduce the history and culture of Osaka.
The SEKAI PASS is a fun and useful way to interact with locals and learn about their culture. Simply present your card at a store that is collaborating with SEKAI HOTEL Fuse to enjoy a unique cultural experience in Osaka..
Discount culture and treating culture are two such examples. Frequent customers of a local restaurant will often receive extra food or a free drink from the store owner.
Now, let's first take your SEKAI PASS to the takoyaki (*) stand!
*Takoyaki: a popular street food consisting of octopus grilled in small balls of batter.
12:00 - 13:30 - Tasting Takoyaki: Osaka's Staple Food!
If you visit Osaka, you must try its signature street food: takoyaki. A two-minute walk from SEKAI HOTEL Fuse, Maruko Suisan has a charming owner and is popular among locals.
The secret to Maruko Suisan's success is the fresh octopus it stocks daily. Once boiled, the octopus is stored in ice water. This gives it a firm texture and brings out a subtle sweetness.
If you show your SEKAI PASS, you can try three pieces of takoyaki for only 150 yen! Experience friendly Osaka culture as you savor this local staple.
13:30 - 15:30 - Explore the Massive Shopping District
The Fuse shopping district is massive! You may be overwhelmed by its sheer scale when visiting for the first time. We will now introduce some of our recommended stores.
1. Kintaro Pan: A 99-Year-Old Bakery
Walk north from the hotel for two minutes. You will come across Kintaro Pan, a local bakery that has been loved by Fuse residents for nearly a century.
The bakery sells over 100 different types of bread. Our top recommendation is the anpan (*). This fluffy roll is covered with powdered sugar and filled with red bean paste. With a subtle sweetness, the anpan is a satisfying snack.
Taste a part of Fuse's history with each bite!
*Show your SEKAI PASS for a 100-yen discount on a purchase over 500 yen (tax included).
*Anpan: A Japanese sweet roll filled with red bean paste.

2. Sannose Shop: A Candy Store Appealing to Kids and Adults!
A "dagashi-ya" is a mom-and-pop candy store with inexpensive snacks. While these small-time shops have become a rarity, dagashi stores were once common places for local children to frequent.
Sannose Shop is a dagashi store located just five minutes from the hotel. It still retains the atmosphere of a traditional candy store. The confections and snacks sold here start from just a couple dozen yen! A visit here would definitely be a fun cultural experience for you and your kids.

3. Ebessan: The Commerce God of Fuse
Fuseebisu Shrine is a short four-minute walk from the hotel. One of the Seven Lucky Gods, Ebisu is referred with an honorific "san" in Osaka as Ebessan.
Fuseebisu Shrine is fondly revered by the community as the Ebessan of Fuse. On the shrine grounds is Japan's largest cast-iron statue of Ebisu. It is believed that the enshrined god of commerce has long protected the city of Fuse, its shopping district, and its people.

16:00 - 17:30 - Make Your Own Wagashi at Shofukudo
Once you've explored the shopping district, it's time to try your hand at making Japanese sweets.
Founded in 1903, Shofukudo is a longstanding wagashi (*1) store. Here, the wagashi artisan Mr. Dekura will teach visitors the art of these handcrafted, delicate sweets.
Using traditional tools, you can experience this exquisite process.
Choose from three wagashi-making classes: namagashi (*2), daifuku (*3), and dorayaki (*4). Each class is 1,500 yen.
The namagashi and daifuku classes require a reservation of more than one day in advance. The dorayaki class, however, must be reserved at least three days in advance. We recommend looking into the lessons upon booking your hotel room.
*1 Wagashi: traditional Japanese sweets
*2 Namagashi: a type of wagashi that primarily uses red bean paste and is not baked. It literally translates to "raw sweets."
*3 Daifuku: red bean paste wrapped in rice cake.
*4 Dorayaki: red bean paste sandwiched between two small pancakes.

17:30 - 18:30 - Check Into SEKAI HOTEL Fuse
Let's take a break at the hotel with our snacks and goodies.
SEKAI HOTEL Fuse has rooms dotted throughout the city. Staying in one of the accommodations will make you feel like a resident of the town. Once you've checked in, the staff will lead you to your room, which is about five minutes from the check-in desk.
Fuse is situated in the Higashiosaka area of Osaka. For a long time, this area has been known for its craftsmanship and manufacturing.
To provide guests with the feel of Higashiosaka, each room was designed in collaboration with local manufacturers. You can experience Fuse culture and history just by sleeping in your room.
18:30 - 20:00 - Enjoy Great Food at Yoshihiro
After settling into your room, it's time to explore the nightlife in Fuse! Karaoke voices spill out onto the street, and shops once closed during the day are now open. It is a completely different ambiance from the daytime.
Dinner in Fuse calls for another local staple—okonomiyaki (*).
Seven minutes from the hotel, Yoshihiro is a popular okonomiyaki restaurant. Dishes are served on the iron hot plate installed at each table.
The pork okonomiyaki at Yoshihiro has a unique twist. Unlike typical okonomiyaki, there is less batter so the ingredients can stand out. The sauce is also homemade. It's definitely a dish made with great attention to detail.
There's also an abundance of menu items! Using his experience in America, the owner has a wide selection of okonomiyaki flavors from curry to add-ons like sausages.
Savor an Osaka staple at this locally-loved restaurant!
*Okonomiyaki: a popular Japanese food consisting of a variety of ingredients mixed in the batter and cooked on an iron hot plate.

20:30 - 21:30 - Bathe in Local Culture at Ebisuyu
Now, it's time to end your day at one of the public bathhouses.
Located five minutes from the hotel, Ebisuyu is a beloved bathhouse. Every night a long line of locals await its opening. While a rarity in recent years, Ebisuyu continues the tradition of using firewood to heat the water.
Public bathhouses have always brought local communities together. Bathe in tradition and culture at this charming bathhouse.

Day 2, 9:00 - 10:00 - Breakfast at a Retro Cafe
After a good night's sleep, check out of the hotel and start your day with breakfast.
Ikedaya Coffee is a retro-style cafe filled with locals in the morning. Fuse prospered as a shopkeeper's district. As such, many local cafes were established to serve breakfast for shopkeepers before opening their shops.
The most popular item at Ikedaya Coffee is their mixed sandwich. It has a thick slice of omelet sandwiched between ham and cucumbers. It's a tasty and filling breakfast to jumpstart your day!
*If you present your SEKAI PASS, you will receive a 30 yen discount on the morning set and a 50 yen discount on the lunch set.

Fuse: Come to Experience Authentic Osaka Culture!
The places we covered in this article only scratch the surface. There is plenty more to see and taste in Fuse!
If you're looking to visit Osaka but want an authentic experience, we highly recommend planning a trip to Fuse!

An Invitation to 5 MATCHA Readers!
We will invite five lucky readers for a one-night stay at SEKAI HOTEL Fuse!
The plan includes a complimentary SEKAI PASS, dinner, bathhouse access, and breakfast. Up to six people can be accommodated in one group (families with children and older couples are welcome).
Application Deadline: August 31, 2020
Period of Stay: October 1, 2020 - September 30, 2022
Prize: One-night stay (with SEKAI PASS, dinner, bathhouse access, and breakfast)
Number of Guests: 5 groups (one to six people per group)
Application instructions:
Please fill out and submit the registration form below. Winners will be contacted via email after August 31, 2020. Only those who win the giveaway will be contacted.
Regarding the Use of Personal Information
Applicants will agree to the following privacy policy terms:
- The personal information submitted by the applicants will be handled carefully and securely by MATCHA, Inc.
- The personal information will be provided to the lodgings introduced in this article.
*1 MATCHA's Policy Regarding the Use of Personal Information
Applicants will agree to the handling of the following private information by MATCHA, Inc.
- Full name
- Nationality
- E-mail address
Your personal information will be used for the following purposes:
- To ensure the service introduced in this article is good quality and secure; to develop new services; to ensure the protection of our users.
- To provide customized services and advertisements from our company or partners.
- To notify the users of possible changes in the terms of the agreement.
- To send information about products and services developed by our company or our partners.
- To contact the users for purposes related to the content of this article.
- To answer possible inquiries from our users.
View MATCHA, Inc.'s Privacy Policy:
https://matcha-jp.com/en/privacy-policy
*2 Note about the handling of personal information by the lodgings.
By applying to this campaign, you agree that the accommodation facility of your choice handles the following information:
- Full name
- Postal code
- Address
- Nationality
- E-mail address
Your personal information will be used for the following:
- To contact the applicant for purposes related to their stay at the lodging.
*If the form below fails to load, click HERE to refresh.
All photos courtesy of SEKAI HOTEL Fuse

The information presented in this article is based on the time it was written. Note that there may be changes in the merchandise, services, and prices that have occurred after this article was published. Please contact the facility or facilities in this article directly before visiting.