Ekoda - Stroll Through A Tokyo Neighborhood Of Bakeries And Artists
Six minutes from Ikebukuro, Ekoda is a small station surrounded by various bakeries and local charm. The author lived in this cozy part of Tokyo for five years, known for the anime, "Nodame Cantabile" and for the many famous actors who have graduated from its universities.
Explore Ekoda, a Cozy College Town in Tokyo
If I find myself busy with work or worrying about the future, I walk through the Ekoda area to find peace. Once her home, this remains a place of comfort.
Today, I invite you to stroll through the streets of this charming area with me!
Almost a century old, Ekoda Station is a historic landmark along the Seibu Ikebukuro Line. Eight different schools, from elementary schools to colleges and universities, are located in this area. As such, you will often spot teenagers and young people walking the streets.
The train station looks like it was made for students––in fact, local colleges collaborated in the station design. You will also often find flyers of campus events posted on the station message board.
Ekoda is featured as a filming location for various movies, including the Japanese Academy Award's Picture of the Year winner, "Shall We Dance?" In one of the scenes, the lead actor, Koji Yakusho, stares at a dance class building from the station platform.
As someone who loves film and graduated with a film degree, I could not help but be excited to stand in the same place as Koji's character.
Tokyo's Town of Artists
Out of the eight schools in Ekoda, three are colleges and universities: Musashi University, the Nihon University College of Arts, and Musashino Academia Musicae. In particular, Nihon University has many celebrities who are graduates. Internationally-renowned author, Banana Yoshimoto, graduated from the Department of Literary Arts, and Kishin Shinoyama graduated from the Department of Photography. Other famous artists from the College of Arts include director and actor Kankuro Kudo, actress Yu Aoi, and film producer Koki Mitani.
If you are in the area in the fall, head to a campus festival. Visitors can browse a variety of works by student artists and creative minds that will shape the future.
Musashino Academia Musicae is the oldest private music college in Japan. Over the years, it has been responsible for the education of famous pianists and composers. It is featured as the setting for the anime, "Nodame Cantabile."
An added note for fans of the anime: inside Ekoda Station is a poster of Nodame playing the piano!
20 Delicious Bakeries in Ekoda
In addition to schools and artists, Ekoda is also a hot spot for baked goods. You will find about 20 different local bakeries within the vicinity of the station. When bakeries are busy making bread, you will smell sweet fragrance the moment you exit the station. I would often follow the aroma straight to a nearby bakery.
If you are visiting Ekoda for the first time, there are two bakeries you should go to! Below is a day trip itinerary for where to eat.
8:30 - Start off the Day with Breakfast at Parlour Ekoda
Parlour Ekoda is one of the most popular bakeries in Ekoda. Waste no time in the morning heading here if you want to get your hands on their freshly baked bread.
I went to the bakery once during a holiday and waited for over an hour. However, if you go first thing in the morning on a weekday, you can enjoy a tasty breakfast at the bakery.
Once inside, the servers carefully explain the different types of bread, while the bakers work busily with determination in their eyes.
Pictured above is the toast breakfast set (980 yen after-tax). It comes with whole wheat bread, soft toast, a salad, and coffee brewed from a famous cafe's beans. Each item is made with care and attention.
12:00 - 15:00 - Savor a Satisfying Lunch at MOTHER GOOSE
With a history of 100 years, MOTHER GOOSE is currently run by the third generation owner. The bakery makes a host of tasty bread, from longtime favorites and allergen-free choices to bread made with fruit.
MOTHER GOOSE also works closely with a local nursery school, providing young kids with simple, delicious bread.
I often bought cream-filled baked goods and specialty bread when I was craving a light lunch. The bread isn't fancy but will satisfy your appetite for something tasty and comforting.
Three Places to Visit in Ekoda
I introduce some spots below that are deep-seated in Ekoda's history.
16:00 - A Bathhouse Protected by a Raccoon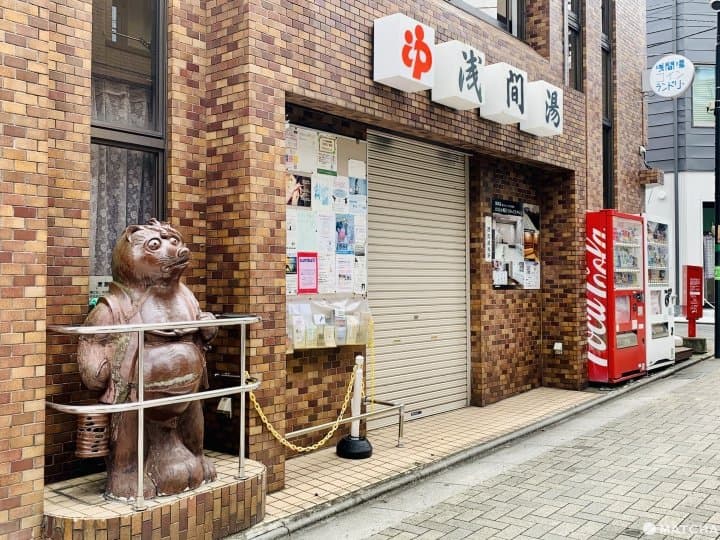 Founded in 1927, Sengen-yu is a sento (bathhouse) with a statue of a raccoon at its storefront. A professor who lived in the area gifted the bathhouse this statue before they moved overseas. You will also find a stuffed raccoon in the rest area that was a gift from an owner of a different bathhouse.
The mural inside is a one-of-a-kind mosaic created by a professor at Nihon University College of Art. The interior shows how Sengen-yu is closely tied to the local community.
While I don't frequent bathhouses, I once went to Sengen-yu when my water pipes froze. I felt slightly nervous to go to an unfamiliar bathhouse, but a friendly customer came and talked to me. Sengen-yu continues to be a community space for locals.
17:00 - Sengen Shrine, dedicated to Mt. Fuji
If you leave the station from the north exit, you will find Sengen Shrine nearby. When I lived in Ekoda, I would come pray every New Year, and I also offered my gratitude before I moved. Taking a look at the ema (*), you will see wishes from students asking to get into their college of choice.
Sengen Shrine has Tokyo's largest Fujizuka, standing eight meters tall.
Fujizuka are mounds that were made starting in the late Edo period. Their purpose was to grant the same blessings to visitors as if they climbed Mt. Fuji. Tokyo has eight famous Fujizukas, including the one in Ekoda.
The Fujizuka at Ekoda's Sengen shrine is listed as one of Japan's Important Tangible Folk Cultural Property. It is open only on select days in the months of January, July, and September.
*Ema: Wooden plaques offered at temples and shrines to write down prayers.
18:00 - The First Matsuya Beef Bowl Restaurant Location
Matsuya is a beef bowl chain restaurant with over 1,000 stores across Japan. Surprisingly, the original Matsuya location is in Ekoda. While the exterior looks like any other Matsuya, this store has served customers for over half a century.
A sign on the wall reads "Original Matsuya Ekoda Store." Next to it is a timeline of the restaurant's history and a picture of the original restaurant. From beef bowls during lunchtime to grilled beef set meals during dinner time, the store has always been popular among students and businessmen.
Matsuya continues innovating to keep up with its competitors to provide affordable, yet high-quality food.
Take a Break in Ekoda
The cozy neighborhood of Ekoda is home to a number of small shops and friendly locals. Time here seems to move slowly compared to areas with larger stations.
If you need a break from your busy schedule, stroll through the streets of Ekoda.

The information presented in this article is based on the time it was written. Note that there may be changes in the merchandise, services, and prices that have occurred after this article was published. Please contact the facility or facilities in this article directly before visiting.