More Than Just Beautiful Leaves: Japan's Fall Flowers
Although there are plenty of stunning maple leaves to see each fall in Japan, you simply can't ignore the amazing flowers of the season! These blossoms grow in parks and gardens all across the country, and are must-see sights for nature lovers.
Autumn in Japan usually brings images of scarlet maple leaves and golden gingko trees to mind, with days spent strolling through the woods and doing momijigari, but the weather in Japan during the autumn is also ideal for several different kinds of flowers too.
Cosmos Flowers
Nicknamed akizakura (the autumn cherry blossom), cosmos are probably the first flower that the Japanese think of when speaking of the fall. Cosmos come in pink, orange and white varieties, and tend to fall in numerous shades of each color too. These small flowers grow in abundance at Showa Kinen Park in Tokyo until early November.
Chrysanthemums
Perhaps the most famous flower in Japan, kiku, or chrysanthemums, make appearances throughout literature, in the crest of the Imperial Family, and on the 50 yen coin, but are not often thought of as an autumn flower, despite blooming in profusion at this time of year.
In fact, there are numerous festivals and events dedicated to the chrysanthemum held all across Japan in the fall; two of the most popular taking place at Yushima Tenmangu Shrine in Tokyo's Bunkyo ward, from November 1st through the 23rd, and at Meiji Jingu Shrine in Harajuku, from October 27th through November 23rd this year.
Red Spider Lilies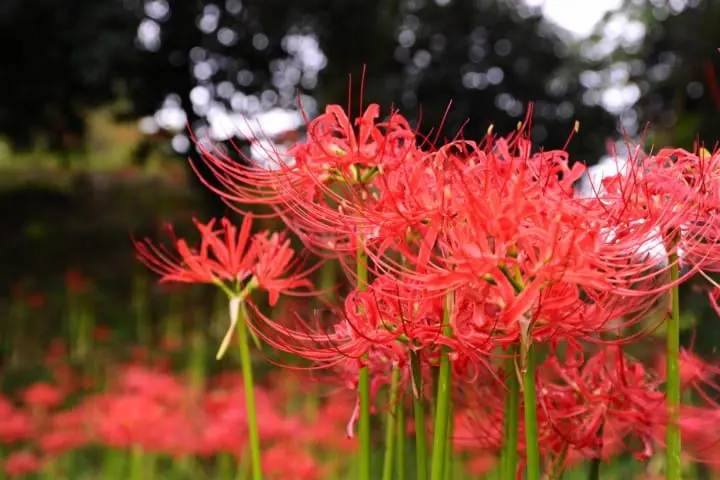 Known as higanbana in Japanese, red spider lilies (cluster amaryllis) bloom around the time of the autumn equinox in late September to early October all across Japan. These vibrant red flowers have a somewhat darker side to them, however, as they are considered a sign of loss or death, and grow abundantly in the wild near cemeteries. According to one superstition, higanbana grow in the paths of those you will never meet again, which make finding gardens or festivals based on these flowers quite rare.
The Koide Riverside Higanbana Festival in Fujisawa, Kanagawa prefecture, is an annual event lasting throughout the spider lily season where you can stroll along a peaceful riverside covered in these brilliant blossoms, and there are also some markets and other events associated with the festival as well. This year the festival will take place on September 23rd-24th.
Kochia
Kochia, called houkigusa in Japanese, is a bush-like herb that turns a dusky deep red shade in the fall. These fluffy, somewhat odd-looking bushes tend to grow in more natural areas or as parts of ornamental gardens, although you may also see them growing wild along hillsides outside of major cities as well.
The best place to really see them is in Hitachi Seaside Park, found just two hours away from Tokyo in Ibaraki prefecture. These bushes will change color from late September through October.
Osmanthus
Known as either sweet osmanthus or fragrant olive in English, kinmokusei is a vivid orange blossoming tree native to Japan and most of Southern China and Taiwan. Anyone who is a fan of Chinese tea is sure to have seen this flavor of tea before, and the slightly citrus-y fragrance is sure to make any nature walk near these trees a happy one.

While there aren't any specific festivals dedicated to this tree itself, anyone visiting Kyoto in October is likely to smell, if not see these flowers in full bloom, as osmanthus trees practically grow on every corner and in every garden of the city.

If you are planning a fall getaway in Japan to enjoy the changing leaves, please don't forget to enjoy the stunning flowers of autumn as well!

The information presented in this article is based on the time it was written. Note that there may be changes in the merchandise, services, and prices that have occurred after this article was published. Please contact the facility or facilities in this article directly before visiting.