SEKAIDO Shinjuku Flagship Store! A Mecca For Stationery Lovers
Are you interested in buying Japanese stationery and art supplies in unique designs? Then head to SEKAIDO Shinjuku Flagship Store for stationery and art supplies at the lowest prices. Learn more about the store's features and MATCHA's top picks to bring out your inner artist!
SEKAIDO Shinjuku Flagship Store – A Shopping Haven of Stationery and Art Supplies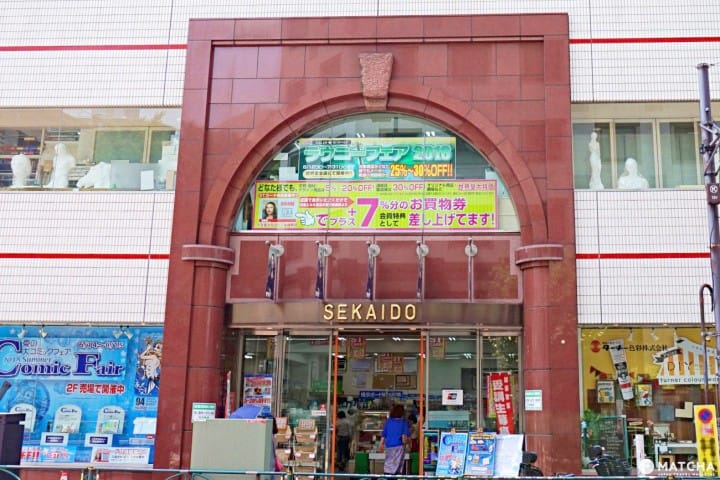 User-friendly, Japan-made stationery products range from ballpoint pens, mechanical pencils, and erasers to patterned masking tape and stapleless staplers! These products are very popular worldwide.
SEKAIDO Shinjuku Flagship Store is a shop where you can find a wide array of Japanese stationery and high-quality art supplies—all under one roof. These include notebooks, high-end markers, watercolors, oil paints, traditional Japanese color paints, and paintbrushes. Other popular items like papers, frames, canvases, comic supplies, art books, and how-to-draw guides are also carried. There is nothing that you can't find in this store.
What's amazing is that they carry a rich selection of products. SEKAIDO's prices are also very affordable. Their concept is to be a store that sells the cheapest stationery and art supplies in Japan! Most of their products are sold at 5-20% off regular prices.
Without further ado, let's shop for exciting products.
Where is the SEKAIDO Shinjuku Flagship Store?
The SEKAIDO Shinjuku Flagship Store is not far from JR Shinjuku Station. In front of the store, the signs depicting Mona Lisa with a surprised expression will serve as your signpost. I'm sure that the Mona Lisa is equally surprised at the products' low prices.
The products are sold up to the fifth floor, with each level specializing in different merchandise. On top of having an English floor guide, as pictured above, sales staff can also assist you in English.
Purchases are made on each respective floor, so be sure to pay for your products at the register on the same level.
1F: Stationery and Office Supplies
The first floor sells stationery and office supplies. Some of their products include fountain pens, letter-writing supplies, folders, staplers, rulers, envelopes, and notebooks. The first floor alone is very spacious.
The "20% OFF" sign will make you excited to buy something. Most products are sold at a discount of 5 – 20% off their regular prices.
These multicolored ballpoint pen refills caught our attention. SEKAIDO even carries KURU TOGA, an innovative mechanical pencil that rotates the lead as you write without weakening the performance of your writing utensil.
They also have a complete selection of fountain pens. The store carries pens with customizable grips and holders in addition to choosing the thickness of your pen. Despite not being a regular fountain pen user, our writer spotted a Kumamon pen and had the urge to buy it.
Here are some washi tapes—a popular product. Lately, separable washi tape has been surging in popularity in Japan for its easy use. They are also great for decorating and making a one-of-a-kind creation.
There's an assorted selection of erasers that will leave you unable to select just one. The erasers have unique shapes, such as sushi, bars, blocks, putty erasers. Pictured at the top right is an eraser designed to look like the Japanese kanji character for "erase."
The black eraser at the bottom left of the photo is from Kokuyo's Resare series. Not only is it great to use, but its eraser shavings neatly collect together so as not to damage the paper.
There are also adorably designed paperclips, notebooks, traditional Japanese message cards, and stickers. You might accidentally end up doing more shopping than you first intended.
However, this is only just the first floor! There's plenty more to see on the other levels.
2F: Papers, Design Supplies, and Handcrafts
The second floor sells papers and design supplies. You can find everything here, including pen nibs used for comic drawing, screentones, and sketching models.
Here's the colored pencil corner. You can purchase pencils in a set or individually buy the color that you need. Nevertheless, this is an incredible variety of colored pencils.
This floor also carries varnishes and mattifying finishes for decoupage (*1) along with beautifully designed papers. If you want handmade washi paper, then please go to this floor. You can also ask to see the store's catalog.
*1 Decoupage: the art of cutting and pasting your favorite patterns onto a plain base or small object.
Books—from how-to guides on painting to cartoon drawing—sketchbooks and art collections are also sold on this floor. A typical bookstore probably wouldn't carry nearly as much as what is stocked at this store.
3F: Paints and Art Supplies
The third floor carries art supplies and is brimming with colors! There are watercolors, acrylics, paint tubes, and solid paints. You'll surely want to purchase everything! They have a huge collection of paints for both beginners and professional artists.
These are Japan Color (wairo) paints made up of traditional Japanese colors. According to the staff, "Japan Colors have diverse shades and show up vividly on paper, which makes them popular among international customers."
They also carry watercolor sets that come with ink. This set makes it easy to create watercolor paintings.
MATCHA's Top Picks
From the diverse variety of products available, we'll introduce recommended products discovered by MATCHA's editorial department.
Mechanical Pencils and Ballpoint Pens Adorned in Mascots
In our writer's home country of Thailand, you can find a large variety of stationery supplies. In Japan, however, there are many illustration supplies with novel designs that you'll want to purchase without a second thought. KURU TOGA's mechanical pencils decorated with Hello Kitty and Disney characters are among some of these products.
Here is DelGuard: a mechanical pencil by Zebra that uses difficult-to-break lead. They have an adorable Snoopy model, too.
Here are some of the ballpoint pens available. They feature small animal characters drawn by Kanahei, a popular Japanese illustrator.
Brush Pens for Illustrating
Brush pens, which are used when drawing illustrations, are also available in a colorful variety. These are used by illustrators to add highlights to their drawings.
Glossy Japan Color (Wairo) Paints
This is a traditional Japanese color (wairo) paint set. Glossy, pearlescent hues appear to be what's popular today.
LAMY's Special Edition Fountain Pen Colors
This is a must-have for LAMY fans! The store carries this popular fountain pen in special edition colors. The color featured in this photo was the exclusive color at the time of this article. A different special edition color is currently on sale.
Corner-Filled Erasers
Our writer was surprised with the Milikeshi: an eraser covered with corners on all sides. Those that prefer using the corners of their erasers will get filled with excitement.
There were many other familiar yet revolutionary products, namely sticky notes with a strong adhesive and a stapleless stapler.
Become a Member and Get More Deals!
If you become a SEKAIDO member, you can shop with benefits while using your SEKAIDO ST Card. International tourists can also become members. The membership fee is 500 yen and is valid for two years. This convenient card may be used at all SEKAIDO locations. Once you become a member, you will receive 7% of your total purhase as a shopping coupon towards your next visit.
This is perfect for those that do a lot of shopping or customers that frequently visit the store. However, you must pay in cash when using your membership card.
Head to the SEKAIDO Shinjuku Flagship Store
How was the SEKAIDO Shinjuku Flagship Store? What we've introduced is merely a small portion of this stationery specialty store! Please visit and discover the rest of the store in your leisure time.
The store opens at 9:30 daily. Have you ever found yourself in Shinjuku early in the morning, but all of the shops are still closed? Then please make this your first stop of the day!
In cooperation with SEKAIDO
*This article was translated and re-edited from an article originally published in Thai.

The information presented in this article is based on the time it was written. Note that there may be changes in the merchandise, services, and prices that have occurred after this article was published. Please contact the facility or facilities in this article directly before visiting.