Gonpachi NORI-TEMAKI Harajuku - Try A Different Kind Of Sushi
Gonpachi is known to be the inspiration for one of the scenes in Quentin Tarantino's movie "Kill Bill". The restaurant included many stores. In this article, we introduce the most recent addition which focuses on handmade sushi rolls in a unique atmospher
The restaurant chain Gonpachi rose to fame when movie creator Quentin Tarantino fell in love with one of their locations and used its design for a famous fight scene in his movie "Kill Bill". Locals and visitors alike enjoy the restaurant's ambiance and the high-quality izakaya-style food.
In May 2018, Gonpachi opened another shop to join the famous franchise. This time they decided to create a small restaurant that mainly focuses on one temaki.. Temaki is a popular home-made dish consisting of rice, fresh ingredients like fish and vegetables and fresh nori seaweed closely related to sushi rolls.
Let's have a look at this truly unique temaki restaurant located in the sweets haven Harajuku.
Gonpachi NORI-TEMAKI - Comfort Food with a Twist
"Te" means "hand" in Japanese and "maki" refers to "roll". It is not popular to eat temaki at a restaurant. Usually, you gather with family or friends at home with a large variety of sashimi, vegetables, sushi rice, and nori seaweed. Everyone takes a small sheet of seaweed, tops it with rice and some ingredients and rolls it by hand into a cone shape to eat.
Temaki can also be purchased pre-made in some supermarkets. They can usually be found in the sushi corner.
Gonpachi NORI-TEMAKI takes temaki to the next level. The interior is very unique but also reminiscent of the iconic Gonpachi design. There is also something very homely about the warm lighting and the wooden interior.
The circular counter is very similar to the ones you find at many conveyer belt sushi restaurants. However, the wooden walls and interior also reminded me of a bar in an old western style ship. One of the charm points is the back wall of the restaurant which is entirely covered by historical looking wooden doors.
Highest Quality Ingredients
Picture courtesy Gonpachi NORI-TEMAKI
Gonpachi is well known for their high-quality ingredients and Gonpachi NORI TEMAKI is no different. They even tested and sourced the highest quality nori seaweed for their temaki to give them the perfect texture. It is not to firm and not too soft with just the perfect amount of crunch to it.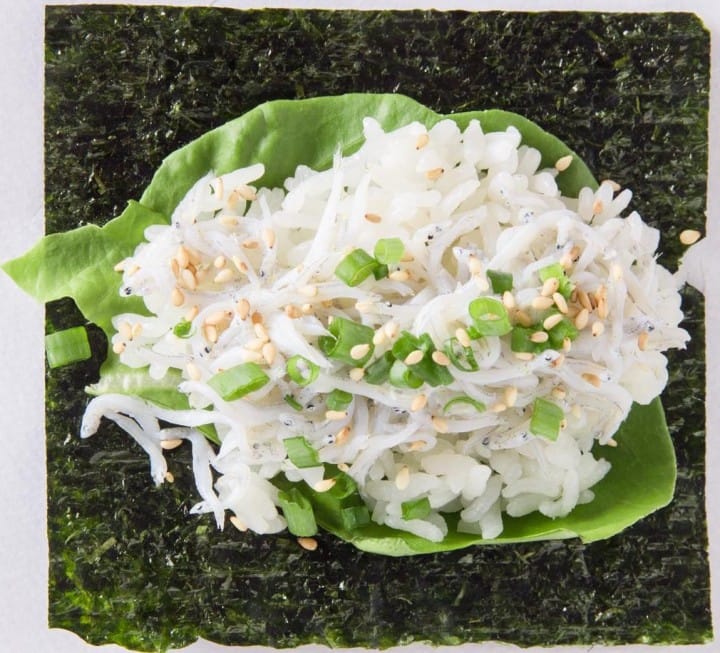 Picture courtesy Gonpachi NORI-TEMAKI
In order to keep the texture, they layer fresh Boston lettuce between the nori and the rice. However, this also gives the temaki a certain freshness and adds another texture to the temaki.
The fish and seafood are freshly delivered every day from the Toyosu Fish Market. Toyosu fish market is the successor of the famous Tsukiji Fish Market.
How about Cauliflower Rice?
Picture courtesy Gonpachi NORI-TEMAKI
Japanese food is generally known as one of the healthiest cuisines in the world. However, it is very high in carbohydrates as rice is eaten with every meal.
If you want to eat something lighter or lower carbohydrates, you can choose a cauliflower rice option for 30 yen more for any of the temaki. The cauliflower rice consists of chopped and boiled cauliflower as well as avocado to make it stick like usual sushi rice. The taste is light and creamy and goes great with any of the temaki options
Picture courtesy Gonpachi NORI-TEMAKI
The cauliflower rice is not only great for health-conscious people but also light, refreshing and perfect for the summer month. We highly recommend trying at least one of the temaki with the cauliflower rice option.
Easy Ordering Process
The ordering process at Gonpachi NORI-TEMAK is very easy. On the right side of the entrance, you find pencils and menus in Japanese and English.
Take a menu and check the items you would like to order. Make sure your check in the correct square as the one on the left is for the rice version and the one on the right for the cauliflower option. Once you finished, hand the menu to the staff. Your temaki will be handed to you freshly made one by one.
If you are very busy to busy with sightseeing to sit down for a couple of temaki you can also order take-out. The ordering process is the same, you just tell them that you would like to order take-out. However, we highly recommend trying it fresh if you can.
Try the Side Menu
Gonpachi NORI-TEMAKI also offers delicious drinks and snacks. How about some fresh, juicy oysters alongside your temaki? Sea urchin, whitebait and spinach salad or onsen tamago (hot spring egg) are some of the other options. The side menu is just as fresh and delightful as the temaki.
The Best of Sushi and Rice Balls Combined
You can find sushi restaurants everywhere in Japan but a temaki restaurant is rather unusual. The temaki at Gonpachi offers homemade comfort food on an elevated level. Fresh seafood that melts in your mouth together with the satisfying crunch of the high-quality seaweed creates a great experience for all senses in a warm setting.
If you like sushi or Japanese rice balls you should definitely give Gonpachi NORI-TEMAK a try!
In cooperation with Gonpachi NORI-TEMAKI and Gobal Dining

View Information
Gonpachi NORI-TEMAKI Harajuku
| | | |
| --- | --- | --- |
| | Address | Tokyo, Shibuya, Jingumae, Co-op Olympia 6-35-3 |
| | Business Time | Every Day: 11:00-23:00 (Last Order 22:15) |
| | WiFi | Not Available |
| | Accepted Credit Cards | Not Available |
| | Languages | Japanese, English |
| | Menu/Pamphlets in Other Languages | English |
| | Nearest station | Harajuku Station |
| | Access | 3 minutes walk from Harajuku Station |
| | Price | 180 yen and up |
| | Telephone number | 0359627995 |
| | Website | https://gonpachi.jp/nori-temaki/ |
The information presented in this article is based on the time it was written. Note that there may be changes in the merchandise, services, and prices that have occurred after this article was published. Please contact the facility or facilities in this article directly before visiting.