Drinking Ban! How To Make Shibuya Halloween 2019 Fun For Everyone
Halloween in Shibuya has grown to one of the biggest street parties in Japan. As it is a non-organized event, the Shibuya ward has discussed ways to keep the popular event safe for everyone. For 2019, a public drinking band will be put into place.
Shibuya Halloween is Changing
Celebrating Halloween in the streets of Shibuya has been a tradition in Tokyo. It started as an overflow from crowded bars and clubs people couldn't enter, combined with people who wanted to continue the party after going out. It grew bigger annually, and people of all ages started to join.
Attendance grew and celebrations started getting out of control, particularly in Shibuya's popular scramble crossing area. Partygoers would litter the area, climb street lights and even cause damage to surrounding establishments and vehicles.
After an incident in 2018 where a group of drunk attendees overturned a small truck, the officials of Shibuya Ward decided to create rules for the event in 2019. One of the established is a ban on drinking alcoholic beverages in public. Even restaurants in the area are encouraged to refuse serving alcohol during the Halloween celebrations.
Although Shibuya Halloween 2019 will some have changes, it will still be exciting joining the big party. Here are five things to keep in mind to make it a pleasurable event for everyone.
1. Only Use the Designated Halloween Party Areas
For the first time in the history of Shibuya Halloween, there will be designated areas to celebrate in. Usually, the most streets around Shibuya Station are filled with partygoers, making it impossible to pass through Shibuya smoothly even if you aren't joining.
The newly designated areas are supposed to help solve this issue. They will be clearly marked, and if you are in doubt, you can always follow the costumed masses or asked someone where to go.
2. Avoid Drinking in the Shibuya Area on Halloween
Usually, public drinking is allowed in Japan. However, at a gathering this size, it was not deemed safe and controllable after incidents in 2018.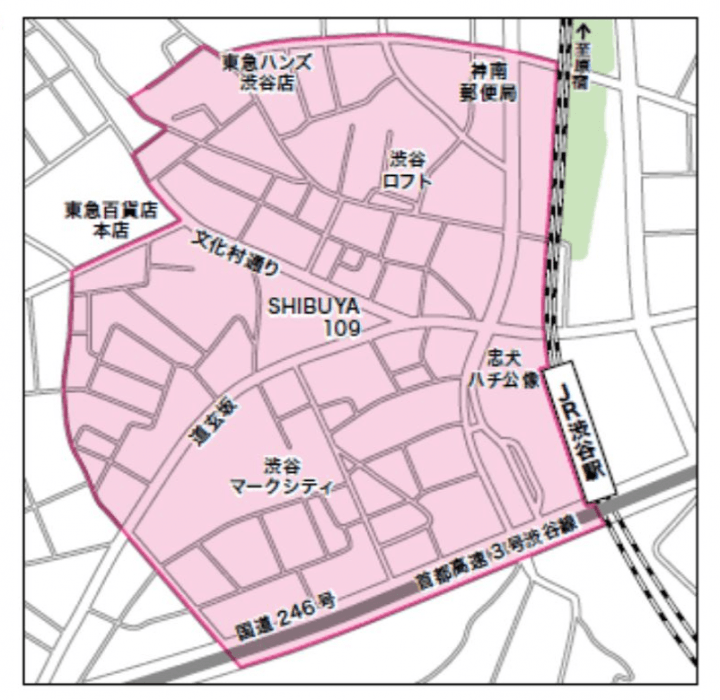 The map above shows the areas where drinking will be banned from 18:00 until 5:00 on the morning of the next day on the 25th, 26th, 27th, and 31st, 2019. The alcohol ban area stretches through the main area along the JR railway tracks from Tokyu Hands over Shibuya 109 all the way to the National Route 246. It does include the scramble crossing and the central Shibuya shopping street. 
As mentioned before, restaurants are also encouraged to refuse alcoholic beverages to customers around Halloween time. If you are planning a night out on Halloween in Shibuya, be aware that you might not be served alcohol at certain establishments. 
3. Take your Garbage with You
Another major issue after the Shibuya Halloween festivities is the large scale of clean up afterward that has to be paid by Japanese taxpayers. The Tokyo government removed most garbage bins after the 1995 Tokyo subway sarin gas attack.
Usually, people take throw out their trash at a nearby convenience store or back home. Be prepared to carry your garbage with you when you join. Refrain from just leaving it somewhere.
4. Don't Change and put on Make-up in Public Restrooms
Picture courtesy of Chiara Mischke and Wanda Proft
Usually, it is not encouraged to travel already dressed in costume to any events as to not startle people in the train. However, the Shibuya Halloween has no designated areas to change as it is a non-organized event.
If people use public restrooms to change, it will bother many people who just want to use the restroom. Please make sure you arrive in Shibuya in finished costume and make-up or arrange a place to change, like a hotel room or a friend's place close by, beforehand.
5. Mind Your Manners
Even though everyone is in a partying mood and silly ideas might come to one's mind, Shibuya has many businesses as well as residential areas. Many people have to commute through the party areas and shops are open as usual.
Try to avoid any actions that might inconvenience others. Naturally, please avoid any acts that can be considered vandalism.
Enjoy Shibuya's Famous Halloween Event
Shibuya Halloween is the biggest Halloween event in Tokyo. You can see all kinds of costumes, from creepy to silly, and easily make new friends.
Please try to keep the above rules in mind in order to keep this fun tradition alive!

The information presented in this article is based on the time it was written. Note that there may be changes in the merchandise, services, and prices that have occurred after this article was published. Please contact the facility or facilities in this article directly before visiting.