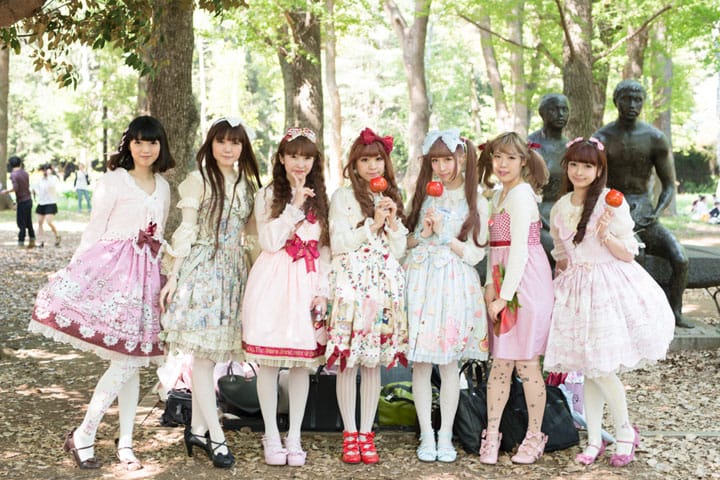 What Is Harajuku Fashion? A Brief Introduction
Harajuku's fashion is a topic that could take years to fully deepen and appreciate. This brief guide will introduce you to the styles available in this youthful trend center.
Harajuku Fashion and Popular Movements
In the past three decades youth fashion in Japan has undergone thousands of changes - there are simply too many styles to count in a single article. That being said, there are two distinct trends that have been representative for Harajuku fashion since the late 80's - early 90's: eccentric pop fashion and Lolita fashion.
The Characteristics of Eccentric Fashion - Even Sweets Are Fashionable!?
The eccentric pop fashion which is currently popular in Harajuku consists of clothing with pastel colors or neon colors, with unusual or unexpected accessories, such as flamingo headbands or seashell shaped backpacks. Hair dyed in pastel colors or streaked with hair chalk is popular with both men and women, and there almost seem to be no rules as to what or how many patterns one can combine in a single outfit.
The defining point of this style is being unique, so finding what suits you best and putting together your dream outfit is a process that the followers of this aesthetic take seriously. Popular brands for this style of fashion include SPINNS, jouetie, galaxxxy, Candy Stripper, Jeremy Scott, and many, many more.
Just Like a Princess! The Features of Lolita Fashion
Lolita fashion refers to the style that features Victorian, Edwardian, sometimes even Georgian inspired dresses that come in a variety of light colors and patterns, and with plenty of frills and lace. These outfits are not for the lazy as they require panniers, bloomers, stockings, bonnets or headbands and sometimes corsets and more in order to pull off a polished look.

There are several subsets to the Lolita genre, among which the most common is the Gothic Lolita. Although very similar to the regular Lolita style, the Gothic style comes with an emphasis on the dark side of fashion. Black, burgundy, grays - imagine a cute take on Victorian mourning fashion and you will have a reasonably good idea of what this style entails.
Lolita and Goth-Loli fashion are recently becoming popular also overseas. One reason these fashions became popular around the world is the rise in popularity of Visual Kei bands, such as X Japan and Vamps, as well as many other bands. Many of the members of the Visual Kei bands don Gothic-rocker style and similar costumes for their performances. The appeal of this aesthetic helped spread this style around the world.
Famous Lolita and Goth-Loli brands include h.NAOTO, Angelic Pretty, BABY, THE STARS SHINE BRIGHT, metamorphose temps de fille, and more.
If you wish to find some items of Harajuku fashion for yourself, the first place to go is Laforet Harajuku. Its six floors full of small, trendy shops offer the newest fashion items and you might want to check which of the many styles showcased here looks best on you.
The Freedom to Wear What You Want
What Harajuku fashion symbolizes is the freedom to wear and be what you want. All the styles born in this area are defined by a creative approach to fashion, so that one's style becomes an expression of one's personality. Visit Harajuku and you might find yourself positively inspired by the uniqueness of the styles worn by the young people hanging out in this area.
The information presented in this article is based on the time it was written. Note that there may be changes in the merchandise, services, and prices that have occurred after this article was published. Please contact the facility or facilities in this article directly before visiting.