Read, Greet and Sleep in a Bookstore?! BOOK AND BED TOKYO, Ikebukuro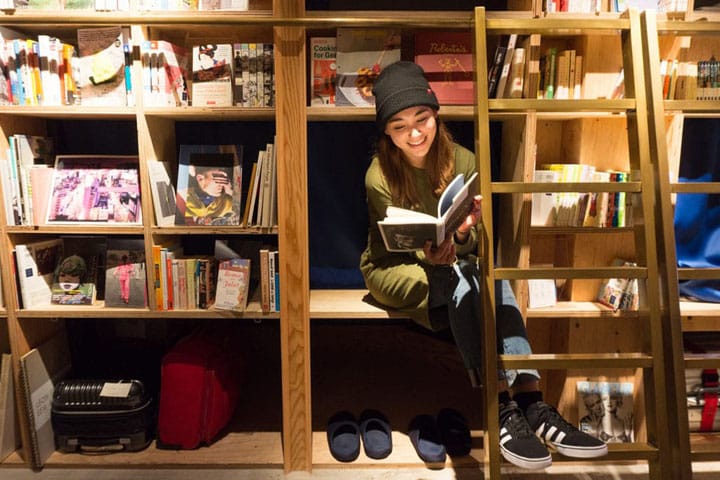 BOOK AND BED TOKYO is a bookstore-themed hostel in Ikebukuro, Tokyo. There are about 1000 books including manga and photograph albums. Let's meet other travelers and enjoy spending time with them while reading a book in a relaxed atmosphere.
Would you like to meet and talk with other travelers while staying in Tokyo?
BOOK AND BED TOKYO is a bookstore-themed hostel located a convenient five minute walk from Ikebukuro station. Known as a "tomareru honya" ("the bookstore you can sleep in"), there are about 1,000 books including manga (comic books) and photo albums you can read while staying at BOOK AND BED TOKYO.
During your stay in this fashionable place, you can get to know other travelers, read any books you want, as well as ask the English-speaking staff for any recommended restaurants in the area. You will have a wonderful time chatting with others, reading and finding something new and unique here.
Let's take a closer look at what this hostel is like through pictures!
No Curfew! Located in a Convenient Shopping Spot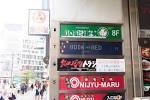 BOOK AND BED TOKYO is on the seventh floor of a building with many izakaya (Japanese bars) and restaurants.
Within a five minute walk from the hostel there are plenty of convenience stores, a Matsumoto Kiyoshi drug store, and even a foreign currency exchange center. Even if you forget to pick something up, you won't have any problems finding it in the area if you stay here.
Take the elevator up to the seventh floor then ring the bell on the reception counter.
You will be asked to fill out a form at the reception and receive a code in order to enter your room. Check-in time starts from 16:00, however you are free to drop off your luggage at any time, which is really convenient for travelers with multiple bags.
And, because there is no curfew, you can go out and come back anytime you want, which allows you to explore the city at night too.
A Relaxed Space to Read In
Photo courtesy of BOOK AND BED TOKYO
When you get inside, the fashionable wooden book shelves and the large comfortable sofas will catch your eye right away!
This reading space may be used by non-hostel stay guests from 13:00 to 17:00 for 500 yen (no tax). The hostel also offers free wi-fi, making it easier for you to get the information you need while traveling.
There are books in English, such as Doraemon (a long-running Japanese manga series), a bilingual book on ramen (Japanese noodle soup dish) restaurants as selected by an American, and even "Where's Wally?". Whether reading alone or reading with others, you're sure to have a great time in this comfortable space.
Two Types of Spaces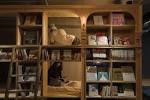 Photo courtesy of BOOK AND BED TOKYO
There are 30 beds in total with two different spaces to choose from.
1. Bookshelf
Photo courtesy of BOOK AND BED TOKYO
The picture above shows the beds behind bookshelves; there are 12 bookshelves in total where you can easily fall asleep amid the books.
2. Bunk
The other type are bunks, which are a type of capsule sleeping compartments. There are 18 beds like those shown in the photo above - ideal if you want to focus more on your reading.
Two Compartment Sizes
Two compartment sizes are available, STANDARD (measuring 120 x 200 cm) and COMPACT (measuring 80×200 cm).
1. Standard
The picture above is the STANDARD space that comes equipped with a small locker.
2. Compact
The picture above is of the COMPACT space.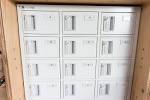 There are small lockers outside of these compartments.
Room Features
All rooms are equipped with sockets, a personal reading lamp and free disposable earplugs.
Hostel equipment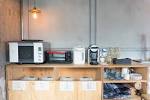 There is a Healsio microwave, a toaster, an electric water boiler and a coffee maker available in the kitchen area.
A cup of coffee costs 150 yen (without tax).
There are also cups and plates you can use.
Two recommended restaurants near the hostel are Midori Zushi, located underground at the station and a Turkish bakery, DEGIRMEN BAKERY, which opens from morning. You can order takeout food at both places; wouldn't it be nice to have a treat to snack on while reading a book?
They also offer a free shower service. Showers are separated by gender.
Photo courtesy of BOOK AND BED TOKYO
Hot water is available in the sinks and the bathrooms come equipped with hair dryers.
Amenities like such as towels, toothbrushes, shampoo, conditioner and body wash can be bought for 500 yen (towels must be returned).
A Popular Hostel Among Travelers from All Over the World
70% of the guests who stay at BOOK AND BED TOKYO come from various countries such as Taiwan and Hong Kong, even from Europe and South Africa, while the rest are Japanese who live in Tokyo. So it really is the best place to get real-time information about Tokyo.
The staff working here have all lived overseas and there are international staff from China and Bangladesh - all the staff are well-equipped to answer any questions you might have. Reservations are available through their website, however it's a good idea to book at least two months in advance as it is quite popular.
If you would like to meet some lovely people while staying in Tokyo, how about staying at BOOK AND BED TOKYO?

The information presented in this article is based on the time it was written. Note that there may be changes in the merchandise, services, and prices that have occurred after this article was published. Please contact the facility or facilities in this article directly before visiting.