Kuriya Kashi Kurogi - An Exquisite Cafe Within The University Of Tokyo
Kuriya Kashi Kurogi is part of the Hongo Campus of the University of Tokyo. Owned by a Michelin-star chef specializing in Japanese sweets and designed by an internationally acclaimed architect, this cafe has become well-known in Japan.
Kengo Kuma is an architect who has received international acclaim for his works. But did you know that while working as a professor at the University of Tokyo he also designed a cafe on its campus? Kuriya Kashi Kurogi is a cafe designed by Kengo Kuma, where Jun Kurogi, a Michelin-starred Japanese chef, plans the menu.
The Charms of Japanese Sweets in an International Campus
The cafe is located in what was once a building for academic studies.
Mr. Kurogi heard about the plan to build a Japanese cafe on a campus of the University of Tokyo, and he decided to join in the project thinking that Tokyo University, where international students and professors gather from all over the world, would be the best place to promote the charms of Japanese sweets.
A Warm Atmosphere Created Through Japanese Cedar Panels
The whole building is covered with panels made from Japanese cedar trees, and the soft tree color makes the atmosphere very calm and relaxing. It almost makes you feel as if you were out of the city, as it is surrounded by green, which complements the warmth of the panels very well.
Their terrace seats are especially recommended. You will get plenty of sunshine on sunny days which will make you feel as though you are basking in the sun in a forest. They have blankets available to use in the winter season too, so those who are sensitive to cold can enjoy the terrace seats as well.
According to the cafe staff, many people visit just to look at the architecture. Some enter the cafe with curiosity, and some come all the way from abroad on tours.
There are not too many seats, which bring the cafe staff and customers close to each other; you can watch the careful work of the baristas and staff brewing coffee here all day long.
A Fun Menu to Delight the Senses
All of the items in the cafe, even down to the tableware and trays, are carefully selected to entertain not only customers tongues, but also their eyes. For instance, all of their coffee cups are custom-made Oribe ware, only used in this cafe.
This time we ordered their winter-limited seasonal set menu, kinpaku zakura zenzai and baked mochi. Cherry blossom flowers and gold leaf combine to give this dish a nice salty, sour taste with an aroma of cherry blossom. The red bean paste is also nice and not too sweet (1300 yen).
It is served with salty Japanese pickles and sugar candies that immediately melt as you put them into your mouth - you will definitely be satisfied by this dish! The charcoal-grilled mochi has a nice chewy texture, which makes for a perfect combination with zenzai in the winter.
Shaved ice used to be served only in the summer, but now it is served all year round thanks to its incredible popularity. They have seasonal flavors, including a pumpkin and chestnut flavored ones in the fall.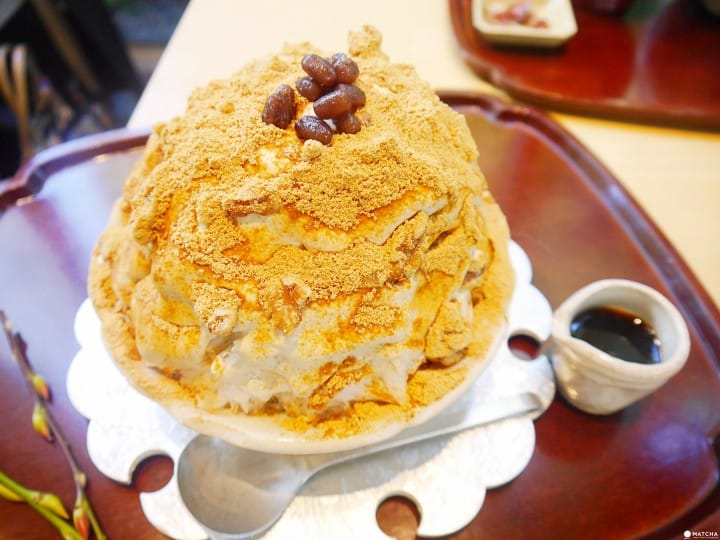 This is their shaved ice with a cream made of brown sugar and roast soy beans.
We were amazed by its size! This is a good choice for those who would like to share a dessert. Please note, however, that each customer must make an order while here. The kinako (roasted soy bean powder) on the shaved ice has a taste that reminds one of peanuts, and there are nuts and red beans in this dish as well. You can really enjoy the complexity of these traditional Japanese flavors here well. The handmade ice cream, which contains soy sauce, is remarkable. The salty-sweet taste means that you might never want to put your spoon down, and the brown sugar syrup on top makes this flavor even richer (1300 yen).
Coffee served in the cafe is brewed from Sarutahiko coffee beans, which are currently popular in Japan, and has a slightly sour flavor. One of the charms of this cafe is the combination of coffee and Japanese sweets. You can choose ice coffee, strong or mild, and even choose how you want your coffee brewed such as through an Italian press, a metal filter, or a paper filter. This means that they can brew coffee depending on each customer's favorite method (coffee is 900 yen).
They will make latte art for you if you order a hot cafe latte or cappuccino. The drinks are not too bitter, and the aroma of coffee is flavorful (900 yen).
Everything on the menu can be taken to go. The design of the take-out cup is very cute and has the logo of the cafe printed on it.
The Best Souvenir Items
Souvenirs are sold in limited numbers, so please keep in mind that they might not have the items that you want when you visit. Some of these special souvenir items include sweets made from wasanbon sugar from Tokushima, concentrated coffee, and tomato juice made of Koganeuri tomatoes grown by farmers in Iwate prefecture.
In Conclusion
Sweets are a part of Japanese food culture that is not only about preserving traditions but is also continuously developing and growing. They are the very best treat to have while enjoying the combination of modern architecture and the most talked about coffee in Japan. Why not have a break with coffee and Japanese sweets after you enjoy the lines of gingko trees and the history of the University of Tokyo campus?

View Information
Kuriya Kashi Kurogi
| | | |
| --- | --- | --- |
| | Address | Tokyo, Bunkyo ward, Hongo 7-3-1 Daiwa Ubiquitous Computing Research Building 1F |
| | Business Time | 09:00 - 19:00  |
| | WiFi | Not Available |
| | Accepted Credit Cards | VISA,MASTER,JCB,American Express,Diners Club |
| | Menu/Pamphlets in Other Languages | English/Chinese |
| | Nearest station | Hongo Sanchome Station on the Tokyo Metro Marunouchi line and Toei Oedo line. |
| | Access | 5-minute walk from Marunouchi line's Hongo Sanchome Station. 3-minute walk from Toei Oedo line's Hongo Sanchome Station. |
| | Telephone number | 03-5802-5577 |
| | Website | Kuriya Kashi Kurogi |