Tokyo's Adachi Ward Through The Eyes Of Foreign Travelers
Well-known for its warm downtown atmosphere, Adachi is one of Tokyo's 23 wards, located in the northeastern part of the capital. Thanks to the cultural events organized by EMBLEM Hostel Nishiarai we were able to discover the unique charm of this area.
Our special feature on Tokyo's Adachi Ward is a series of articles created in collaboration with EMBLEM Hostel Nishiarai over the span of a year since July 2016, introducing the charms of Adachi, an area located in the northeastern side of the capital.
In this closing article, we will take a look back at our explorations of Adachi ward over the past year and try to sum up some of the features that make this area so special. In the end, you can read an interview with the wonderful EMBLEM Hostel staff members who guided us each month in discovering a new aspect of this amazing area.
So let's take a look at some of the things that foreign travelers staying at EMBLEM Hostel Nishiarai had the chance to discover and experience during their time in Adachi ward's Nishiarai area.
From Sushi Making to Carrying a Portable Shrine - Japanese Culture in Tokyo's Adachi Ward
From: EMBLEM Hostel Nishiarai: A Bond Between Travelers And Locals
More than a very affordable and convenient accommodation facility, EMBLEM Hostel Nishiarai is place that offers its guests the opportunity to experience Japanese culture and lifestyle during their stay. We introduced the features and activities of EMBLEM Hostel Nishiarai in the first installment of our series on Adachi.
According to many of the guests we had the chance to talk to in the past year within the frame of this project, the best thing about staying at EMBLEM Hostel Nishiarai is being able to interact with local people at the various events organized by the facility. So let's take a look at some of the events and culture workshops featured in our series.
Japanese Culture as It Truly Is! Culture Workshops and Experiences
From: Learn To Make Sushi From A Master Chef! The Uogashi Sushi Workshops
One of the activities offered to the guests at EMBLEM Hostel is "sushi making". During a two-hour workshop held at the well-established local sushi restaurant called Uogashi Sushi, the participants get to learn how to make delicious sushi from a professional sushi chef!
The Japanese tea workshops held at Okumuraen, a tea shop located in Nishiarai's Sekibara shotengai (*1) also enjoy great popularity among the foreign guests staying at EMBLEM. Learning how to prepare tea from a professional is something that will come in handy in your everyday life from now. This is why this workshop that uncovers the secrets of preparing good tea is an opportunity not to be missed.
*1 Shotengai... A shopping street with small stores catering to the daily needs of locals.
From: Everyone Bathing Together?! Travelers Check Out A Japanese Public Bath
Also located in Sekibara shotengai is Matsu no yu, a public bath EMBLEM's guests are able to experience Japan unique bath culture. The public baths called "sento" have always been treasured in Japan. Being able to experience this side of Japanese culture is a rare opportunity made possible through the kind cooperation of this local public bath.
As it can be seen from our report, the trip to a Japanese public bah was a memorable experience for the participants. taking into consideration that Adachi has the reputation of being a "sento ward" thanks to the great number of public baths that are in business here, it's something that shouldn't be missed out in this area.
From: Learn In English! Ikebana Workshop For Travelers In Nishiarai
At EMBLEM Hostel there is even an ikebana workshop available. Ikebana, the art of flower arranging, is a treasured tradition of Japan. At this workshop, open both to foreign guests and to locals, the participants get to learn the basics of ikebana under the guidance of a teacher who has experience teaching abroad.
In addition to the activities mentioned above, EMBLEM Hostel also organizes visits to local sumo training facilities or kimono wearing workshops. If there is one particular workshop that appeals to you, please send your inquiries at EMBLEM Hostel Nishiarai.
Making New Friends in Niahiarai! Parties and Events
From Get To Know Japan By Meeting Its People - Nishiarai's "Warm Up Fes"
For those who would like to interact with the locals and get to know more about the area, we recommend the events and parties held at EMBLEM Hostel. The people who gather at these events can communicate in English, so it won't be hard at all making new friends. These events usually include introductions of local brands, as well as live performances by local artists, so you get to know the liveliest side of Adachi.
Sake Tasting Parties are also hold regularly, featuring famous Japanese sake producers. Not only do you get the chance to taste various types of sake, but you can also learn how the alcohol is made.
From: Handmade Chocolate - A Super Food?! Emblem Hostel Nishiarai's Raw Chocolate Workshop
Another event held indoors that is a great chance to interact with people living in the area is the chocolate making workshop held by one of EMBLEM's staff members who is very knowledgeable about the healthy raw food.
Events Held at Nishiarai Daishi Temple, the Symbol of Nishiarai
Nishiarai is an area in Adachi ward that developed around Nishiarai Daishi, a temple with a rich history. All the events and festivals held at this temple play an important part in the lives of the locals.
From: Go To A Temple Festival In Japan! Nishiarai Daishi's "Osame no Daishi"
The Osame no Daishi held in December or the hatsumode, the first visit to the temple in the new year, are examples of these events. Nishiarai Daishi is famous as a temple that protects against bad luck. For this reason, many people living in and around Tokyo visit the temple during these events.
From: Nishiarai Daishi Flower Festival - Help Carry A Portable Shrine!
Nishiarai Daishi is also well-known as a "flower temple" thanks to its impressive peony garden. When the peonies are in bloom in May, a great festival is being held on the temple grounds. On these occasions, the guests of EMBLEM Hostel get the chance to help carry a portable shrine around the town along with the locals. It's a unique opportunity to take part in an old local custom.
Experiencing the Culture of Adachi Ward
The cultural activities available for foreign travelers are not limited to the Nishiarai area where the hostel is located. In fact, on several occasions, the guests get to go further out in other areas of Adachi ward to explore the local culture.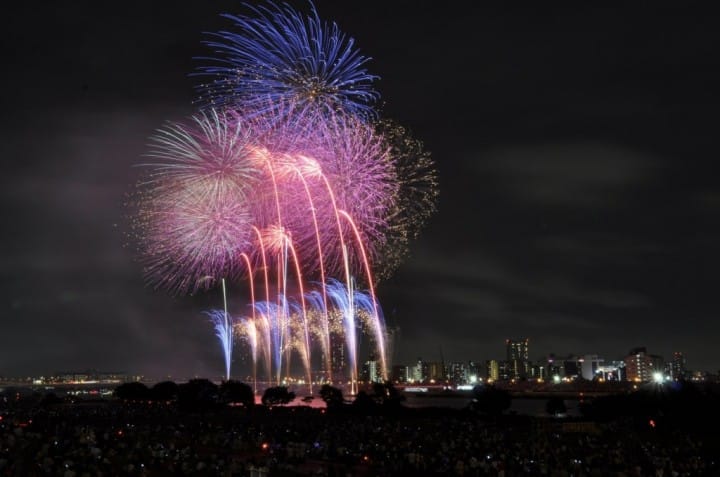 From: What Do Travelers Think Of Japanese Fireworks? Adachi Fireworks Report
For example, the Adachi Firework Festival held each year in July is one of those occasions. Many people living in Tokyo look forward to this event as it marks the beginning of the firework festivals season in the Kanto area. Boasting a history of over a hundred years, the Adachi Firework Festival displays both traditional and the latest types of fireworks. It's an event where one can see just how important are the fireworks for the Japanese, who wouldn't be able to imagine summers without them.
From: Another Exciting Market! A Little Known Spot: Adachi Fish Market
Adachi ward's own wholesale market, the Adachi Fish Market located in Kita-Senju, opens its gates to the general public once every two months. The great variety of seafood that can be seen here is really impressive and suggestive of how these wholesale markets support Japan&s food culture.
Besides the areas and activities introduced in this series, there are many other things that can only be enjoyed in Tokyo's Adachi ward. Staying at EMBLEM Hostel is a great way to get to know closely many aspects of the Japanese lifestyle.
The Charm of Adachi Ward According to the Staff of EMBLEM Hostel
We asked the staff at EMBLEM Hostel Nishiarai what motivates them to organize so many activities involving the guests and the locals people. We got the chance to interview Yosuke Irie, the manager of EMBLEM Hostel, Akihiro Matsushita, the hostel's accommodation supervisor, and Mai Koyama, the lead event organizer at EMBLEM.
Mai Koyama
MATCHA: First, we'd like to hear from Mai Koyama what exactly is that motivates you to organize events and culture workshops for your guests each month.
Mai Koyama: Well, when you find a great place, you want to introduce it to your friends, right? A core concept of EMBLEM Hostel is to create connections between the guests and the locals. Ever since I came here in Nishiarai, I got to meet many wonderful people. It's one of the warmest places I know. So I thought that it would be great if the guests staying at EMBLEM would also be able to get to know the warmth of the locals. This is one of the things that motivates us to come up with new activities that allow our guests to get in touch and communicate with the locals.
Akihiro Matsushita
MATCHA: What was the guests' reaction when they took part in the local festivals, in walking tours around Adachi Market and other activities?
Akihiro Matsushita: I was glad to see everyone enjoying themselves. It's great if they take part in our events, get to meet local people and start to feel that this is their home in Japan. Anyone is happy to be able to have their own unique experiences. What we want is to provide our guests with a connection to Nishiarai and its people. If they get to enjoy a trip like no one else, this will become an unforgettable memory for them and something that they'll remember this place for. This is what motivates us to continue providing these events.
Yosuke Irie
MATCHA: The role of EMBLEM Hostel is to help build a relationship between the guests coming from abroad and the locals. This is core idea behind your management of the hostel. What is the best thing about this area in your opinion?
Yosuke Irie: Ever since EMBLEM opened, I've always thought that the greatest charm of Adachi is its people. Through various events and workshops, we are introducing the local culture to our guests from abroad, but this is possible only thanks to the wonderful people who support us. From the officials in the ward office and the leaders of the Nishiarai Daishi business association to local brand entrepreneurs, creators, shop owners and volunteers who offer to contribute as event supporters, there are many, many people who cooperate with us in making these events possible. Thanks to these activities, our guests get to see glimpses of the Japanese lifestyle and actually interact with real people. This leads to experiences that are a lot richer and more exciting than those introduced in travel guides.
MATCHA: Thank you very much for giving us the opportunity to cover your events and feature them in our series of articles on Adachi. This is the last installment in our special feature on Adachi ward, but the culture workshops and events organized by EMBLEM will continue to be held in Adachi, isn't it?
Yosuke Irie: Of course, we will continue to hold the workshops that were so well-received by our guests, as well as new types of events where our guests can interact with the locals. It would be great if we could start a new project together with MATCHA - a special feature on "Adachi's People"! What do you think about it? (laugh)
MATCHA: Thanks to everyone at EMBLEM Hostel and the wonderful people we met in Nishiarai, we were able to discover many hidden charms of Adachi ward and introduce them to our readers. We also got to know that there are still many great sides of this area that are still to be discovered! Therefore, yes!, We would love to be able to host a series of articles focused on the people of Adachi!
5 Recommended Articles from our Special Feature on Adachi Ward

The information presented in this article is based on the time it was written. Note that there may be changes in the merchandise, services, and prices that have occurred after this article was published. Please contact the facility or facilities in this article directly before visiting.