4 MUJI Matcha Sweets Recommended By Shop Staff!
MUJI products are not only popular in Japan, but also worldwide. In this article, we asked shop staff for their recommended MUJI matcha green tea sweets!
Buying Tasty Japanese Souvenirs? Get MUJI Products
There are many people that think, "Since I've come all the way to Japan, I want to bring home Japanese souvenirs for my friends and family!"
Matcha green tea sweets from MUJI is what we recommend to those people. Matcha is a type of tea, but is also immensely popular as a confectionery flavor.
Above all, the sweets sold at MUJI, Japan's representative brand, use matcha green tea that has been blended at a historic Kyoto tea store and are available at reasonable prices.
4 Recommended MUJI Matcha Sweets
We were told about four hand-picked matcha green tea sweets, among many other products available at MUJI, that are recommended by staff and are super popular with customers.
1. Matcha Chocolate Coated Strawberry: Overpowering Popularity!
The most popular sweet are the Matcha Chocolate Coated Strawberries (290 yen plus tax/package).
This product consists of various sized strawberries coated in an Uji matcha green tea chocolate. As it uses strawberries of all sizes, it's able to maintain a steady price.
Photo courtesy of MUJI
The secret behind its crunchy texture is the fact that the strawberries are freeze-dried. The bittersweet taste of the Uji matcha green tea combined with the acidity of the strawberries creates a sweetness that is just right.
This line originally began with the White Chocolate Coated Strawberry as its first product. It captured interest from the public, resulting in there now being four types of flavors – white chocolate, Uji matcha chocolate, strawberry chocolate, and standard chocolate – sold within the line.
2. Matcha Chocolate Coated Wheat Puffs: Highly Recommended by Staff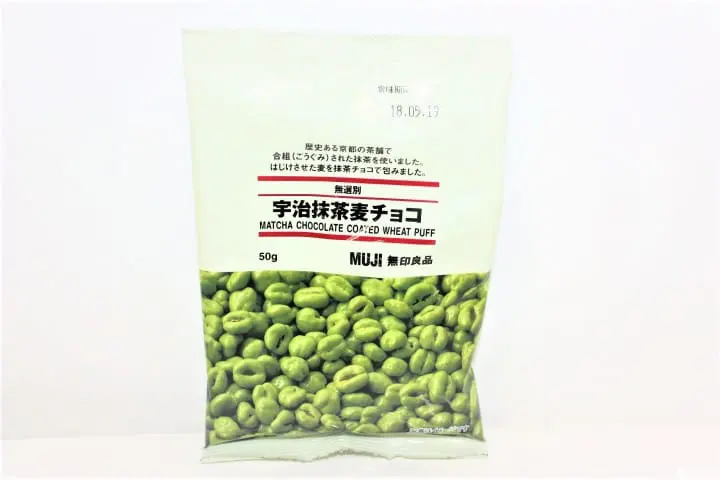 The Matcha Chocolate Coated Wheat Puff (190 yen plus tax/package) is a matcha sweet recommended by the staff at MUJI.
Photo courtesy of MUJI
The balance between the sweetness of the wheat puff chocolates, a type of Japanese dagashi (popular sweet), and the bitter flavor of the matcha green tea is just right. This is a product you'll eat up without getting sick of it.
At first, you'll be able to taste the bitterness of the matcha before the sweetness of the wheat puff chocolates come through the more and more you chew.
3. Baumkuchen Matcha: New and Improved
Baumkuchen is a type of cake that has been long loved by fans of  MUJI sweets. There is also a matcha green tea version of the cake.
The sweet product was improved in 2017 and is now sold as the Fuzoroi (Irregular) Baum (190 yen plus tax/package).
After the product was updated, it was made bite sized and uses ingredients that were only rejected as products due to their imperfect shapes. As a result, this product is also quite reasonably priced.
This product holds MUJI's wish for customers to eat it as "something that is delicious to eat" without being concerned by its appearance due to uneven browning or its strange shape.
Photo courtesy of MUJI
It isn't circular in shape, but is instead cylindrical, which makes it easy to eat. You will smell the pleasant fragrance of the matcha when you bring it close to your mouth to eat. The mild bitterness of the matcha when you eat it is irresistible, isn't it? You'll feel completely satisfied after eating it too, thanks to the dense firmness of the dough.
Flavors aside from matcha include butter, banana, and black tea, with a total of eight varieties.
4. Matcha Pound Cake: Filling and Satisfying!
The Matcha Pound Cake (390 yen plus tax/five-slice bag) is what we recommend to those that love the combination between matcha green tea and azuki beans.
Photo courtesy of MUJI
Each individual cake has been cut into just the perfect size and is easy to eat.
You'll find azuki beans inside this moist pound cake. At first, the fragrance of the matcha and a slight bitterness will spread in your mouth before soon being followed by the sweetness of the azuki beans.
This is a product that you can eat multiple pieces of at once as it isn't too overly sweet.
Instant Matcha Latte: Change the Richness Yourself!
Here's an extra product we recommend. The Instant Matcha Latte (350 yen plus tax/bag) is a particularly popular drink product.
The package comes in a zipper pouch and contains powder that will become the base of your matcha latte inside.
You can make a matcha latte to your own preferences by adjusting the amount of powder to how you feel that day, whether it be when you want to drink a rich matcha latte or when you want to drink it a little on the thin side.
Other products in the Enjoy Your Preferred Richness series include Hojicha (roasted green tea) Latte and Masala Chai, for a total of seven varieties.
Photo courtesy of MUJI
The latte is much sweeter than the other matcha sweets while being mild in flavor and very easy to drink.
MUJI – A Simple, High Quality Japanese Brand
Photo courtesy of MUJI

Mujirushi Ryohin is a Japanese brand also known as MUJI. In addition to approximately 420 stores in Japan, the chain has also expanded overseas with approximately 450 stores in countries such as China, Taiwan, the United States of America, and the United Kingdom (as of November 2017).

The store sells approximately 7000 kinds of items, from furniture and clothing to stationery and food. This brand has high popularity worldwide from being great in quality no matter what kind of product it develops. For this article, we paid a visit to the largest MUJI store in the world, MUJI Yurakucho.

Most of the products sold by MUJI are carried at this location! The second floor carries clothing items, a book corner, and a café space where you can dine in called Café & Meal MUJI. The third floor carries a variety of products such as furniture and home appliances.

Please also stop by the other floors if you'll be visiting to buy matcha sweets at MUJI!

Made in cooperation with Ryohin Keikaku

The information presented in this article is based on the time it was written. Note that there may be changes in the merchandise, services, and prices that have occurred after this article was published. Please contact the facility or facilities in this article directly before visiting. Some of our articles contain affiliate links. We kindly ask our readers to exercise careful judgement when making a purchase or booking a service online.