Tokyo's Yuwaeru - Get Acquainted With Japan's Healthy Food Culture!
At Yuwaeru, in Tokyo's Kuramae area, you can eat delicious and healthy traditional Japanese food. Today we introduce their menu, including house specialty nekase genmai rice, and shop favorites sold in ready-to-eat packages that make good souvenirs.
Nekase Genmai Rice - Sample This Healthy Food in Japan!
Rice is an essential part of Japan's staple diet and is a common sight on any dinner table. In most homes, hakumai (white rice) is cooked, but among those trying to maintain a healthy lifestyle, many also consume genmai (brown rice).
Rice begins as genmai, and if it undergoes a special polishing process, it then becomes white rice. With genmai, only the husk of the rice grain is removed, leaving the outer bran and germ of the rice intact, so it's very high in nutrition. It takes time to digest genmai rice so you'll feel full for a longer period of time, and it's often said to be a good food for those on a diet.
However, the truth is that many people don't eat genmai, even though they know it's healthy, because it tends to have somewhat of a dry texture compared to regular white rice.
At Yuwaeru, featured in today's article, they offer nekase genmai rice (cooked brown rice which is left to sit for a few days before eating) which is suitable even for those people who generally don't like eating genmai.
Yuwaeru's nekase genmai rice is first boiled in a pressure cooker, then it's left to stand in a jar for three to four days after which it develops a chewy consistency. By adding such tasty ingredients as natural salt and azuki beans, pearl barley, and kuro-mai (black rice), it becomes even easier to eat genmai rice.
Yuwaeru - A Restaurant That Supports a Healthy Diet
Japan's post World War II diet, fundamentally considered to be healthy, has changed considerably in recent years and it's been said that the number of people with major diseases is on the increase. So with an aim to improving the Japanese diet by spreading the word about the health benefits of nekase genmai rice, Yuwaeru opened for business in 2008.
Compared to white rice, genmai rice is loaded with fiber, vitamins, minerals, and other nutrients, and is considered to be a foodstuff complete with all the nutrition that people require on a daily basis.
At Yuwaeru, they believe that including one daily serving of genmai rice into a diet can enable people to have a healthier lifestyle, without them having to go through a lot of trouble.
To start with, let's try some "not only healthy but also delicious" entrees for lunch or dinner at Yuwaeru.
Delicious Meals Prepared with Nekase Genmai Rice
Nekase Genmai Set Lunch - Choose Your Own Side Dishes
Hare Hakozen Teishoku Lunch (1,100 yen with tax). The most popular set which offers a well balanced lunch.
For lunch, customers can choose from two different kinds of teishoku (set meal).
The most popular is the Hare Hakozen Lunch (photo above). It consists of a main meat or fish dish, two side dishes, and a soup filled with various ingredients. You can choose any two side dishes you like, from a menu that change daily. Add a bowl of nekase genmai rice and tsukemono, or Japanese pickles, and this set meal offers plenty to eat.
In terms of one's daily diet, Yuwaeru suggests eating according to a fundamental dietary guideline that adheres to the golden ratio.
This meal ratio is as follows, genmai rice: six, vegetables: three, meat or fish: one.
When you eat in this manner, you can actually feel the positive effects of this well-balanced dietary plan.
Another menu selection is the Hakozen Teishoku Lunch (850 yen with tax), which showcases a hearty homemade soup filled with various ingredients. Customers choose two side dishes to go along with the soup, and nekase genmai rice and Japanese pickles are also included.
We recommend this set meal for those who'd like to enjoy eating nekase genmai in an especially healthy way.
Enjoy Your Evening Meal Even More with Delicious Sake!
Picture courtesy of Yuwaeru
At dinner time, there's a Japanese dish that's ideal for sampling nekase genmai rice. As you can see in the photo above, it's an assortment of seasonal vegetable tempura (1,058 yen with tax).
The shop's main menu changes with the seasons, and they offer customers the freshest possible ingredients found at that particular time of the year.
Picture courtesy of Yuwaeru
Yuwaeru has a full lineup of meat and fish dishes, including Japanese chicken and cabbage kojimushi (photo above, 842 yen with tax).
To accompany the food, there's a carefully selected alcohol list that includes pure rice sake (junmaishu) and domestic wines, and the shop also offers a full selection of desserts as well.
Yuwaeru believes that "even while following a well-balanced daily diet, occasionally falling off the wagon and eating something you really like, won't prevent you from enjoying a healthy lifestyle".
Adding some variety and fun to you daily diet is one of the secrets to obtaining both a healthy body and mind.
Nekase Genmai Rice Cooking Class -
Great for Those Who'd Also Like to Eat Genmai at Home!
At Yuwaeru, which has a gentle woodgrain-designed atmosphere, a nekase genmai rice cooking class is held once a month.
If one is going to regularly cook and eat nekase genmai rice at home, then it's essential to know how to cook it so that it turns out delicious.
This cooking class is a rare and special opportunity to learn cooking techniques directly from the shop staff.
Also, in addition to this cooking class, the shop regularly offers a wide range of workshops that introduce Japanese culture, including a calligraphy class (shodo), and a rice planting class/experience.
For all the details please check their official homepage.
Eat Yuwaeru's Pre-packaged Meals at Home!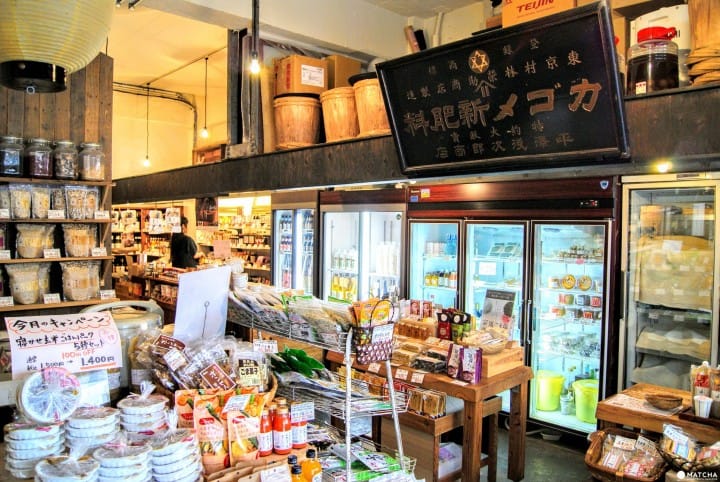 Right next to the restaurant's eating area, there's a retail space piled high with foodstuffs and ingredients from all parts of Japan. Here they sell rice, miso, amazake, Japanese alcohol, snacks, and other products, not to mention nekase genmai rice.
Yuwaeru's pre-packaged nekase genmai can be enjoyed at home and comes in five varieties: kuro-mai blend, pearl barley blend, azuki bean blend, jugokoku multigrain blend, and mochimugi blend. Of course these can be purchased separately, but we recommend the nekase genmai rice-five variety set (1,500 yen with tax).
In Closing
At lunchtime and dinnertime, or when you're on the lookout for a good souvenir, Yuwaeru is the perfect place to sample delicious nekase genmai and Japanese-style dishes that reflect the seasons.
Also, right next to the restaurant there's a stylish looking guest house called Nui. HOSTEL & BAR LOUNGE.
During your sightseeing or while staying in the city, casually dropping in for a visit and reconsidering your lifestyle and daily diet, might not be a bad thing to do after all.
So by all means, please try coming for a visit to Yuwaeru!
In cooperation with: Yuwaeru

The information presented in this article is based on the time it was written. Note that there may be changes in the merchandise, services, and prices that have occurred after this article was published. Please contact the facility or facilities in this article directly before visiting.