HARUNIRE Terrace In Karuizawa - 8 Ways To Enjoy Nature And Local Flavors
HARUNIRE Terrace, located in Karuizawa's Hoshino area, is a place with cozy cafes and local shops where visitors can enjoy the nature and the laidback lifestyle of Karuizawa. We introduce some of the stores, along with treats and activities that shouldn't be missed out.
HARUNIRE Terrace - Enjoy the Karuizawa Lifestyle
Picture courtesy of Hoshino Resorts
Karuizawa is one of the most loved holiday resorts in Japan. Located at about 1,000 m altitude, it offers cool shade and splendid views in the summer and excellent ski slopes in the winter.
Since its opening in 2009 in the Hoshino area, HARUNIRE Terrace has become one of the must-visit destinations in Karuizawa. HARUNIRE Terrace was opened as a place where visitors to Karuizawa could enjoy the laidback pace of the local lifestyle and the rich nature this town is famous for.
HOSHINOYA Karuizawa, the city's iconic accommodation facility, is adjacent to the terrace.
"Harunire" refers to the Japanese elm. The terrace was created on a riverside where Japanese elms grow abundantly. The stores are located on a wooden deck elevated from the ground. It feels as if you were taking a walk amid the trees.
The entire terrace is surrounded by greenery and filled with the clear sound of the Yukawa River that flows by the terrace.
8 Things to Enjoy at and around HARUNIRE Terrace
Upper left picture courtesy of Hoshino Resorts
There are sixteen stores within the HARUNIRE Terrace, including shops offering local produce, cafes, dining places, and souvenir shops. We introduce below a selection of stores and activities that we warmly recommend checking out for an unforgettable trip to Karuizawa.
1. Kokopelli - Tasty Smoothies and Local Produce
Kokopelli is a grocery store run by a local farm. They provide flavorful vegetables and fruit, along with locally made jams, honey, pickles, sauces, and other produce.
Their HARUNIRE Terrace store also has a corner with tableware and kitchen accessories. These items are colorful and easy to use, adding fun to the dining experience at home.
Make sure to taste the refreshing smoothies offered by Kokopelli. You can select from three types: the green smoothie (made with Japanese mustard spinach and apples), the yellow smoothie (made with carrots and apples), and the red smoothie (made with tomatoes and apples).
The smoothies are made on the spot after you place your order. Because they're tasty and natural, you'll feel fully energized after drinking one.
Kokopelli
Business hours: 10:00 - 18:00 (the hours may vary depending on the season)
2. CERCLE - Fine Food, Wines, and Souvenirs
CERCLE is a casual dining place where you can drop by to pick up hors d'oeuvres and snacks to enjoy outside on the terrace or on the seats inside the store.
The owner is a sommelier and can offer advice on how to pair wines with the light deli dishes. They can also recommend a wine for a special occasion. The impressive collection of wines from all around the world shows the love for wine that prompted the owner to open this store.
In addition to fresh foods that can be enjoyed in the eat-in space, the shelves of the store are full of products that can be bought as souvenirs or gifts from Karuizawa. From the highly acclaimed Kokage beer to maple syrup, jams, and snacks, they have a great selection of local items.
CERCLE
Business hours: 10:00 - 22:00 (last order 21:00) (the hours may vary depending on the season)
3. Maruyama Coffee - Discover the Refined Aroma of Karuizawa Coffee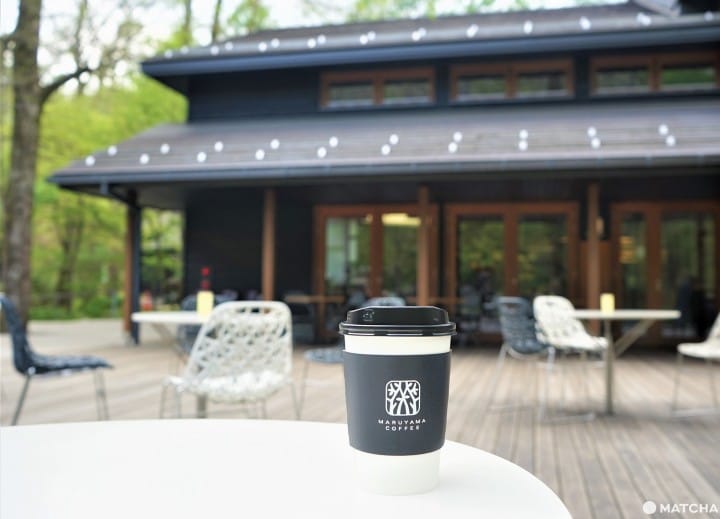 Maruyama Coffee is a specialty coffee shop founded in Karuizawa. Their HARUNIRE Terrace store offers around thirty to forty types of coffee all year round.
You can either purchase coffee beans to enjoy at home or relax with a freshly brewed cup of coffee on the terrace.
The distinctive feature of this Maruyama Coffee store is that they are a book cafe. The space adjacent to the coffee shop is a bookstore where you can enjoy your coffee while browsing through a book that piqued your interest.
In regard to the coffee types, how about trying one of the three most popular blends of the store? These are the classic Maruyama Coffee Blend, the Harunire Terrace Blend, which is exclusive to this store, and the Akane Sumire Blend, which is an aromatic, naturally sweet original coffee.
Maruyama Coffee
Business hours: 8:00 - 20:00 (the hours may vary depending on the season)
4. HARVEST NAGAI FARM - Try Delicious Gelato with Surprising Flavors
This store is operated by Nagai Farm, a local facility that produces rice, vegetables, fruit, and dairy. Their yogurt is very loved by the locals, such as are the mochi (glutinous rice), snacks, jams and sauces produced by this farm.
The most popular product at their HARUNIRE Terrace store is the gelato made each morning using homemade milk. In addition to regular flavors such as chocolate or matcha green tea, they also offer unique flavors such as rice, asparagus, corn, tomato, and Kyoho grape (*1).
*1... Please note that some of these flavors are only seasonally available.
We tried the matcha and the rice flavored gelato. They were incredibly smooth and delicious. You could feel the richness and natural sweetness of the milk inside. At the same time, the poignancy of the flavor was just right, helping us reappreciate everyday flavors through a new approach.
The store also offers juice made with 100% Kyoho grapes produced on the farm.
HARVEST NAGAI FARM
Business hours: 10:00 - 18:00 (the hours may vary depending on the season)
5. Izumi-ya Dembei - Take Some Local Sweets as Gifts
Izumi-ya Dembei is a traditional confectionery store. Their wagashi (Japanese sweets) are made with local natural ingredients. Customers can choose between freshly made sweets and snacks that have a relatively long shelf life.
The most popular snack made by Izumi-ya Dembei is the Korokoro Kurumi, a round-shaped cookie with a sweet filling made with walnuts and red bean paste. Walnuts are a specialty of Karuizawa.
The sweets come in cute craft packages that make them the ideal gift or souvenir from your trip to Nagano.
Izumi-ya Dembei
Business hours: 10:00 - 18:00 (the hours may vary depending on the season)
6. Garando - Find a Precious Keepsake from Your Trip
Garando is a store specialized in wooden interior items and toys. The objects that they handle are either made by Japanese craftspeople or brought from Germany.
From wooden tableware and cute toys, which were carefully made to be safe playing with, to decorations that would bring the warmth and elegance of natural wood in your home, there are so many beautiful objects to choose from! They bring up heartwarming childhood memories.
Original wooden clocks or furniture items like tables and shelves can also be custom-made. If you fell in love with a piece, place your order and you can have it delivered to your home after a few weeks.
Garando
Business hours: 10:00 - 18:00 (the hours may vary depending on the season)
7. Sonmin Shokudo - Taste the Flavors that Are the Pride of Nagano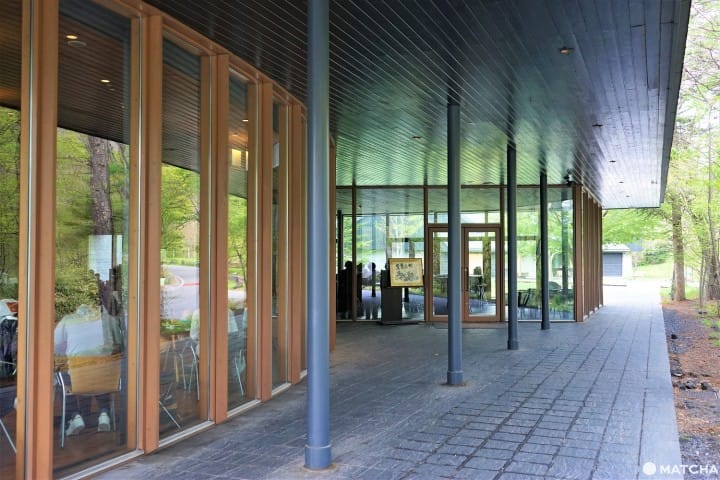 About 400 meters away from HARUNIRE Terrace, connected to it by an alley along the river, is Sonmin Shokudo, the largest dining facility in the Hoshino area. Visitors can enjoy their meals here while gazing at the vibrant green surroundings.
Picture courtesy of Hoshino Resorts
Sonmin Shokudo offers a wide array of Japanese dishes. The menu includes both simple dishes and elaborate set meals.
We tried the Shinshu no Irodori Gozen (2,980 yen with tax), a set meal that includes the representative dishes of Nagano (historically called "Shinshu") in small portions: local soba noodles, which are famous countrywide for their refreshing taste, sashimi, tempura, thin slices of quality beef, vegetables, and miso soup. It was an extremely satisfactory and flavorful food experience.
The drink menu includes several types of wines, Japanese sake, and craft beer, a Karuizawa specialty. Soft drinks are, of course, also available.
Sonmin Shokudo
Business hours: 11:00 - 22:00 (last order 21:00) (the hours may vary depending on the season)
8. Hoshino Onsen Tombo no Yu - Deeply Relax in a Hot Spring Bath
During your visit to HARUNIRE Terrace, how about enjoying a relaxing hot spring bath at Tombo no Yu? The onsen facility is located next to Sonmin Shokudo.
The water here is of the alkaline type, which is less acidic than regular water and is said to have beautifying effects on the skin.
Picture courtesy of Hoshino Resorts
Tombo no Yu combines the relaxing effect of hot springs with the brilliant green surroundings to create a space that reinvigorates one's body and soul.
Open-air baths and saunas are available in addition to the indoor baths. Visitors can borrow towels for a small fee. Shampoo, conditioner, body soap, and other amenities are, of course, also available and their use is included in the entrance fee.
Do enjoy the blessing of Karuizawa hot springs at this modern, refined onsen facility.
Hoshino Onsen Tombo no Yu
Business hours: 10:00 - 23:00 (last admission at 22:00) (the hours may vary depending on the season)
Entry fee: Adults 1,300 yen, Children 750 yen
A Must-See! Exciting Seasonal Events at HARUNIRE Terrace
Picture courtesy of Hoshino Resorts
HARUNIRE Terrace hosts seasonal events that allow visitors to enjoy the nature and lifestyle of Karuizawa.
One of their most popular events is the Karuizawa Umbrella Sky, which is held every year in June, the rainy season in Japan. Colorful umbrellas decorate the terrace, brightening the cloudy sky and creating a beautiful contrast with the vivid green of the surroundings. It's a great chance to take stunning pictures!
In 2019, the Karuizawa Umbrella Sky is held from June 1 until the end of the rainy season (the beginning of July). This year's event has new additions, such as the Umbrella Garden, which is decorated with umbrellas used as flower pots.
HARUNIRE Terrace hosts special events almost every month. There are live concerts by the river on summer evenings or harvest and red foliage festivals in the fall. Do check out these charming seasonal events, too.
Access to HARUNIRE Terrace
HARUNIRE Terrace can be reached in about 20 minutes by local bus or car from JR Karuizawa Station, a stop on the Shinkansen Hokuriku Line.
For detailed information on bus timetables and taxi companies, please refer to this page on the HARUNIRE Terrace official website.
The official website also provides a useful map of the Hoshino area with all the stores you can visit at HARUNIRE Terrace.
HARUNIRE Terrace - A Must-Visit Spot in Karuizawa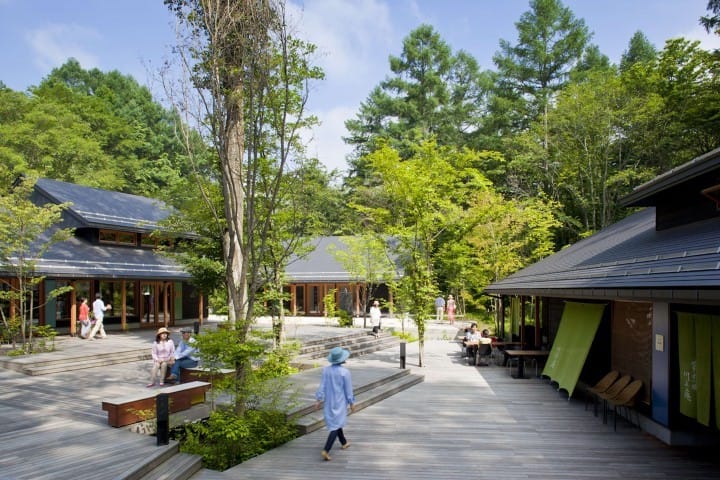 Picture courtesy of Hoshino Resorts
A trip to Japan can easily become exhausting as there are so many things to enjoy. Karuizawa is the ideal place to visit for travelers who also wish to relax and unwind during their holidays.
HARUNIRE Terrace is a nature-filled area that allows visitors to enjoy the laidback, cozy lifestyle of Karuiwaza locals. How about reenergizing yourself here with fresh air, greenery, and natural food products made with fresh, locally grown ingredients?
HARUNIRE Terrace Official Website: http://www.hoshino-area.jp/en
Written by Ramona Taranu
Sponsored by Hoshino Resorts
Hoshino Resorts operates hotels and ryokan (Japanese inns) in more than 40 locations. Their facilities are ideal for travelers who wish to fully enjoy the charms of Japan.
Each facility has English speaking staff who make sure that visitors from all around the world experience the full breadth of Japanese hospitality without inconveniences.
The Hoshino Resorts brands include HOSHINOYA, KAI, RISONARE, OMO, and BEB.
The information presented in this article is based on the time it was written. Note that there may be changes in the merchandise, services, and prices that have occurred after this article was published. Please contact the facility or facilities in this article directly before visiting.