A Fantastically Fun Christmas! Tokyo Disneyland's Christmas Fantasy 2017
Tokyo Disneyland's 2017 event is a fun Christmas Fantasy! Check out the parades, special menus, Christmas edition decorations, the colorful Disney Resort Line, and more!
Have Fun at the Daily Disney Christmas Stories!
The centerpiece of Tokyo Disneyland is their amazing and cute parade. In 2017, this fantastic event will tell seven different Christmas tales.
Here are Donald and Daisy Duck on their float, the opening act of the parade.
Floats carrying different characters telling their own stories will appear one after another. Here are Snow White and the Seven Dwarves telling the tale of a "Warm Christmas".
Guests are sure to feel even more excited when Mickey and Minnie appear.
Along with the Christmas songs, Belle and the Beast, from "Beauty and the Beast", and Anna, Elsa, and Olaf from "Frozen" also appear in this show.
The Christmas scenes change from character to character, so why not try to find your favorite Christmas story of them all?
This parade takes place twice a day. For more details about the show schedule and parade course, please check the official website.
Heartwarming Tales at Night - Disney Gift of Christmas Stories
"Disney Gift of Christmas" is a projection mapping show on the theme of Christmas gifts featuring Mickey Mouse and other Disney characters.
The characters come to deliver the perfect Christmas gift to Mickey Mouse.
The decorated presents in the finale pack quite the punch! The combination of gorgeous projection mapping and fireworks set to music is jaw-dropping. The echoes from the finale will have you feeling as though you've just spent time in a dream afterwards.
" Star Bright Christmas " a fireworks show set to Christmas music takes place at night as well. This show is dependent on the weather, so please check for the announcement which will be made after the Disney Gift of Christmas event.
This show takes place once or twice a day. Please refer to the schedule and location guide on the official website for more details.
Limited Time Only! Special Christmas Menus
During limited time events at Tokyo Disneyland, there are plenty of special goods and menus for guests to choose from.
There are many cute and delicious dishes on their Christmas menu this year.
Enjoy a Christmas Camp with Hot Sandwiches!
Potato salad and corned beef and pork sandwich, French fries and drinks special set is 980 yen with tax.
This set is available at Camp Woodchuck Kitchen in Westernland. The pepper accent to this pork sandwich is outstanding!
A Mousse Cake with Souvenir Cup
The "Raspberry & Chocolate Mousse Cake (with souvenir cup)" (750 yen with tax), features a pistachio whipped cream and holly shaped chocolate, which gives this sweet a decidedly Christmas air.
Under the raspberry sauce is a chocolate mousse, and the balance of the delicate acidity and sweetness is excellent. There are two types of cups to choose from, Snow Mickey or Snow Minnie.
The "Chocolate & Coffee Mousse Cake (with souvenir plate)" (750 yen with tax) is a sweet mousse case made to resemble a montblanc. This set also comes with a souvenir plate.
Cute Colorful Chocolates in a Mini Snack Case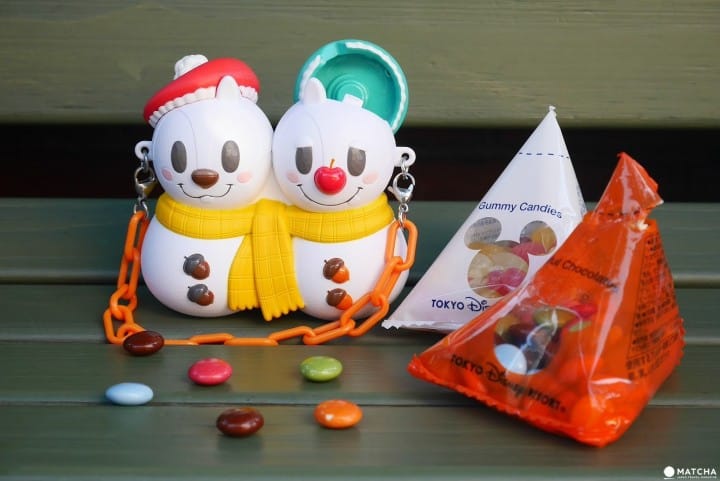 This colorful chocolate box comes with a cute snack case that features Snow Chip and Snow Dale cuddled close together. It's 880 yen with tax. When you open Snow Dale's hat, you can put snacks inside.
Other than the colorful chocolates, there are also gummy candies (880 yen with tax).
Snack as You Stroll! Regular Popcorn Boxes with a Special Case
A "regular box (with souvenir popcorn case)" is 1200 yen with tax. There's a Snow Mickey and Snow Minnie printed on this adorable popcorn box.
The Christmas Atmosphere Is Everywhere!
From November 8th to December 25th, only during the Christmas event, the Disney Resort Line will be decked out in Christmas decorations.
There are also photo spaces set up in the stations, and the Snow Snow decorations are really cute.
To learn about the amazing Christmas events being held at Tokyo DisneySea next door, check out There's also the Tokyo DisneySea's Christmas Event: Christmas Wishes 2017 Edition!
Why not take the Disney Resort Line and come play this Christmas?
This article is a revision for 2017 of an article published on November 17th, 2016.
In Cooperation with: Oriental Land Co., Ltd.
Read also
11 Irresistible Winnie The Pooh Goods - Only At Tokyo Disneyland!
6 Popular Snacks Only At Tokyo Disney Resort
6 'Only in Japan' Souvenirs From Tokyo Disney Resort
How To Use A FASTPASS Ticket At Tokyo Disney Resort
Tokyo Disney Resort - The Best Photo Locations
View Information
Tokyo Disney Resort
| | | |
| --- | --- | --- |
| | Address | Chiba, Urayasu, Maihama 1-1 |
| | Business Time | Depends on the season |
| | Fixed holidays | Frequently updated |
| | WiFi | Not Available |
| | Accepted Credit Cards | -__ |
| | Languages | English, Chinese, Korean, Thai, Indonesian |
| | Menu/Pamphlets in Other Languages | Available |
| | Nearest station | Maihama Station of JR Keiyo Line |
| | Access | Tokyo DisneySea: 15-minute walk from Maihama Station; Tokyo Disneyland: 5-minute walk from Maihama Station |
| | Price | adults (ages 18 and above): 7400 yen; junior and high school students (ages 12-17): 6400 yen; children (ages 4-11): 4800 yen; Free admission for children under age 3. |
| | Telephone number | +81-570-00-8632 |
| | Website | Tokyo Disney Resort |