Tired In Tokyo? 5 Healing Points Of Forest Therapy® In Nagano
Shinanomachi in the northern part of Nagano is only a 2 and a half-hour ride from Tokyo. Here you can experience the effects of Forest Therapy® in nature, and enjoy the local food - a must-visit for nature-lovers and people who want to rejuvenate.
Reach the Lands of Comfort in Just Two and a Half Hours from Tokyo!
Today, we are heading to Kurohime Station, a place with a view of marvelous 2053-meter high Mt. Kurohime. It will take us two hours by shinkansen from the metropolis of Tokyo to get to Nagano Station, where we change trains to ride the Shinano Railway Kita-Shinano Line – and the goal, Kurohime Station, is only 35 minutes away.
Shinanomachi, a city in the northern part of Nagano prefecture, where Kurohime Station is located, is well-known for its beautiful natural surroundings. The numerous activities available here, which include kayaking, skiing, and trekking, attract tourists from all parts of the country.
The purpose of our voyage is to tell you about Forest Therapy®, its benefits and charms, which are sure to make you want to try it out the next time you visit Shinanomachi.
What Is Forest Therapy®?
Forest therapy® was created out of an idea to use the forest to heal (or for the health of) your heart and body. The concept is to enter the forest, and let the trees comfort and refresh your body and spirit. Nowadays there are 62 places throughout the country that are considered to have the therapeutic effect, such as the area around Lake Ashi (Ashinoko) in Hakone, Kanagawa prefecture.
The visitors enter the forest together with the therapy guide. His or her role is to tell you all about the forest and its benefits to health, as well as to support you while relaxing in the area.
Karaya (the second on the left), Bou (center), and Rex (the second on the right) from Thailand
Today we chose a three hour course. Three visitors from Thailand entered the forest together with us, and you can see them on the center of the photo above. We decided to point out some of the benefits of Forest Therapy® according to their experiences and thoughts.
What to Expect? 5 Points of Healing by Forest Therapy®
1. Walk Freely Around the Forest, Not Bound by the Route
If you choose the three hour course, you can expect an approximately 1.2 kilometer-long walk through the forest. As there are no strict rules binding you to a designated route, you can walk around the forest freely with your guide. Therefore the stories and the experience itself vary depending on the guide you travel with and your companions.
All you have to do is tell your preferences when making your appointment, and they will arrange someone according to the information provided – for example, what you'd like to know, or if you'd like to walk a lot or a little, and other such points.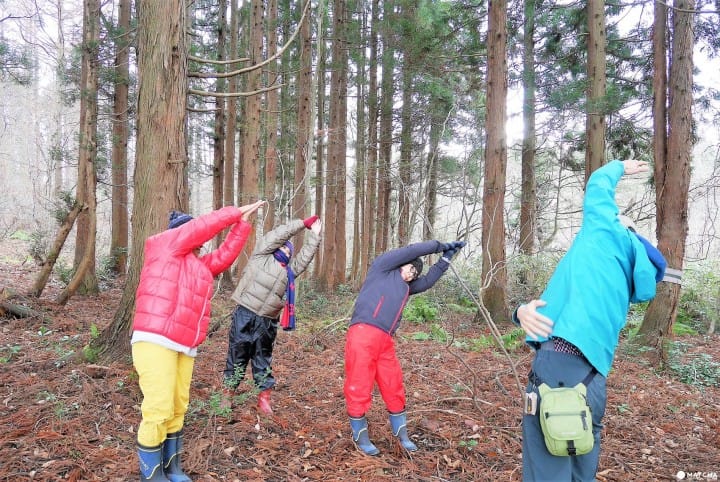 During our little adventure, we had a simple stretching time to warm up and get relaxed. The air is so clear it is truly an amazing experience even to "just breathe".
2. Hone Your Senses by Taking in the Natural Scents, or Listening to River Murmuring
It is believed that when in a crowd, or when walking through a loud place full of automobile or construction noise, people tend to shut off their senses, in an attempt to distract themselves from the negative atmosphere that surrounds them.
So that is why you need to relieve your senses from the numb protective state they went into and bring them back to normal, with the help of Forest Therapy®. Try to listen for that sound of the water murmuring – put your hand to your ear and listen closely while trying to pinpoint its direction. Feel the sensation of walking on slightly muddy grounds.
While focusing on each and every little movement around you, your senses will be restored to their natural state.
After walking a little while, we stopped, and the guide broke off a small leaf or a branch from a tree, only to give to us. As we lifted it close to our noses, we could sense the gentle scent spreading through it. It truly is a perfectly natural scent, only to be found in a forest.
It seems as though Ms. Bou likes the scent of Japanese cedar the most. She even said that she'd like to buy an essential oil that smelled the same if she could find one.
This is kuro-moji, a type of a tree of the genus Lindera, believed to be endemic to Japan. Its components are similar to the ones of rosewood, so it is a perfect choice when you're in the need of some refreshing, with an aroma similar to eucalyptus. It is said to be used instead of a toothpick when eating wagashi.
Actually, these special aromas help stabilize our autonomic nerves. You can enjoy the scent of Japanese cedar by rubbing it in your hand, or rest while listening to the sound of the river flowing. The retrieval of the five senses from their numb state leads to total relaxation and healthy body and mind.
3. Calm Your Heart Relaxing by the Lake
As we proceed with our adventurous strolling through the woods, we ended up nearby a lake called Ojikaike (Ojika Lake). This is the best spot you can find for mediation. Why don't you also look for a place you find fascinating, spread some sheets to sit on, and rest for some thirty minutes or so?
Our companions from Thailand instantly began their meditation. The "meditation" doesn't have to be anything that special, it is enough if you just breathe deep, make yourself comfortable, and perhaps sometimes follow the rings appearing on the surface of the water with your eyes. You'll soon realize that your spirit has calmed down naturally.
4. Purify Yourself from the Inside Out by Taking in Food Good for Your Body
The guide has also prepared some snacks to eat on our little walk. The boiled apples seasoned only with a little bit of lemon juice and cinnamon, charmed our taste buds with their gentle, all-natural sweetness. What you can see rolled in bamboo leaves are sweetened beans, which you eat using the kuro-moji tree toothpick.
You can't even imagine what a feast it is to savor some sweets surrounded by nature after you've walked for a while!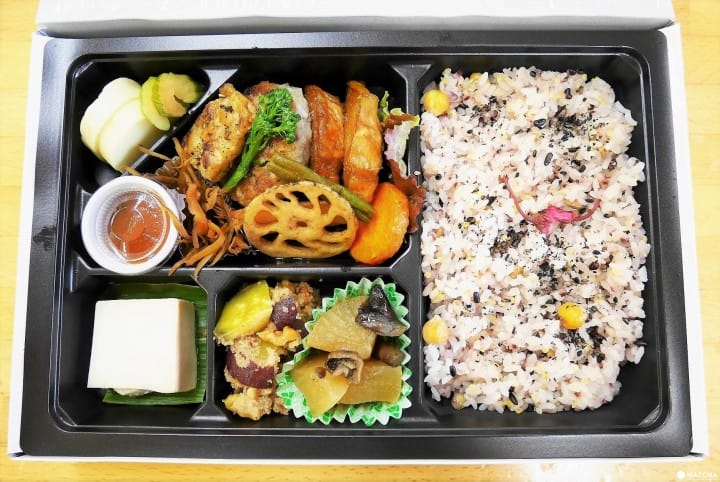 You also can request a bento meal (packed lunch), just remember to point it out when making a reservation. Iyashi no mori-bento (the "comforting forest lunch box") doesn't include any dairy or meat products, and is macrobiotic. As it is prepared with the local produce of that particular season, you are bound to feel a surge of power overwhelming you.
5. Create a Reassurance-Zone for Your Soul
This is what the therapy guide told the ladies as they were admiring the grandiose Mt. Kurohime:
"After this forest therapy is over and you've come home, if you should feel tired from all the work or other responsibilities, just close your eyes for a little while, and try to reminisce on this view. 'Ah, there was such a view in Shinanomachi in Nagano, there was a tree just like this! ' Just one thought like this will bring back the feeling of comfort, and you should be able to restart and give it your best once again."
The clear air, the sound of the water, the branches spreading in all directions – it may seem like there's nothing more to it than a forest, but, without a doubt, we felt the energy emitted from it, overwhelming our bodies.
How many times have you asked yourself about the "important things you had forgotten because of your busy everyday life"? That is the great thing about being "lost" in a deep forest – you confront yourself naturally and calmly about those problems.
Forest Therapy® is there for all those hard-working employees of some enterprise, or the overworked people of the world – everyone who is in the need of some recuperation. It can support the release of your bound senses and help you realize the potential you have through the energy of the forest.
The three ladies who experienced it with us were thrilled with the idea that their company could use it for their field trips, and that they would love to come again in private, as well.
How to Get There and to Apply
Nojiri Lake, the famous tourist spot of Shinanomachi, and the second largest lake in Nagano prefecture
To get to Shinanomachi from Tokyo, you need to ride both the shinkansen and the train.
Although it is most convenient to use the shinkansen to get from Tokyo Station to Nagano Station, there are several other ways as well. For more detailed information, take a look at this article: What's The Most Convenient Fare?! How To Get To Nagano From Tokyō
To reach Kurohime Station from Nagano Station, you need to ride the Shinano Railways Kita-Shinano Line, bound for Mt. Myoko (Myokokogen). It will take you about 35 minutes, and the fare is 640 yen. Finally, to get to the location of Forest Therapy® from the station, the easiest way is to request a courtesy vehicle when making a reservation or to ride a taxi.
The reservation for Forest Therapy® is done by e-mail beforehand. You can also make a reservation via phone, in which case the whole process is likely to be done in Japanese, so our suggestion is to apply using the e-mail service (shinanomachi.wlc@gmail.com). Since there English-speaking staff present at the facility, you can make an appointment in English or request an English-speaking guide to accompany you during your therapy.
Should you make a reservation for a three hour tour (to go by yourself) the fee is 10,000 yen. In case of a group tour (when two to five persons are walking together) the price is 15,000 per person (tax included for both).
Log House Pension Holy, one of the accommodation facilities where you can make a reservation
If you also want to stay overnight, the lodging fee for one night per person starts at 10,800 yen (after tax), just don't forget to make a reservation when applying for the Forest Therapy® session.
We recommend you try it out sometime starting the middle of May to the end of June. It is the season when the forest is born anew, with fresh, vivid green leaves all around, and it is also the period right after the long holiday season has ended in Japan, so there shouldn't be many Japanese tourists visiting during that time. This area is beautiful no matter which season you visit in, so you are sure to enjoy your time there amid the changing seasonal views; in winter there is snow, and in fall there is beautiful autumn foliage.
It tends to be quite chilly during the winter though, so we strongly recommend proper (if not extreme!) preparation against the cold – sticking kairo packs on your back or stomach area, wearing a down jacket or a coat, wearing tights underneath the trousers, and other such precautions.
Other than that, we suggest you wear some sort of trekking shoes or similar footwear that is easy to walk in and that you don't mind getting dusty or even filthy, as you will be walking in nature.
Those Who Want to Freshen Their Body and Soul – to Shinanomachi!
Another trademark of Nagano prefecture are apples. At Michi no Eki Shinano Furusato Tenbokan (Roadside Rest Area Shinano, Furusato Tenbokan), you can relish a unique apple dessert made with apples produced in Nagano called "baked apple" – a whole, oven-baked Nagano apple with a soft serve topping made from special Mt. Kurohime milk. You can enjoy this delicacy with a cup of coffee or black tea for 550 yen (with tax).

First, enter the forest to hone your senses, and then, taste the goods of nature brought to you by that very land. How about living that experience in person, by visiting Shinanomachi in Nagano Prefecture?


Interview done with the help of Satoyume Corp.

The information presented in this article is based on the time it was written. Note that there may be changes in the merchandise, services, and prices that have occurred after this article was published. Please contact the facility or facilities in this article directly before visiting.