Japanese Kit Kat Chocolate - A Popular Souvenir And Good Luck Charm?!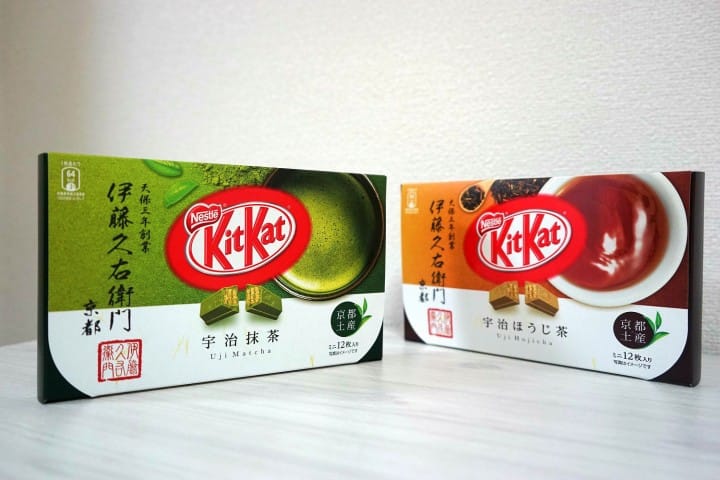 Kit Kat chocolate bars are an international snack, but in Japan, they have taken the Kit Kat to a whole new level. With over 300 different seasonal, regional, and limited edition flavors sold in stores across Japan, Kit Kat make for great souvenirs.
Kit Kat are one of the best-known varieties of chocolate bars around the world. They're available practically everywhere you look, and this is doubly the case in Japan. First introduced to the nation in 1973, there have been over 300 limited edition, regional, and seasonal Kit Kat types made in Japan ever since.
Why Is Kit Kat So Popular in Japan?
One theory as to the popularity of Kit Kat in Japan comes from their name.
While Kit Kat may simply conjure images of their bright red wrapper and distinctive text to most people, the term "kitto katsu" (the Japanese pronunciation of Kit Kat) is a homophone for the phrase kitto katsu, which means "you'll surely succeed/win". This phrase implies good luck and is especially aimed at students undergoing exams, so Kit Kat bars quickly became good luck charms for students of all ages.
In fact, this association led to one of the changes in Kit Kat packaging in Japan. If you look at the back of a bar, you'll see there is a small space where you can write a message before giving it to someone. In some parts of Japan, during exam season, students will even eat a meal of katsudon (fried pork cutlet) and follow it up with a Kit Kat bar for extra luck.
The Chocolatory - Designer Kit Kat Bars
From: Let's Go To The KitKat Chocolatory To Taste the Best KitKat Ever!
The Kit Kat Chocolatory stores, which opened in 2014, are specialty shops that serve only high-end Kit Kats, designed by chef Yasumasa Takagi. At these shops, of which there are currently seven across Japan, you'll find flavors such as raspberry infused dark chocolate, sakura green tea, and ones featuring kinako powder (from roasted soybeans) and other popular wagashi ingredients. You can also order them online from their shop as well.
Unique Kit Kat Packages - The Perfect, Shareable Souvenir
While you can find gourmet Kit Kat flavors at any of the premium Kit Kat Chocolatory shops and pop-up stores located around the country, if you are looking for something that you can easily share with a group of friends, or something more regional, then simply head to your nearest convenience store, supermarket, or Don Quijote. There you'll find displays just like in the photo above, with bags and boxes of Kit Kats to choose from.
From the upper left of the photo across are: Tokyo Specialty Rum Raisin (which contain alcohol), Yokohama Specialty Strawberry Cheesecake, Wasabi flavor, Green Tea with crispy biscuit, Strawberry, Rich Green Tea, and Dark Chocolate Kit Kats.
In early winter 2017, amazake, or sweet sake, Kit Kat were a huge seller across Japan, with even my local supermarket running out within a few days. These Kit Kats had an alcohol percentage of 0.8% however, so those who cannot drink should carefully check the labels before buying any of these specialty flavors.
Wasabi Kit Kat, which are available seasonally in Tokyo, and all year round in Shizuoka prefecture, are wasabi infused white chocolate, and pack quite the punch if you eat too many at one time.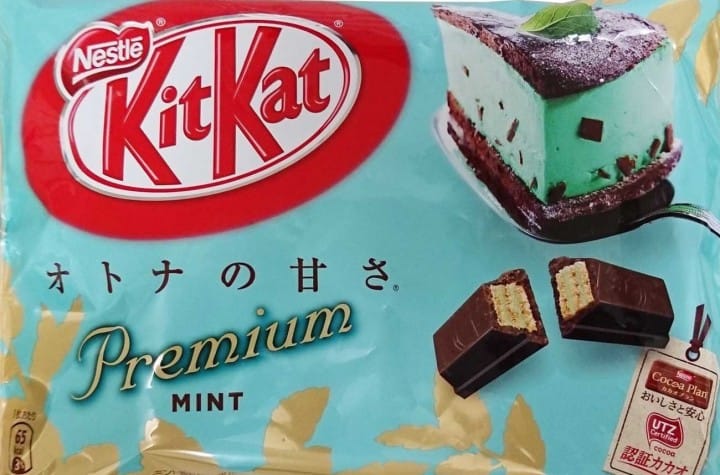 Mint Kit Kat, available in the summer, is also a big hit. Made with a dark chocolate coating, these Kit Kats have a bright mint green cream filling between the wafers and taste quite refreshing for a chocolate bar. A large bag of eleven bars is around 400 yen, and smaller boxes range from 200-300 yen.
If you happen to have a cold while in Japan, you might want to keep an eye out for ginger Kit Kat. Available in mini Kit Kat and bite-sized versions, the ginger in these chocolate bars is quite spicy, and actually does make you feel a little bit better after snacking on them. One small bag costs about 150 yen.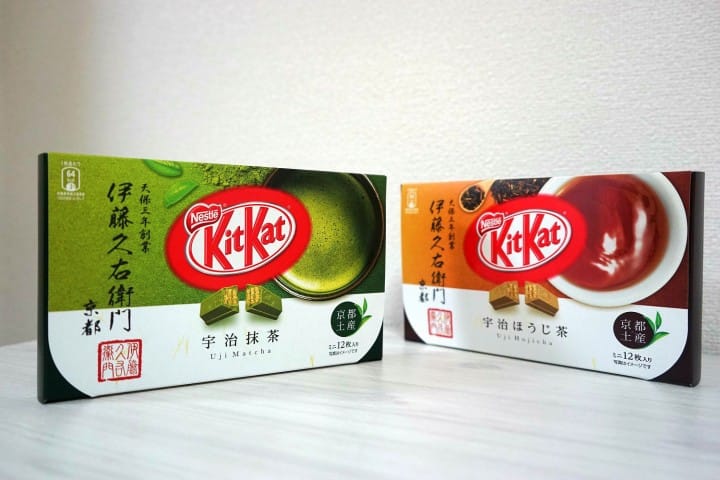 And, if you are in Kyoto, then you simply have to head to the Isetan Supermarket in Kyoto Station. There you will find two of the most incredible Kit Kat flavors around: Uji Matcha Kit Kat, from Uji, one of Japan's most famous green tea producing regions, and Uji Hojicha Kit Kat, which are made from roasted Uji green tea. These Kyoto exclusive Kit Kats are a bit more expensive than standard flavors, coming in at 800 yen a box, but their flavors come from centuries of expert tea production, so they are well worth the cost.
Other popular, and sometimes strange, flavors of Kit Kat over the years have been apple, baked potato, cafe au lait, chestnut, edamame, Hokkaido roasted corn, lemon cheesecake, ramune, melon, pudding, watermelon and rock salt.
So if you are traveling in or across Japan, you should definitely head to your nearest supermarket, convenience store, or souvenir shop, and take a look at the various kinds of Kit Kats available. You might just find the flavor of your dreams!
Bonus! Brighten a Friend's Day with a Kit Kat Postcard!
If you go to a post office in Japan around this time of the year until March (a time that corresponds to university exams period), you can find Kit Kat postcards! Priced at 250 yen a piece, these are literally postcards, which you can write a short message on, stamp and send to a friend by post. They contain four Kit Kats in two flavors - usually the regular milk chocolate Kit Kat plus another especially good luck-bringing flavor.

When it comes to Kit Kat in Japan, there is no end to the creativity behind flavors and packages. So how about searching for some special Kit Kat flavors to take home as souvenirs?

The information presented in this article is based on the time it was written. Note that there may be changes in the merchandise, services, and prices that have occurred after this article was published. Please contact the facility or facilities in this article directly before visiting.